I've driven my buddy Clayton's e39 540i/6 a few times, and it never fails to impress. I can only imagine what the M5 delivers with a full hundred more horses and M tuning to suspension, transmission, and interior. Well maybe I can imagine as prices for low mileage examples are turning up in the low 20's. What happened to the market for these?!
Here's one that came up on Roadfly tonight, and even includes BBS RC wheels!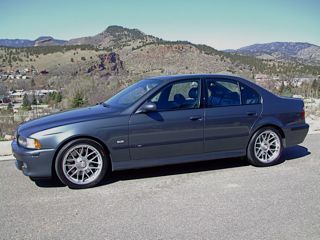 quote from listing on Roadfly:
Immaculate 2000 M5. Nice BBS wheels (All Ms are supposed to have BBS wheels right!), rare and extremely beautiful Anthracite gray exterior, black with silver inserts on seats and doors. Extended leather option includes leather on door uppers, dash and suede headliner. New dash OBC. Pirelli Pzero Rossos. Complete service history/records. BMWCCA member owned. $22,500 obo.
I'm going to take the next few posts to talk about other modern-classic BMW's that are showing amazing value recently. With the suddenly gas-conscious American market, some models are looking very attractive to the enthusiast shopper hoping to maximize their budget and score the ride of their dreams.
If this seems like the kind of blog that you'd love regular updates on, considering subscribing via email, blog reader, and even Twitter!
dc