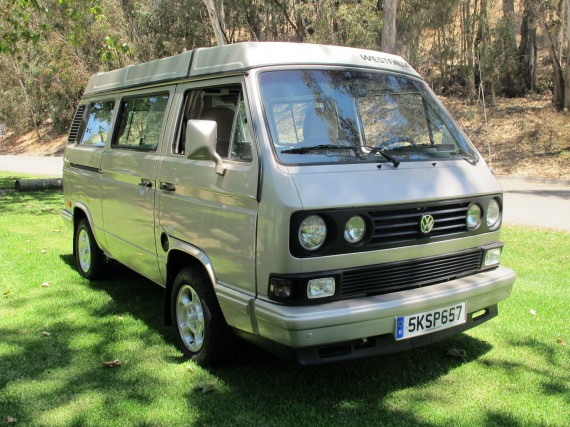 I've mentioned that a friend sold everything to tour the continent in a Westfalia, and every day I grow more envious and consider doing the same (not the M5 though… it can stay in a garage). Well, folks, I've finally seen what I want my Westy to look like. I've heard of the desirable South African look, but hadn't seen it in full force until this one. The 4-light grill is dead sexy, along with body colored bumpers that always make Vanagons look a notch above. With some great additions and maintenance, this is a really nice Vanagon (or thus-labeled Microbus, as it was in South Africa) that looks ready to whisk me away from work frustrations and out onto the open road.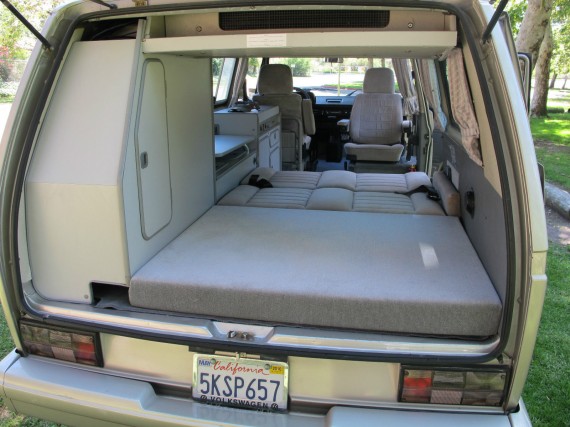 Year: 1990
Model: Vanagon
Engine: 1.8l inline-4
Transmission: 4-speed automatic
Mileage: 161k on chassis, 50k on body
Price: $27,950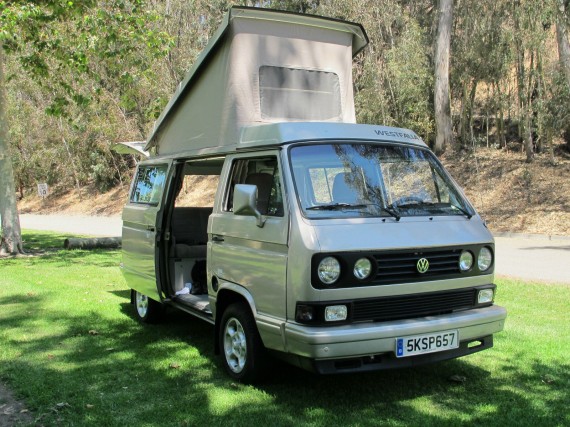 The last three sales of vehicles like this one, at the famous GoWesty.com site, fetched the following prices (check their website):
1990 full camper, 155,552 miles, sold 5/13 – $66,630.90
1991 (same spec. as 1990) full camper, 95,206 miles, sold 5/13 – $58,947.35
1991 (same spec. as 1990) full camper, 114,741 miles, sold 1/13 – $80, 590.35
Although this is a "final spec" 1990 US vehicle, these vehicles were built in South Africa (SA) through 2002. This one has been modified to include many of the upgraded features of the newer South African vehicles:
SA VW / Audi fuel injected 1.8L inline 4-cyl. engine
SA quad headlight front grill
SA alloy wheels on all four corners
SA leather steering wheel
SA VW custom mud laps, front & rear
SA Microbus & Active rear door badges
Body colored front & rear bumpers
Plus:
Front fog lights
Smoked front turn signal clusters
Smoked rear light clusters
Sony CD Stereo system with remote & iPod connection + front & rear speakers
Supplemental power outlets
Full carpeting throughout
Front, mid & center carpet floor-mats
Includes custom luggage bag for front roof rack (see photo)
Car cover
Plus:
SA VW / Audi engine has approximately 50,000 miles from new, fully serviced, no oil leaks, doesn't burn oil, smooth and powerful, easily serviced by proficient VW shop
Licensed in California with valid SMOG certification through May 2014
Power assisted front & rear brakes
Power assisted rack & pinion, turns on a dime with a curb to curb turning circle of 35.8 feet, vehicle tracks straight & true on the road
Independent front & rear suspension
Power mirrors
Central locking system
Power windows
Air conditioning
Great tires, including spare
New battery with 96 mo warranty installed 2/13
Original full color 1990 brochure with the vehicle, as well as glove compartment handbook
Configuration:
Vehicle seats 4 passengers
With top up can sleep 2 up and 2 down – comfortably
Has two tables to enable 4 people to eat (front seats swivel)
Has 2 burner stove, refrigerator & sink.
Can run on 12v vehicle battery, 120v external power plugged into side of vehicle or propane for refrigerator (required for stove)
Storage cabinets, including closet
Full privacy curtains for sleeping
Pop-top canvas is in great shape
High ground clearance – can do light trails into campsites
Work I've had done (with receipts):
New CV joints
New shocks, front & rear
a/c compressor replacement
Power steering pump
New auxiliary fan assembly
New drive belts
a/c system reconditioned with both blower motors replaced, plus resistors, relays & thermostat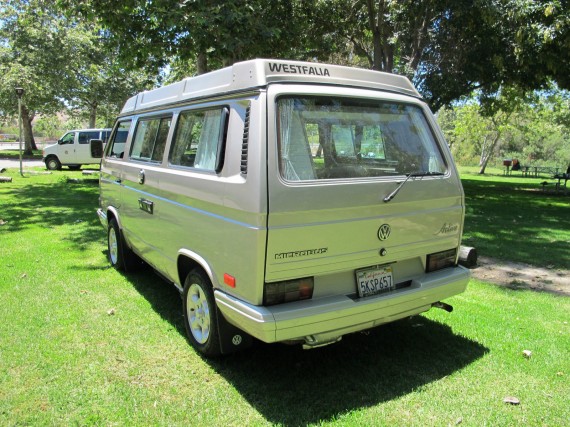 I'm guessing the last 3 examples of sales from GoWesty were throughly GoWestified, which always demands a significant premium. That said, the ~$28k asking price is, while always shocking to those who don't follow Westfalias, pretty reasonable. This is a well-done Vanagon with a lot of highlights and few liabilities. The only things missing are a manual transmission, some Synchro differentials, and me in the driver's seat.
-NR