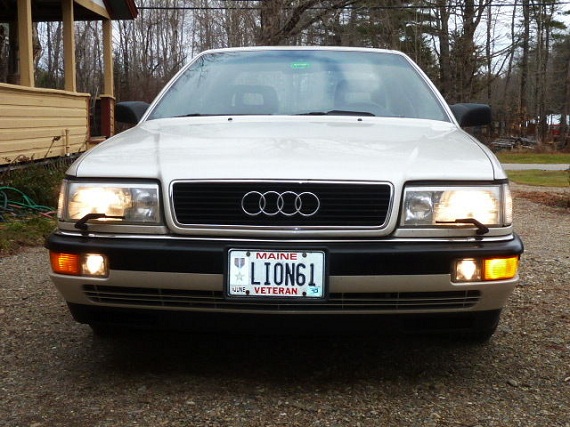 Ripped straight from the "Are you kidding me?" pages comes the third low mile mint condition Pearlesant White Metallic Audi 3.6 V8 Quattro we've featured in a short time period. Normally it's tough to find these cars in any condition, nevermind in excellent survivor status. But first, we had the V8 week 1990 V8 Quattro that sported some aftermarket BBS wheels and a high pricetag. That was followed by last week's 1991 V8 Quattro, a car in great shape with a much more appealing sub-$6,000 pricetag that still remains available. Now, check the sky for lightning because here's number three – a well preserved 1990 model: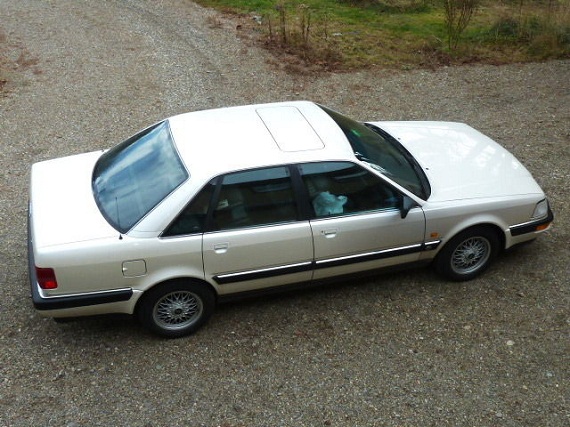 Year: 1990
Model: V8 Quattro
Engine: 3.6 liter V8
Transmission: 4-speed automatic
Mileage: 89,670 mi
Price: Reserve Auction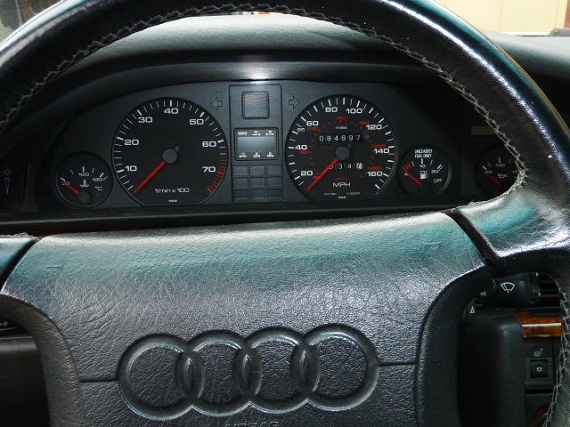 Well, it might be one of the handful of really good ones that are there.

I am selling my 1990 Audi V8 Quattro. This is the third one of these cars that I have owned since 1991 and by far the best example. I bought this car from a Pennsylvania specialty dealer in 2008 after searching for the right car for more than a year. The cars can be quite addictive I have found! This example had 62,000 miles on it when I bought it. I picked up the car in Pittsburgh using my company's truck with auto transporter and took it immediately to my mechanic. A complete timing belt service was performed as well as other maintenance items that were needed to make the car as near to 100 percent as possible. My wife and I used this car for several lengthy motor trips but we have moved to an old farmhouse in our retirement and simply no longer use this car, preferring my wife's station wagon for all our normal driving. Since the car just sits, it is time for it to be someone else's.

I have a complete listing of all service and maintenance records performed on the car since I have had it. The list is fairly extensive and includes all work orders. In addition, I will recommend that anyone interested in the car contact my mechanic whose name I will provide and you can discuss the car directly with him. ALL work on this car has been done by a professional mechanic while in my care and as far as can be determined by the overall condition of the car, the prior two owners took meticulous care of the car as well.

The car is cosmetically and mechanically near perfect. To my knowledge there are less than two other V8 Quattros in Maine still running and I have seen one of them. This is by far the best example of the model that I have seen in ten years and I will put it up beside anyone's car for comparison: these cars are getting very scarce but are a wonderful long distance touring car with sparkling power and sure-footedness in all weather that is simply not equalled…except by anothe Audi Quattro.

Here are some specifics: Tires are Michelin MXV's with approximately 25,000 miles on them. The brakes are new by my mechanic, including brake lines at the time of major service. More than $4000 was spent on bringing the car to near perfect mechanical specifications.

Now, there are some things that do not work properly as of this listing. The heated seats and rear window defroster is inoperative. I seldom drive the car in winter so this has not been a problem worth tracing down, but I suspect the seats have a broken connection beneath a seat cushion which is common and can easily be repaired. I do not want to do it. The rear window defroster is a different problem and my mechanic tested the circuits and believes there may be a continuity problem in at one end of the wiring. I decided no to pursue it further during the major service and I haven't missed the defroster since. The car was seldom driven in winter while I owned it. The airconditioning is inoperative and most likely the compressor will have to be replaced as I did a complete air conditioning service in 2007 prior to a long trip to Cape Cod at which time the air conditioning was working properly. I am willing to have the air conditioning repaired as a provision of the sale after the car is purchased, or will accept an offer price lower as a result of the air conditioning repair with the buyer's mechanic performing the work: this is a negotiating point.

My intent is to sell the car. I do not HAVE to sell it, but I know in the next year the car will likely not see more than a couple of thousand miles at most and after all consideration, my wife and I need only one utility type vehicle and this very fine, high performance sedan is no longer needed. The car is garaged and properly protected. There are two sets of wheels for this car. The BBS wheels in some of the photos are on the car now and it will be delivered with them. There is also a set of flat faced, oem wheels which were on the car when delivered and which lost a couple of center caps in the first year. I purchased the wheels on the car now and they are near perfect as is the exterior of the car.

I offer no warranty or guarantee whatsoever. This is a used automobile. I have many photographs and will be pleased to send any specific photos to interested parties.

The car will be sold with a Bill of Sale as Maine did not issue titles to vehicles of this age at the time I bought it. I have the Pennsylvania title on which the car was sold to me, and all service records will be included with the sale.

This would be an excellent car for the person who knows what this car is, and what it is capable of. The V8 Quattro is a car that requires a certain level of maintenance which can fairly easily be accomplished by a good do it yourself-er.The days when it is fun to turn wrenches is long past for me, and all the work that I have had done on all my cars has been done by the same mechanic for more than fifteen years. If you are interested, you can speak with him and he will give you all the information about this car you wish to have.

The car must be paid for, and check cleared by bank prior to the car moving from my garage. I can arrange to have the car shipped at the buyer's expense; can have the car delivered to a shipping point in Massachusetts or delivered to the buyer's door, at buyer's expense as required.

As I indicated at the top of this listing, this might be the best example of Audi's flagship in existence and I will be pleased to discuss it with any person serious about owning it.

A word about shipping: I have used Dependable Auto Shippers several times in the past. Their nearest terminal is north of Boston. I can arrange for the car to be delivered to the terminal in Boston at the buyers expense using a flat bed auto transport company near me and which I know well, or it is possible to have the local dealer deliver to you where ever you are located if desired. Transportation will be the responsibility of the buyer and the car will once it leaves myNOT be insured driveway. And of course, payment must be received in full before the car leaves my driveway.

I have indicated I expect a deposit by Paypal within 24 hours of auction close and the balance must be paid within five days of auction close via certified or guaranteed funds. This is a RESERVE auction, but my intention is to sell the car, so bid freely if you are interested in owning what is one of the best ones in existence.

On Nov-19-13 at 05:39:26 PST, seller added the following information:

I will be posting many additional photographs today and tomorrow.

I have already been asked what my reserve is. I will allow the auction to run its course. If the highest bid is close enough to my reserve, I will make a "Second chance offer" prior to relisting. This car will sell on eBay although I wish to maximize its value. I have spent well in excess of $4,000 servicing this car since I bought it including the timing belt/major engine service, brakes, brakes lines and assorted other things necessary to make the car as near new as possible. My wife and I are approaching our seventies and it was my original intention that this would be our normal travel car and I wanted to be certain that the car would be as dependable as I could make a car that had sixty thousand miles and more on the odometer. Thus the approach to maintenance on this as well as our other vehicles, was basically front end "cost no object". Owning and operating a vehicle is much less expensive that way, than to replace a vehicle every third year and never owning one outright.

On Nov-19-13 at 09:16:31 PST, seller added the following information:

11/19/2013: I have uploaded more exterior photographs as requested. Notice the front headlights which are shown to display the headlight/hood gap seals which I had replaced after I purchased the car. I will be posting interior photos a bit later, but for now there are photos of the instrument cluster in which you can see the current indicated mileage, plus the radio which is switched on. I show the radio because it is an OEM radio which I sourced after the OEM radio that came with the car stopped working around 70,000 miles. I am showing the radio to indicate that the car has been maintained in completely stock condition since I have had it.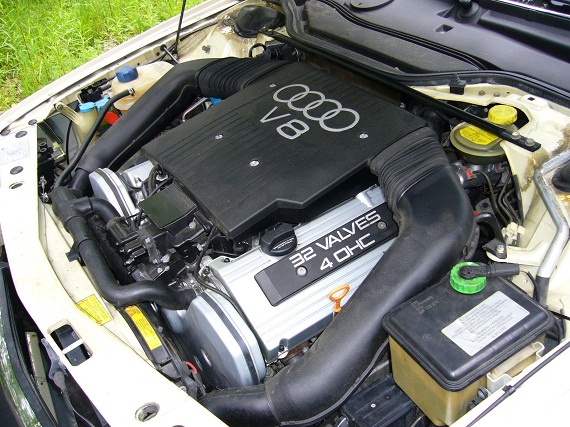 It's an impressive description of the car's condition, with important points being the expensive timing belt and brake servicing. The air conditioning is explained as not working, but the seller is offering to service or negotiate the price point down based upon that. There are other small things, such as the seat heaters and rear defroster not working. Otherwise, the car is shown in impeccable original condition, which is certainly impressive for an Audi of this vintage. The car is shown with both the original color-coded "Aero" wheels and the 1991 and up BBS RZ option wheels, and while no mention is made of it I'm guessing both sets go with the car.
As for the price, I'm also guessing the reserve is set fairly high. There have been offers but little movement on the 1991, which has a few more miles and is missing a headlight wiper, but otherwise looks to be in similar overall shape. The other 1990, with a price which is now in the high-$6,000 range, also remains for sale. There's a very limited market (perhaps, just me?) for these V8 quattros, and unfortunately clean models fall into the pricepoint for clean examples of the 200, S4 and S6, which more enthusiasts are interested in. I'd say the sweet-spot for this car is probably $5,000 – $6,000, and at that price it's a lot of car and a unique piece of both Audi and German motoring history! If loving this car is wrong, I don't want to be right.
-Carter