Here's a beautiful Porsche 928 I spotted on eBay. The GT model is a special edition and comes with a hotter 330hp V8, an electronically controlled limited slip differential, and the 'design 90' wheels. Take a closer look at this 1991 Porsche 928 GT for sale on eBayMotors: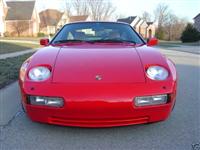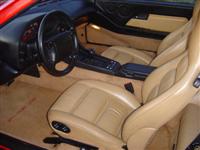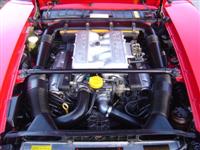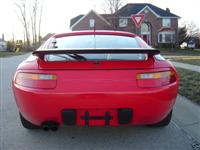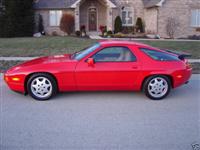 quote from seller's eBayMotors listing:
1991 Porsche 928 GT. This is 1991 928 GT production car # 2. Just 81,324 actual and excessively documented miles. Mint and original Guards Red exterior nicely complimented by it's perfect supple tan leather interior. Fully documented since new and a former one owner car until '06. This car has just completed a thoroughly comprehensive, mechanical and aesthetic 928 rotisserie restoration and reconditioning over the last nine months. You are now looking at a true concours condition 928 GT on every level. Agonizing attention to detail was paid to every last item in bringing this GT to it's original and unmolested condition. It should also be noted that this particular GT is the only U.S. GT to be ordered with a factory leather instrument pod housing and factory leather center console. This GT will easily win all local and regional concours events and compete evenly on a national level. No expense was spared in bringing this already rare masterpiece back to "as new" condition. The entire body is simply perfect with absolutely no flaws. No chips, dings or scratches anywhere. Everything about this car is like new condition. Mechanically, the car has just recieved the following items; complete timing belt/water pump service including all tensioners and pulleys and all associated items, pan gasket, valve cover gaskets, intake gaskets, both knock sensors, seals, powdercoating of the intake and valve covers, entire clutch assembly including the disc, pressure plate, throw out bearing, pilot bearing, guide tube, release arm, rotors, pads, tires, retro-fitting and reconditioning of the AC system both front and rear, correct Bilstein shocks, Bosch spark plugs and OEM plug wires just to mention a few. In addition, it should also be stated that the underside of this GT is just as nice as it's topside. The entire car has been returned to it's original, unused condition. It looks, runs and drives like a brand new 928 GT! Regardless of mileage, this is most likely the nicest and newest 1991 928 GT in the country.
I'm a big fan of the 928 anyway, but in this color, trim, and with the 5 speed, I think this looks like a great example. Current bid is just under $14k (no reserve auction) and 8 days to go. I'll update after auction for the final sale price.
dc