Though deservedly overshadowed by the subsequent E30, the E21 first generation of the BMW 3-series has a lot of charm. They led the charge for a whole new paradigm of sports sedans, and helped solidify a design language for BMW that lasted more than a decade. One of my best friends in high school drove a gold example that, while pretty janky, had a lot of good vibes. At the end of the day, he was still driving a BMW!
Today's example is the nicest I've ever seen. The seller is turning it around after buying it from the original owner, who had it in Hungary as his "home" car, only driven when he was visiting while attending college in the US. Eventually it came over here after what sounds like some extended sitting, and today it has covered only 47k miles. The seller says he invested $10k to get the mechanicals back to 100%, whereas the exterior and interior already look amazing. It's truly an unrivaled E21, but the real question will come down to how much can an E21, regardless of condition, be worth?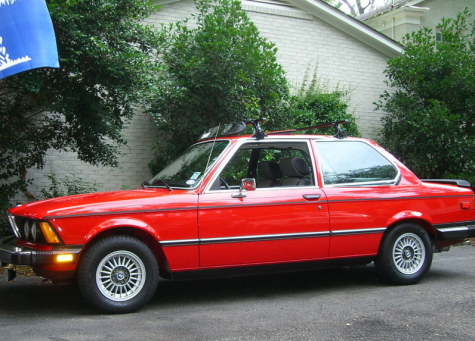 From the seller:
This may be one of the most preserved E21 sedans around. Ebay will not accept 1979 Vin so for you real collectors: 5455376. I purchased this 320i from its original owner in an estate sale. The owner was originally from Hungary and naturalized to the US after attending Columbia University. He purchased the BMW to have to drive when he visited his parents in Hungary for the summer. Because the country was under USSR rule at the time, nobody else could drive the car and it had to be "put up" when the owner wasn't in the country. (Battery Disconnected and police tape on the doors!)

The sport edition has recaro seats (still in absolutely great shape-see pics. the gray and black are custom fit covers that come off for shows and go back on for the occasional ride), sport M steering wheel, sunroof and AC delete. A BMW stamped rear spoiler is dealer added. The original paint still shines and is 90%. I did re-spray the nose that had suffered a little road rash over the years of limited driving. On one or two pics you will see a BMW OEM NLA bra. I have no idea what that could be worth.

The interior is original and flawless. no dash cracks of imperfections. The original co-co mats (red ones on a pic) finally fell apart a few years ago and I replaced them (black and gray) from cocomats.com. All lights, switches, etc in perfect working order. Clock keeps perfect time and rear defroster working.–two items that tend to fail over the years. I have custom fit seat covers on the car to preserve the NLA black velour seats. no a rip or stain. I did have the recaro factory supply me with material to repair driver bolster that is 95 percent correct–weave is slightly off but you can not tell from a foot away. I also had upholstery shop put new recaro bottom straps in to make the seats firm again. I have the original am/fm cassette but upgraded to a business CD that looks perfect (see pics) and replaced speakers for better sound but used the original covers so it looks factory. The business CD was a popular upgrade and cost $1,000 from the dealer.

Mechanically, I have spent around $10,000 to make her 100% road worthy. While body wise she was pristine, sitting for many years required some expense to get her running as she did in 1979. I have all the receipts but basically did it all. Suspension, brakes, replaced all belts, water pump, radiator, tune up, etc. She drives unbelievable! she gets a little whine in excess of 80 mph because of the 4 speed tranny but will run there and more all day long and the temp gauge stays right in the middle–not always the case with the E21's. You can eat off the engine bay. This is a show quality car that drives like it's brand new!

Have all the books, tools, warning triangles–even have the first aid kit but i'm sure the antibiotic salve has expired! haha! Let the pictures do the talking (they are not doctored taken from my casio camera) and email me with your questions. It has been stored in my air-conditioned/heated garage with my other collection. There is nothing to hide and this 320i needs a good home of a fellow collector that will display her proudly.

The BMW plant in SC rep told me that they rarely see 3 series sedans in this condition. If you are a BMW collector and want to add a E21 sedan to the collection, this in is it! Im selling this car for less than i have in it. This small business owner needs to free up some of the collection for some cash unfortunately. Happy Bidding.

Update: I have gotten numerous calls and want to address a few items: The rear spoiler is a Heckspoiler–manufactured by Zender GmbH serial # 1.264.03.3 my apologies. It is correct year and is original rubber type material-not fiberglass reproduction. As stated, it was dealer installed accessory not factory. NOTE: I had the alloy wheels refinished due to long time brake dust accumulation–they were not bad but in the creases i couldnt get them 100% clean–the rest of the car was too pristine not to shine them up. They still had the original continental tires that I should have saved! They are the original wheels and the original color. I have the am/fm cassette with the microphone. I upgraded to a BMW Business CD and added an old school equilizer where the ashtray goes. I still have the ashtray and can go back in along with the cassette if you please. The color of the car is iberischrot 1872108. Absolutely NO RUST. All books, tools, etc. The pin stripe is BMW oem i had applied and to the best of my knowledge is no longer available part # 51149057070.
This car is beautiful, if a bit busy for my tastes. I'd prefer the E21 shape sans roof rack, fog lights, and Zender spoiler, but it really is a gorgeous example of the original 3-series. It's been well loved by both the original owner and the seller, who sounds like a solid collector with his heart in the right place. I just don't know if a 320i, even with 47k miles, can go for the $15k Buy-it-Now. Somewhere between that and $10k sounds a little more reasonable, but hey, if you want the nicest E21 out there, don't let me stop you!
-NR