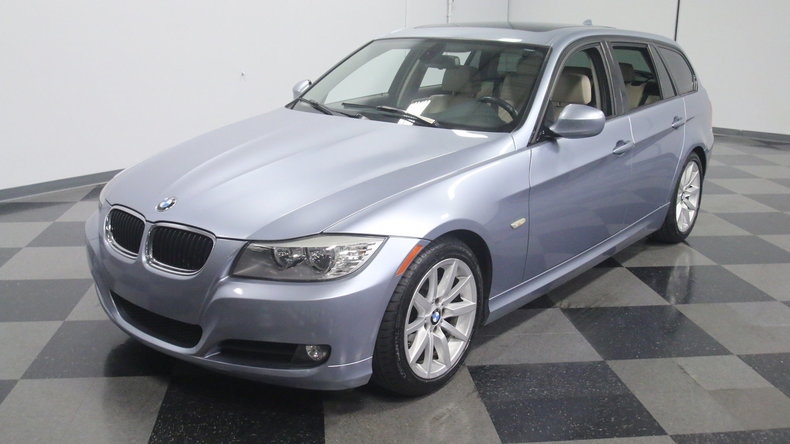 Update 8/30/18: The asking price has dropped from the original $32,995 to $28,995 now.
While it was Audi who cut their teeth in the fast wagon market, the S6 Avants we saw the other day were the end of an era for the marque in the U.S.. Sure, the A6 3.0T Avant carried on and was just as quick, but its sales numbers dwindled as the naughts came to an end, and it was removed from the market in 2011. The A4 soldiered on, but even its offerings were slashed – first to fall was the S4 Avant, followed by the normal A4. Today, you can only get the automatic 2.0T Allroad if you want a 5-door Audi.
It was BMW who picked up the reigns of big sporty German wagons in the 2000s, with V8-equipped E39s leading towards the E61. Not to be outdone, the E46 introduced American customers to the smaller 3-series wagon for the first time (though it had been around for 2 prior generations) and that continued with the E91.
However, even though BMW offered two wagons right through 2010, they were rewarded with minuscule amounts of sales. In 2009, the company sold 1,430 3-series Sports Wagons in the U.S. – accounting for only 2% of sales of the E9x here. It was just as bad for the 5-series with 878 sold, so the company dropped it from the U.S. lineup in 2010. Frankly, it's amazing that BMW continued to sell wagons at all here.
But they did, and you could order yourself up a neat sporty wagon. It wasn't an M3, true, but the N52K-equipped 328i produced 230 horsepower and could be opted in rear-drive, 6-speed manual configuration with the M-Sport suspension:
4 Comments