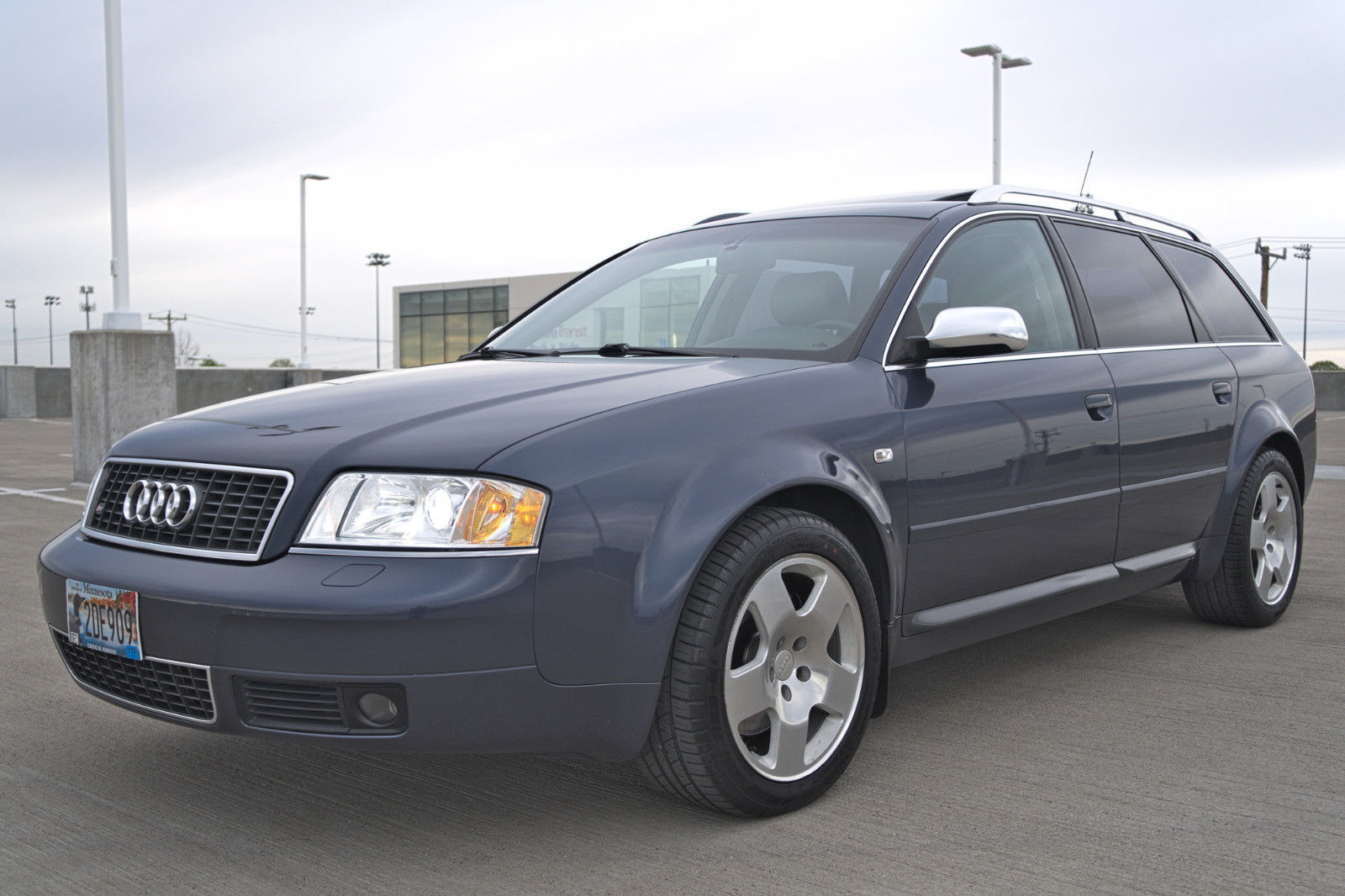 I'll be honest. There are only two reasons I'm looking at these 2003 Audi S6 Avants – their colors. Seemingly 90% of the S6 Avants that came to the United States were Silver, Silverer, or Black. As a result, it's somewhat of a celebration to look at the more inspired tones. And there were a few; you could, for example, opt for Amulet Red, a striking deep crimson. You could get Audi's signature Pearlescent White Metallic, one of the few extra-cost options on the S6. Or you could go with one of today's two tones: LY5X Aqua Blue Pearl Effect or LZ6X Goodwood Green Pearl Effect.
Both are pretty stunning colors in their own right, but in each case here the transform the S6 Avant to another level of desirability. And in both cases here, the condition is outstanding and well documented; both sellers claim theirs to be one of the best in the U.S., and both are probably right. So which is the one to get?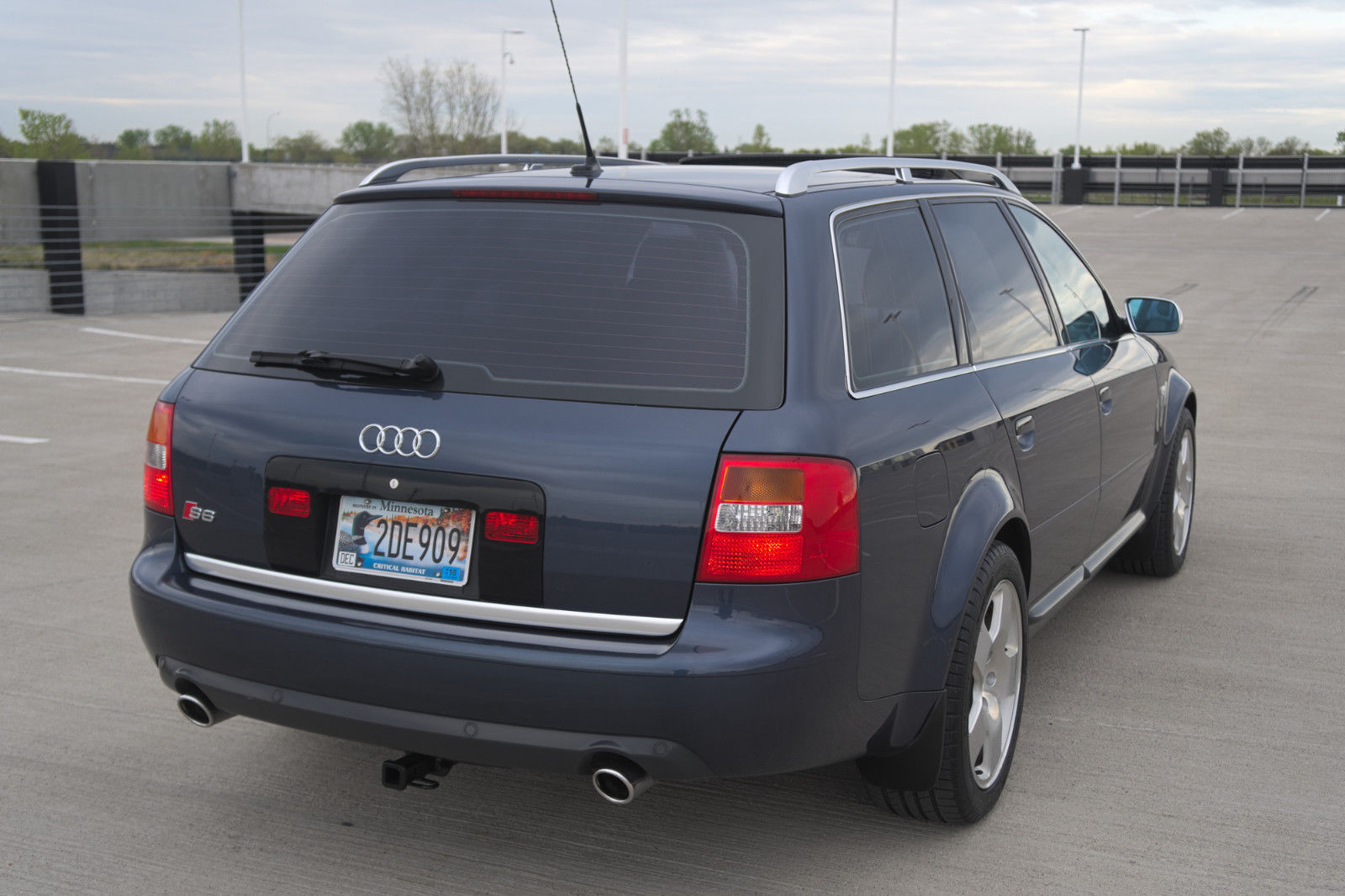 Year: 2003
Model: S6 Avant
Engine: 4.2 liter V8
Transmission: 5-speed automatic
Mileage: 69,088 mi
Price: No Reserve Auction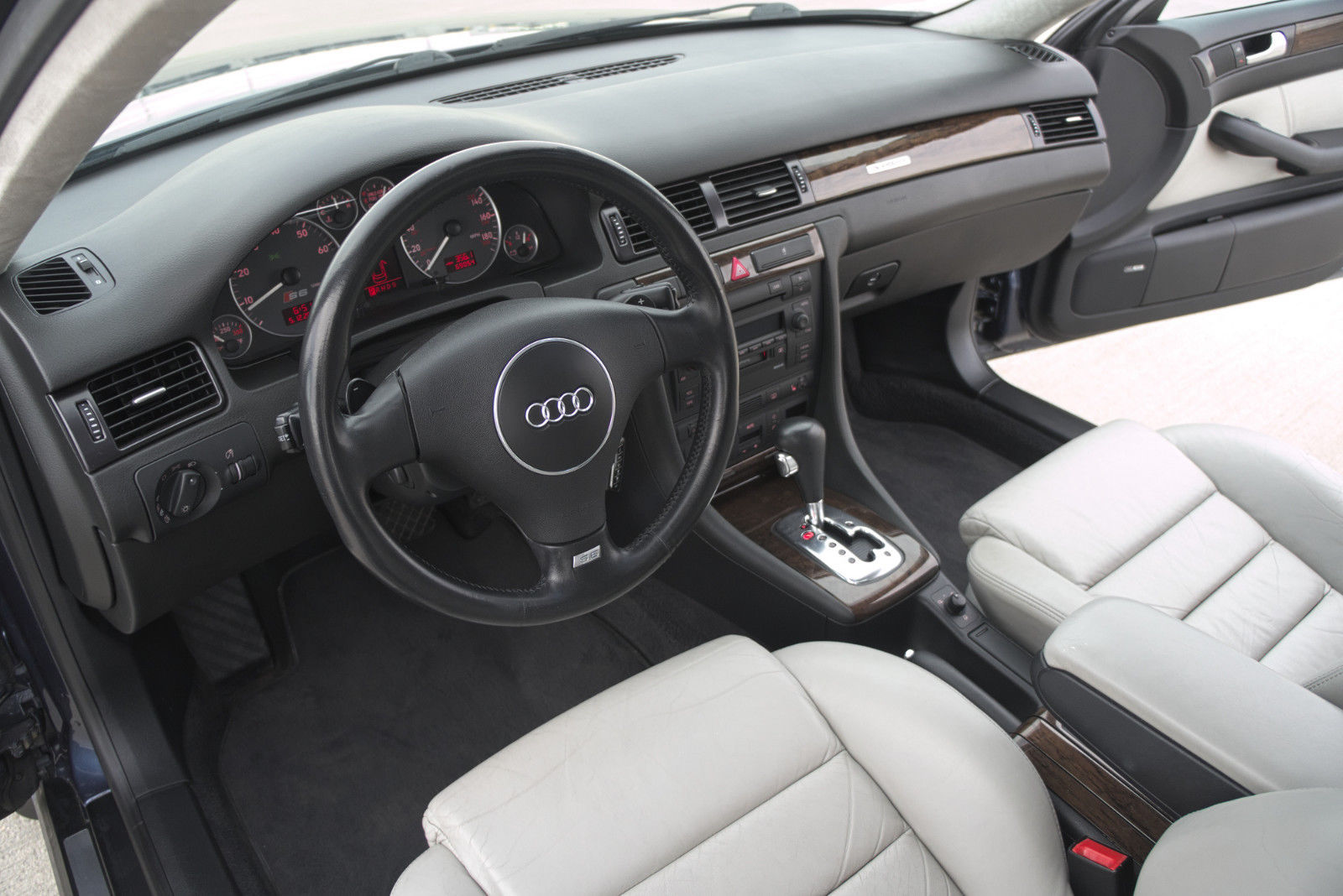 ACKGROUND
I bought this car a little over 3 years ago with 48k miles from (I believe) the 2nd owner, who purchased it from his father-in-law (previous owners moved a couple times so Carfax shows 4-5 owners). The car has spent most of its life in CA and TX. I've done a lot of preventative maintenance, care, and some very light mods since then. At the time it was the nicest and lowest mileage example available — and I'm fairly sure that's still the case. This S6 needs absolutely nothing mechanically, it even has brand new oil and tires, and everything works as it should. Cosmetically, the paint has a few minor defects but is overall in excellent condition. The rear headliner over the cargo area is sagging. The rest of the interior is excellent. All accessories are included: rubber and carpet OEM floor mats, rubber cargo mat, rear cargo cover, cargo net, pet net (?). It has been recently detailed, washed, waxed and is ready to go!

MAINTENANCE
• 48.5k
– full timing belt & serp belt
– all belt rollers and tensioners
– new water pump & thermostat
– new engine seals & vc gaskets (no leaks!)
– NGK Iridium IX spark plugs
– new silicone vacuum lines
– OEM coolant flush/fill
– engine air & cabin air filters
– 0w-40 Mobil1 oil + Mahle filter
• 51k
– trans fluid flush and change with BND Automotive fluid & filter, done at Imola
– Mahle fuel filter
• 54.4k
– new Koni FSD dampers + all springed rubber components
– new rear OEM sport springs +1 weight rating
– new front upper control arms
– 3 out of 4 outer CV boots
– full alignment at Jeff's
– OEM crankcase vent valve
– Mobil1 0w-40 + Mahle filter
• 6?k
– new (not reman) Bosch alternator
– new Bosch AGM battery
• 62.5k
– Mobil1 0w-40 + Mahle filter
• 66.3k
– bleed brake lines & fill with Pentosin DOT4 synthetic
• 69k
– Mobil1 0w-40 + Mahle filter
– [i]brand new[/i] Cooper RS3-G1 tires

MODS
• Python 2-way alarm/remote starter
• H&R 22mm rear sway bar
• "ddillinger" custom TCU tune
• Morimoto XB HID D2S bulbs
• hard-wired dash cam (can leave or take out)
• LED interior lights

WHEELS / TIRES
• OEM Audi semi-polished "fat five" 17×8 wheels with 10mm alum hubcentric spacers
• Tires are brand new Cooper RS3-G1 p245/45r17

PICTURES
More & larger pictures here: https://ibb.co/album/kH4h8v

CONTACT
Don't hesitate to contact with any questions!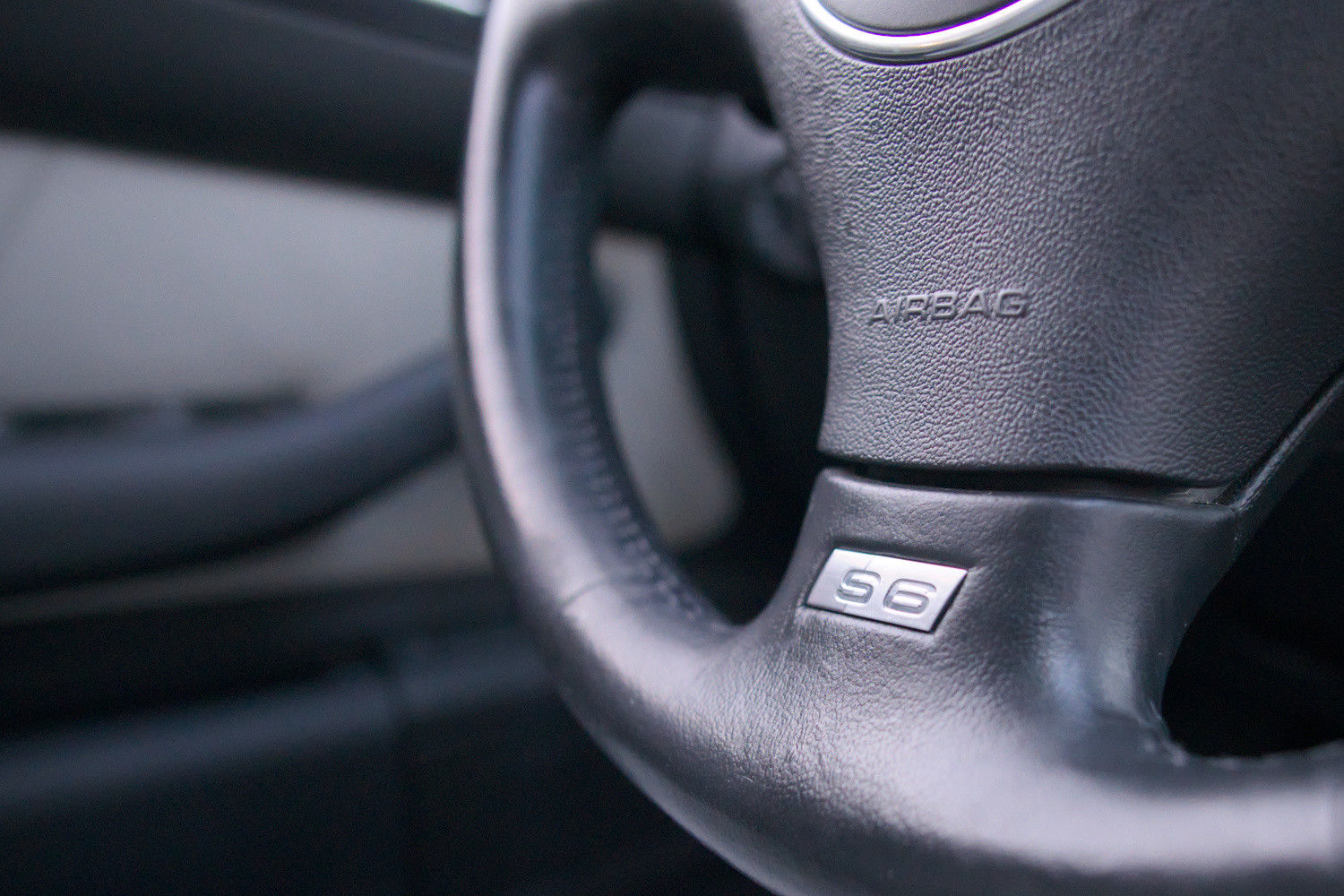 Presentation is key here. Not only is this one of the lower mileage examples I've seen of late, but it's well photographed and seems to have a solid history. The forged Fat Fives are an interesting choice, but not inappropriate (though they make it look like an early A6 4.2 to me). The auction is no reserve but the starting price is high at $13,500. That's $500 more than the last really nice Avant I looked at, and that one had even lower mileage. Would I pay $500 for a better color? Yes, but I probably wouldn't pay any more – so to me this car is really at the top of its market right now but does represent one of the best examples for sale.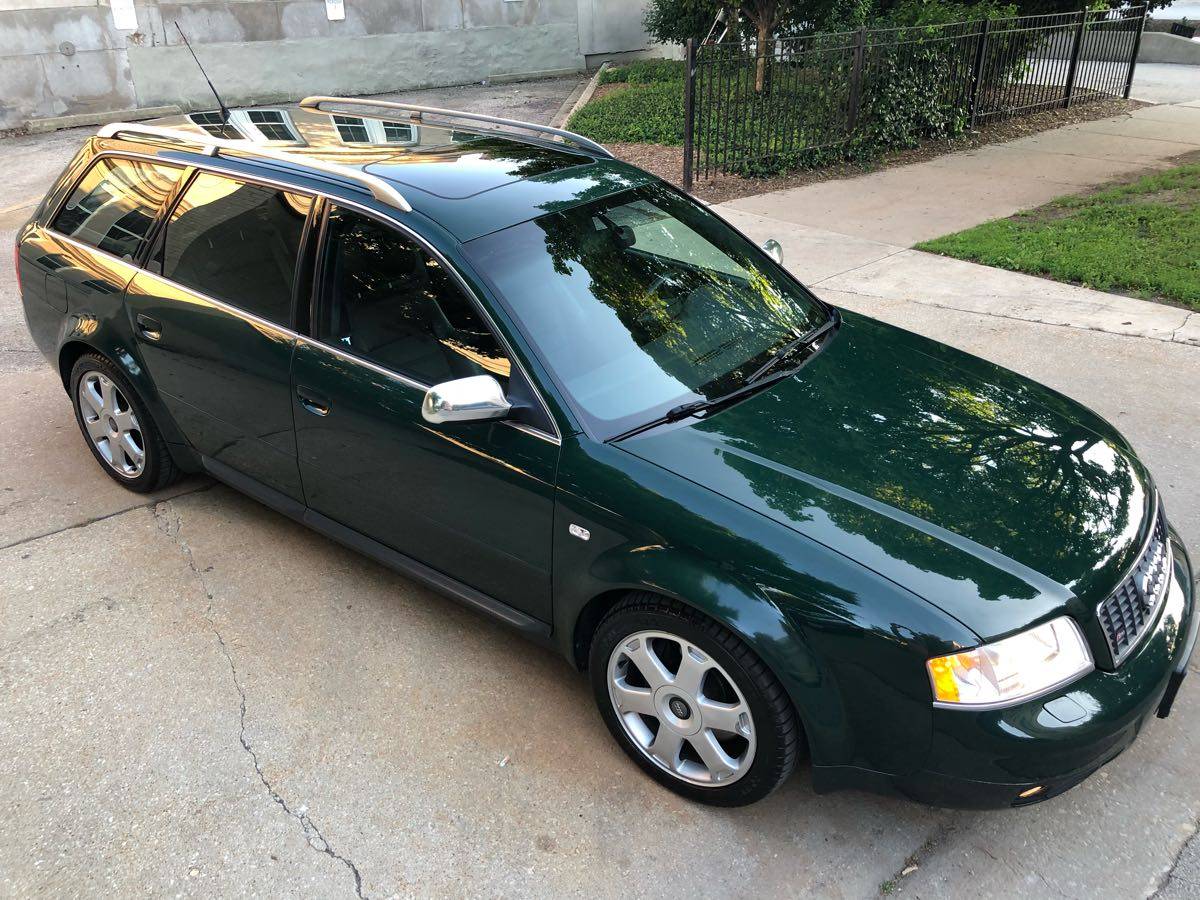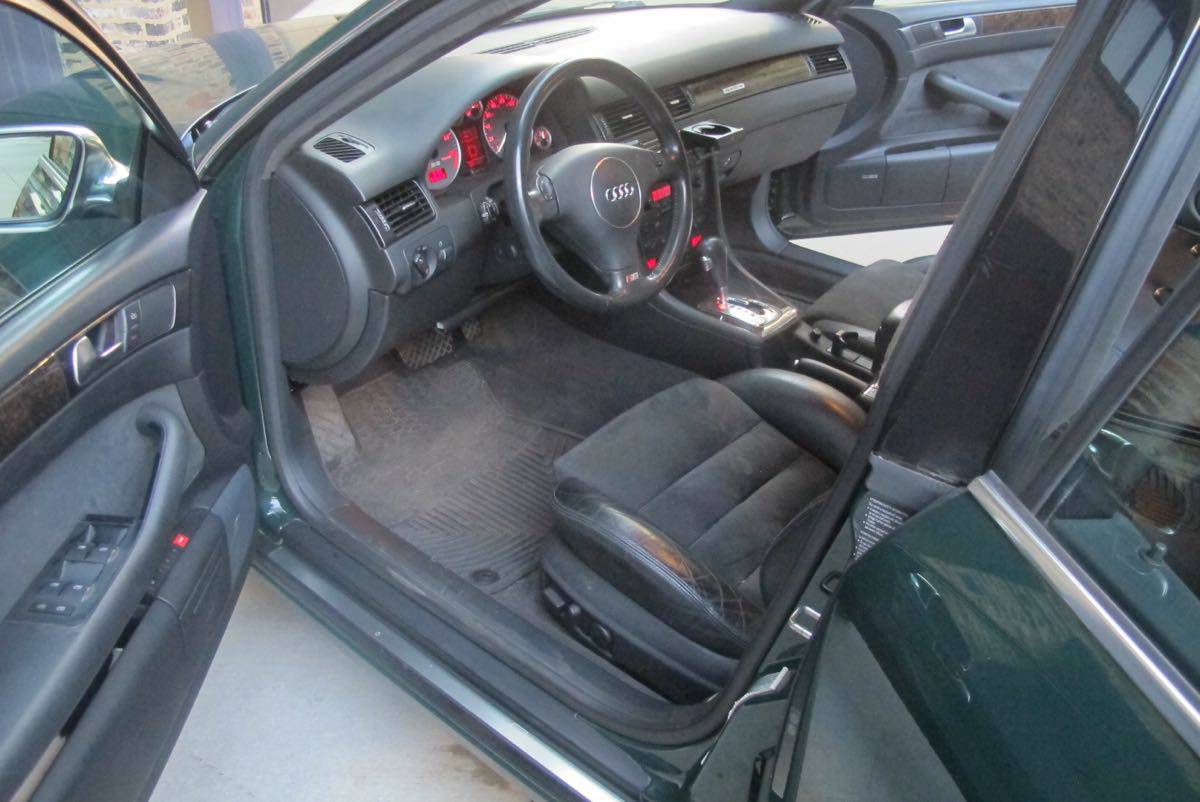 Year: 2003
Model: S6 Avant
Engine: 4.2 liter V8
Transmission: 5-speed automatic
Mileage: 130,516 mi
Price: $9,000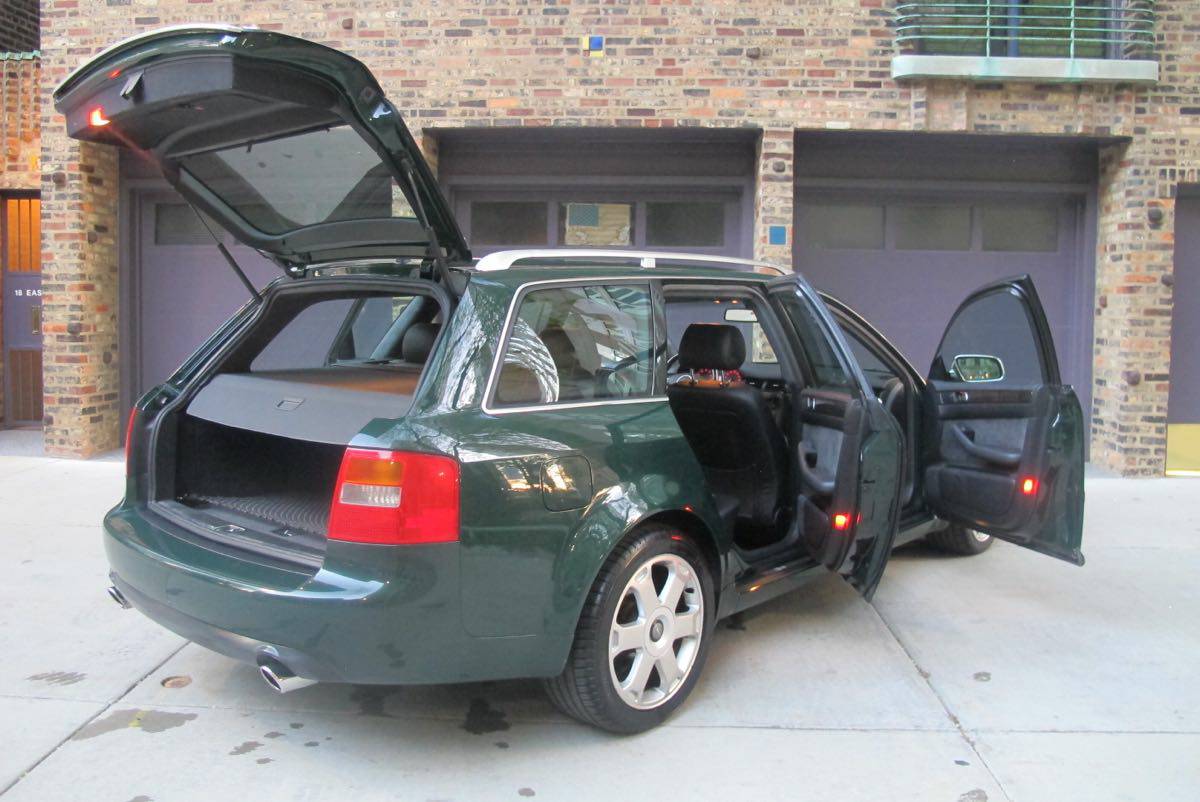 Attention Audi and BaT enthusiasts offering my outstanding rare 2003 "Goodwood Green" S6 Avant for sale. According to Audi of America it's 1 of 2 in this color combination out of 166 in total for the 2003 model year here in the US. Well maintained by Audi dealer thru 77kM as CPO and Indy tech since. This service history will come with car. New battery, Newer brakes. Newer Michelin Pilot A/S tires. $4,000 plus documented maintenance in past 24 months. Timing belt water pump service completed at 105k miles. Currently 130,xxx miles. Black leather interior with Alcantara seat and door inserts. Heated front and rear seats. Two original remote key controllers. One of the best lower mileage C5 S6 Avant's for sale in US right now. Call or txt 3one2 five60 seven98zero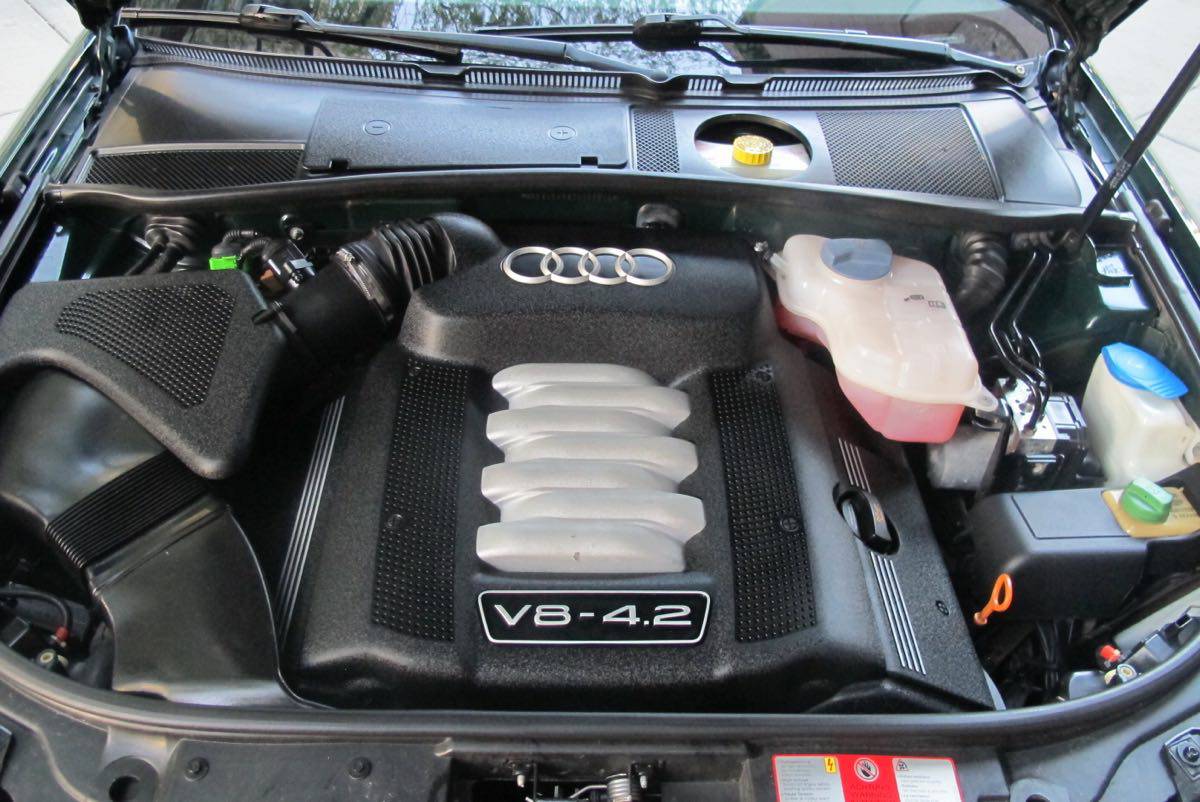 The "1 of 2" comes through the addition of the Alcantara interior, option code PLE. At only $250, it wasn't very expensive originally and outside of the novelty I don't think it adds to the value. The white leather in the Aqua example adds a nice splash of color which is unfortunately missing here. Again, this car is well presented and well maintained, but does have a lot more miles on the clock. 130,000-odd is where you'd need to start thinking about the transmission failing, but this car offers a very unique color in very good condition for $4,500 less than the Aqua car. How does this compare to the last "Roll the Dice" supercharged S6 I looked at?
It sold for $7,055, which probably tells us where the market is on question mark cars. Really exceptional ones will always bring more and you see that in the two lower-mile examples. But I don't think the Goodwood is outrageously priced given the condition and what it is. Either would make for a very special rumbling family express!
-Carter