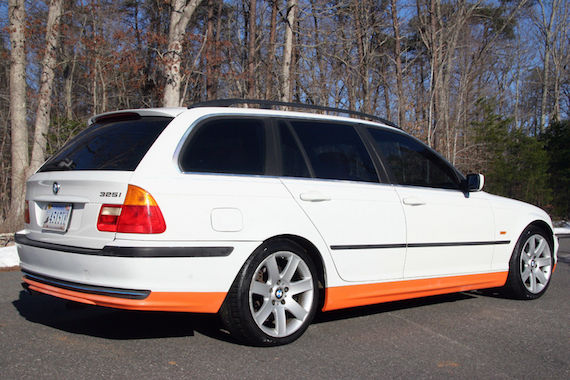 Edit 10/01/2017: After fixing a few more things and covering about 10,000 more miles, the buyer of this unique 325iT has it back on the block again in a no reserve auction. – Ed
The E46 wagon has emerged as perhaps the last bastion of good, clean, simple German longroofing. Modern wagons are bulbous, overstuffed with features, and crazy expensive. The biggest options on today's 325i Touring are color choices, while the mechanicals and general usability remain refreshingly simple: no sunroof, inline-6, 5-speed manual, manual seats. Manual, but in Tanin red leather, just the kind of curveball reader/seller Rob clearly likes. A nice, plain white exterior? Why not add discreet M-pinstriping and anything-but-discreet Creamsicle Orange lower valences? The 7-spoke Style 4s are nice but plain – leave them for the all-season tires and you get summer-rubber on blackened Style 68s! The colors may jump all over the place, but if anything they draw attention to a sweet car that represents a simplicity we have all but lost.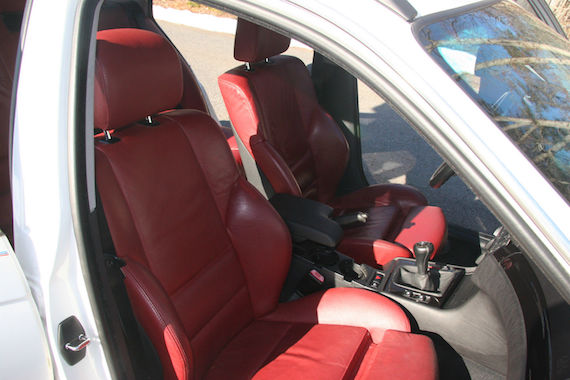 Year: 2001
Model: 325i Touring
Engine: 2.5 liter inline-6
Transmission: 5-speed manual
Mileage: 195,940 mi
Price: No reserve auction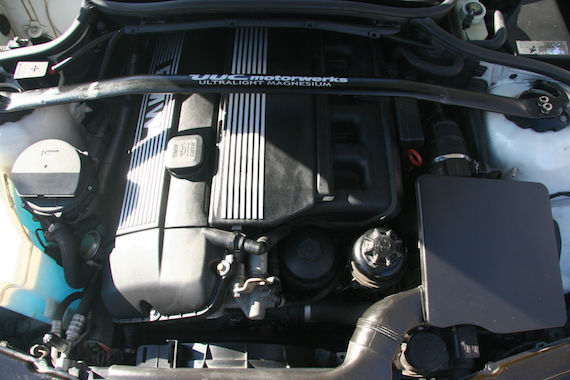 New Description

2001 BMW 325IT E46 Wagon 5-Speed

This 2001 BMW 3-Series wagon was custom ordered by the original owner in 2001 with 194k miles. After owning an E36 M3 coupe for a number of years, he wanted the closest thing to an M3 as he could get, but with the practicality, and stealthiness of the wagon body, and thus, the car you see here was born.

Alpine White over Tanin Red Leather​ Interior with Piano Black inlay.

Original Window Sticker

I am the second owner of the car, I have owned it since February 7, 2016 and have put 13,000 miles on the car.

The original owner lived in Virginia and was a BMW enthusiast and longtime ​BMW Car Club of America member ​who custom ordered it exactly the way he wanted it to be as analog as possible.

The car resided in virginia from new through when I acquired it.

Only three option packages.

1. Sport Package. (Sport seats, steering wheel, suspension and 17″ wheels with 225/45 17 ZR rated tires)

2. Harmon Kardon Stereo/Single disk CD player

3. Tanin Red Leather with piano black trim

Sunroof Delete (Slicktop)

No power or heated Seats

Cruise Control Delete

Electronic Climate Control Delete, which means knobs. ​ ​

No Auto Dimming Mirrors

Maintenance​ (by previous owner)​

Oil changed religiously every 4,000-7,000 miles with Mobil1 0W40 Euro Formula ONLY (he was very adamant about that)

Coolant changed every 2 years

Brake fluid flushed every 2 years

Spark Plugs changed every 80,000 miles

Gearbox and rear differential oil changed with Redline oil every 30,000 miles

Water Pump, thermostat and plastic coolant parts every 60,000 miles

Power steering fluid and power steering reservoir replaced

Vanos oil line replaced

Oil level sensor replaced

Fan speed regulator fixed

Intake/exhaust camshaft sensors replaced

Window regulators replaced

Oil separator CCV valve has been done

All belts, tensioner and pulleys replaced

Engine air and cabin filters changed

Full suspension overhaul with all OEM Sport Suspension Bushings, Struts, Strut Bearings, Rear Shock Tower Bearings, Rubber Gaskets, Rear Trailing Arm Bushings, Control Arms, Control Arm Bearings, Front End Bushings.

Modifications by original/previous owner.

​

Corsa 2.5 inch CAT-back resonators and exhaust by UUC Motorwerks

UUC Motorwerks Strut Tower Brace

Slotted and Drilled aftermarket rotors and performance pads

1 1/4″ receiver hitch for a bike rack

No tuning or any other mods ever.

Non Smoker

Always Garaged

Never driven in snow

​I have replaced the following in the last 2,000 miles:

​ ​ Fuel pump

Fuel pressure regulator

Secondary emission control air pump

Guibo Replaced.

Fresh Mobil 1 oil with Bosch filters.

Driveshaft Assembly

Brake pads and sensors

Fresh K&N Air Filter

Brand new complete headliner replacement

Brand New Dunlop Direzza tires (over $600 with less than a hundred miles on them) in July 2017

Car has never been abused, retains original clutch with plenty of life left.

The car comes with Continental DWS Extreme Contact 4 season Tires, mounted on original BMW M-Sport package rims. DWS tire wear is measured by the "DWS" on the tread, "Dry, Wet, Snow". All three letters are still visible.

The Bad:

The car has several minor cosmetic blemishes shown in the photographs, that have been touched up by the original owner.

There is a small dent on the passenger front fender, that measures 2" across. Never thought about having it pulled, although I imagine one could do so fairly easily.

There is a section of wear in the passenger side front fender liner. The liner came loose and rubbed against the tire. Not visible from the exterior, and in my view was not worth replacing.

There is a small (2" long) crack in the driver side rear tail light.

There is a single bubble of surface corrosion on the driver side rear wheel arch, despite having never been driven in snow.

Delivery is possible. I will drive this car anywhere in the country but it must be paid for and registered by you in advance. Let me know where you are IN ADVANCE of the end of the auction. Within a few hundred miles, I will deliver via my own trailer if we share the cost to be determined in advance of the end of the auction.

NO RESERVE BID TO WIN
Old Description
Rarest of the rare from E46 USA production. 1000's more Automatic convertible M3's even were produced during this run then the very few enthusiast ordered 5 speed wagons that made it to the USA. For the few soccer moms and others with good taste who bought this touring version instead of a sedan or an SUV (and before the dreaded crossovers of recent times) the majority were bought off dealer lots loaded with premium package, sunroof, power everything, non sport package with an automatic and in many cases ix all wheel drive in black or silver with tan,grey and black interiors with the "luxury" wood trim. Or they were stripper models with boring configurations as well and always the automatic.

When I was 28 dreaming about this wagon so excited that BMW finally decided to bring the great looking E46 version of it's sports wagon, I'd be sitting up late building it on the BMW configurator online. I actually traded in my 1997 E36 M3 for this car as I knew by that point I was fully bitten by the BMW bug but I actually wanted one that was a bit LESS powerful and hard edged on the street and long trips, as M cars feel like they are ready to always pounce, so something a bit softer, yet still with a stick, clutch, still exciting, efficient, smooth inline 6 power through the gears, but with the added practicality of a 5 door wagon on the iconic e46 chassis that some still prefer over newer choices. Had they offered a 330i in a wagon I would have taken that option but the 2.5 liter straight 6 is actually a very nice displacement for this engine and always feels under-stressed like it could last a million miles delivering smooth well engineered power, not immense but just enough to be exciting.

So I knew what I wanted, in the early to mid 2000's was a golden age in BMW's evolution of perfectly designed elegant sedans and wagons of different sizes and levels of sportyness, yet not overly complicated and computerized like later generations. The E39 M5 for example is the perfect sports sedan RWD,manual naturally aspirated V8,minimal computers, then and still now just sublime. And this is the last of it's kind of a perfect sports wagon manual RWD inline 6 simple honest what made BMW unique, these were the last of the cars that were closer to feeling analogue as opposed to feeling digital in the driving experience. The E46, E39,E38 and E53 are the best of BMW's 3 series, 5 series, 7 series and X5's and these thoughts were expressed in BMWCCA opinions and articles, that these were the last of the bunch that the old school enthusiasts could relate to. Our families stable includes e39 M5,e39 525it,e30 325ic M-technic now owned by a cousin, my wife's e53 X5,my moms beloved e28 5 series,and an e46 320D touring just like this one but diesel that we use in Europe. There are no more manual wagons available anymore at all and everything is turbo 4 cyl these days so if you know you're into this sorta thing then jump on this because nothing else in this price range will have as much value and make you as happy to own for many years to come if that is your goal.

Anyway the way I ordered this car that I intended to keep for life makes it special as well as the amount of stuff this car does not have on it,which makes it less problematic for log term ownership as less stuff to break,plus a bit lighter. Yes the only way to get a car like this is to special order it during the time that they accept orders for that years production and then wait patiently for 2-3 months which is what I did.
Only 3 options:
-sport package which includes beautifully bolstered sport seats,please note if you weigh over 230lbs these seats may hug you a little too tightly. But at 200lbs and under these seats feel perfect and provide the right support for long drives, with multi adjustable manual controls and thigh bolsters. The quality of the Tanin red leather seemed to be higher then other colors I've noticed as it's aged beautiful, no tears great grain still and the wear looks nice on it. Also sports steering wheel,sports suspension and sport package 17 inch wheels with 225/45 17 sized ZR rated tires. Also tanin red was only offered in 2001 model year.
-Harmon Kardon stereo provides upgraded sonic experience with CD player in slot. Works great.
-Leather red and black interior with gloss black trim

Good luck finding this simple but beautiful combo anywhere else in a car produced yesterday or today.

I've never even seen another tanin red wagon anywhere except in Italy of course where red interiors rule!

Women feel sexy in red leather interiors.

I bought this car as a stick shift so that most of my girlfriends when I had this car couldn't drive or borrow this car. The few that could drive this car occasionally did a good job of scraping my rims while parallel parking near a curb. ooops!

Notable for no power seats,no sunroof slicktop (better headroom,less stuff to break,no problematic leak source,less weight) ,rotary climate controls even not the electronic ones with little buttons and less reliable (more ergonomic never have to look at it when driving to twist knobs plus it has never broken like the dual zone ones do.) No cruise control even, ok that was annoying I should have at least got that for $350 at the time but oh well, I've survived many long trips, no dimming mirrors or garage door openers,no heated seats (I bought this car when I was living in Florida and I wasn't thinking of that). You get my philosophy when I ordered this car. To last a lifetime! And if I ever wore it out, turn it into an M3 wagon eventually. But it's time for me to move on and make room in my garage.

Being a longtime BMW CCA member this car since day one has had old school preventative and factory recommended scheduled maintenance and then some.

Mobil1 0W40 euro formula or other equivalent BMW approved long life full synthetic oil every 4000-7500 miles at the most even though if you go by the oil life indicator it would tell you to do 10,000 to 14,000 mile oil changes, no thank you! I like my engines lasting trouble free a long time.

Coolant and brake fluid every 2 years,preventative water pump,thermostat and plastic coolant parts like reservoir every 60,000 mi.

Power steering fluid changes and leaky power steering reservoir replacement, another plastic part that's goot to swap out as soon as it starts giving you problems.

No unusual rust on the underside or body of this car, this has always been a southern garaged car and never used as a winter car in northern or western states.

Vanos oil line replacement.

All belts tensioners and pulleys addressed.

Regular engine air and cabin air filter changes.

Sparkplug changes every 80,000.

Clutch is still original to the car. Which shows the careful driver that I was with this car, I was never one to abuse this clutch. But I found out with the power of this engine this clutch can be a lifetime clutch lasting well over 300,000 miles apparently. I've known some girls with an E46 to wear out a clutch in 40,000 miles so it can be driver dependent. But yes another great benefit to the manual gearbox is that the automatic gearbox usually needs to be replaced at some point for $4,000-$6,000. The manual can actually last a very very long time with proper use and care.

I do regular 30,000 mile redline fluid flushes in the gearbox and the differential. An interesting fact is that the touring has a faster accelerating differential in order to account for the extra weight of the hatch which isn't that much at all compared to the sedan, maybe 150lbs extra if that but the differential over compensates for this weight difference and makes the wagon have the best differential for acceleration.

Full suspension overhaul was completed which really brought back the fresh newness feeling to this cars handling and steering. Was done with all oem sport suspension parts. All struts,strut bearings, shock tower bearing in back,rubber gaskets,rear trailing arm bushings,control arms,control arm bearings,front end,bushings etc were replaced and all reset to factory alignment.

Tires are Continental DWS Extreme Contact 4 season tires. I love these tires for this type of tire and they last a long time, like 50,000+miles. Wear is measured by the DWS in the tread, when the S is gone then no longer good in snow but still ok for wet and dry. When W is gone still ok for Dry. DWS are all still visible on tread on all 4 tires so lot's of life left. Space saver sized spare tire, lots of underfloor storage space in the trunk or you could carry a full sized spare there if you wanted as it fits or others mount a sub and amps there to be hidden as there's a lot of space.

Car also comes with spare set of black M-tech style wheels with summer tires full tread left BF goodrich G force ZR tires that you can see my assistant from Europe holding up.

Oil separator CCV valve has been done, big job but good to do.
Never had vanos issues except the oil line.
Hardly ever get a check engine light on this car and when I do the issue is quickly fixed.
Oil level sensor replaced.
fan speed regulator fixed
intake/exhaust camshaft sensors replaced.
window regulators replaced
recent battery with 3 year advance auto warranty I think

So all the typical E46 problems that crop up have and have been addressed and there really has not been that much that has ever failed that's hard to deal with. This car has never left me stranded. All the wear items have no current needs mostly and all the ongoing maintenance has been consistently done since this car was new as only a BMW enthusiast and BMWCCA member since 1998, with a full understanding of these cars needs to ensure the best outcome in reliability, and that's how I did things.

AC is ice cold, heat is sauna hot, fan blows strong with no funny noises. All electrical accessories and buttons and illumination on the dash everything works the way it should, every button, power mirrors, power windows,hatch release, everything works!

Even the type of driving I do is in rural Virginia on country roads where to get to the store or work or anywhere I have to go at least 10-15 miles so the engine always fully warms up so never condensation and other problems where people only drive a few miles and another huge plus is that I never subjected this car to stop and go traffic duty, it's pretty rare this car has ever even sat in traffic as it was mostly a rural car or long distance hwy vehicle. I've always owned other vehicles so a lot of my miles were on my motorcycles in summer and my truck in winter. So this car was never even an everyday daily driver and in the last few years since I got other cars it was used less and less, hence the sale now. Anyway because of the type of use this engine never had sludge problems that can occur with city driven or sitting in traffic everyday BMW's of major cities and LA,NYC,DC etc… These engines are made to clear their throats and run on the autobahn, not sit around idling most of their life.

Has a UUC made by Corsa 2.5 inch cat back resonators and exhaust let's the engine sing at high rpms but otherwise is fairly quiet and engineered to be very drone free and it is. Still when you cold start it in the morning you'll hear it. It has a deep voice not like a 4cyl at all so the sound is does make is pleasing instead of annoying.
UUC strut tower brace.

Brakes are slotted and drilled aftermarket rotors changed not too long ago. I'd change these back to stock
when worn out as the bit of roughness is not worth it on the street. Although they have gotten a lot better as they break in so they may just need some more time.

No tuning or any other mods at all.

Seats fold down for full cargo space, cargo net will also work with seats down so that items you haul have no chance of flying forward of the front seats.

Yes it has some orange paint, great for use as a tailgating car for UVA,VT,Uof Florida etc… lot's of schools use orange in it's colors. Also ads safety, at times gets sleepy people out of the left lane as well as highlights no this is not a soccer moms station wagon. Anyway you can paint it back white if it's not your style.

Lower fog lights have a yellow tint protector.

Has rock chips and scratches from use, most of it has crudely applied touch up paint to protect the surfaces but from far away you can't tell, look close and yes you will see imperfections here and there.

Has some trim in the trunk area that is loose as well as small bits of pillar fabric that needs to be re glued, but otherwise headliner is all in good shape.

No funny smells,non smoker, carpet has always had German heavy duty rubber mats protecting them, that captures any dirt and moisture from dirty shoes.

Leather treated regularly as well as rubber moldings around car doors and hatch.

Probably the next need would be wheel bearings as it's never been done yet in it's life but functions fine now but probably needs it as a preventative item to replace, but not really a big job.

Has a 1 1/4 inch hitch mount in back that I only used to stick a bike rack into to carry 2 mountain bikes, works great.

I have Yakima bars and cargo box that can go with car for an extra price.

I have a Euro BMW accessory that is a fuel canister that fits into the middle of the spare tire for extra.

Haynes E46 service manual.

All keys 2 master keys, a grey spare key and a plastic wallet key. Manuals in leather case.

Adapter to make the socket for the rechargeable glovebox flashlight, into an extra cigarette lighter power source.

Trunk also has an extra 12V plug.

Has an illuminated leather 5 speed M shifter knob I installed.

Has leather center armrest I installed.

Has never been in any accidents or left the road or hit a curb ever! Car is totally straight. Only things that have happened have been bumper parking scrapes and once a lifted Landrover backed onto the hood and made a slight dent by the grille with it's hitch so there is a bit of dent repair and a respray of the hood but it looks fine and you can't tell where they fixed the dent.

I like to think that somehow at the factory they saw the uniqueness of this special ordered wagon and they put it together that much better and gave it the best engine that came off the line with the most balanced parts and extra care taken in assembly knowing that this was obviously ordered by an enthusiast. Anyway it's far fetched but who knows…

This car really was a labor of love to me and it has stayed original and intact because she was perfect when she came from the factory. I have named her Claudia but you can choose to rename her if you wish. I hope you see what I saw and that the future owner appreciates her the way I did.

See pictures, for the age and miles this car looks great and is surprisingly fresh. Has lot's of useful life in it in it's current state should go another 100,000 miles with minimal needs besides oil changes and routine maintenance. If ever there was a modern car that could easily go 400,000+ miles because there was not that much that was that complex to go wrong with it, the evolution of it's design and engineering was at it's height(which for the inline 6 BMW's iconic specialty, the manufacturer whose name is MotorWorks, it was at this point that the height was reached) and it was properly maintained then this is it for the best of the best before BMW's were ruined by run flat tires, lot's of turbo and high pressure fuel pump problems, this computer box, that computer box going haywire, needing to code a new battery to the car, none of that sillyness will you have to deal with with this car because this was that last of the honest Bavarian engineering motor werks vehicles. This is the type of E46 if any that should be coveted. Some one please turn this into an M3. I love German cars for sale blog, write me up!


No reserve so Highest bid get's this car.
That's the first eBay shout out to GCFSB I've seen! The only issues are small signs of 186k miles of love. The best part is that it's no reserve, meaning this unique wagon is going to go for whatever the market deems appropriate. At time of writing, it's still under $5k! With plenty of style (that you could adapt to your own tastes…) and the right kind of simple content, it looks like this is going to be a steal as long as you can handle high-mile cars. It's been treated well enough to keep on touring for a while!
-NR