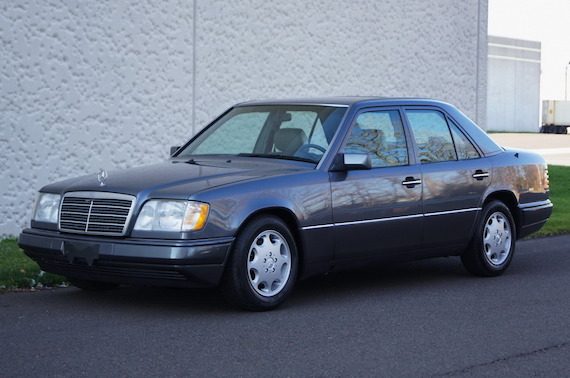 While perhaps not quite as exciting a drive as the E63 AMG Wagon from Andrew yesterday, our second new author, Craig, takes a look today at a beautiful and frugal classic Mercedes-Benz sedan in the making in this 1995 E300 Diesel. Please join me in welcoming Craig and enjoy his investigation of this no-spark!
-Carter
If you're looking for an affordable daily driver and you read this blog, you're probably on the hunt for something that's safe and reliable with a dash of Teutonic style. Those are exactly the qualities you'd find in a W124 E-class. Produced between 1984 and 1996, the W124 hails from a period in Mercedes-Benz's history when handsome form followed well thought-out function. Brawny, angular lines and a classic profile sit atop a chassis that delivered class-leading levels of safety and reliability at the time of its unveiling. The design still holds up well today; even now, the doors on these cars still shut with a satisfying "thunk," reminding you that once upon a time, Mercedes really did produce the most finely-engineered cars in the world.
This late-model 1995 E300 Diesel would be ideal for the commuter who desires a bit of understated style along with the frugality of an oil-burner. In this case, that's quite literally true, since this example comes with a vegetable oil tank in the trunk.
2 Comments