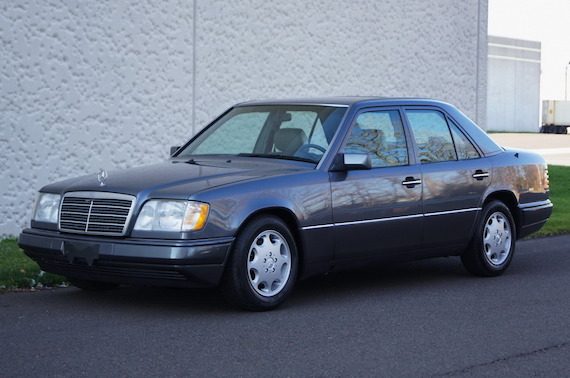 While perhaps not quite as exciting a drive as the E63 AMG Wagon from Andrew yesterday, our second new author, Craig, takes a look today at a beautiful and frugal classic Mercedes-Benz sedan in the making in this 1995 E300 Diesel. Please join me in welcoming Craig and enjoy his investigation of this no-spark!
-Carter
If you're looking for an affordable daily driver and you read this blog, you're probably on the hunt for something that's safe and reliable with a dash of Teutonic style. Those are exactly the qualities you'd find in a W124 E-class. Produced between 1984 and 1996, the W124 hails from a period in Mercedes-Benz's history when handsome form followed well thought-out function. Brawny, angular lines and a classic profile sit atop a chassis that delivered class-leading levels of safety and reliability at the time of its unveiling. The design still holds up well today; even now, the doors on these cars still shut with a satisfying "thunk," reminding you that once upon a time, Mercedes really did produce the most finely-engineered cars in the world.
This late-model 1995 E300 Diesel would be ideal for the commuter who desires a bit of understated style along with the frugality of an oil-burner. In this case, that's quite literally true, since this example comes with a vegetable oil tank in the trunk.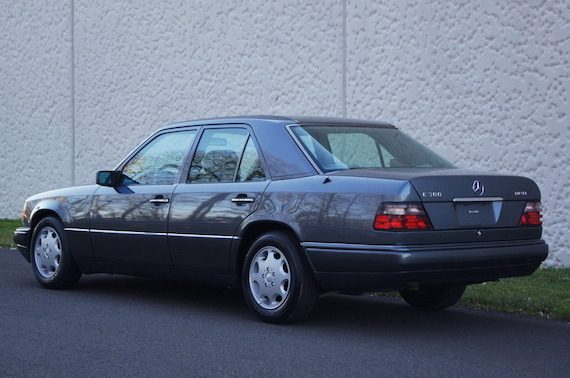 Year: 1995
Model: E300
Engine: 3.0 liter inline-6 diesel
Transmission: 5-speed automatic
Mileage: 94,092 mi
Price: $12,995 Buy It Now or Make Offer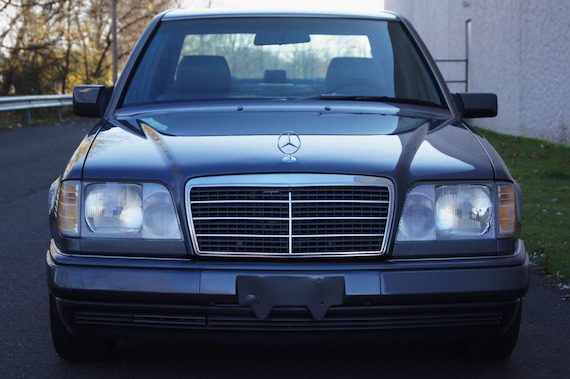 THE VEHICLE IS EQUIPPED WITH VEGETABLE OIL TANK AND PREHEATER SO
IT CAN RUN ON VEGETABLE OIL

CRUISE CONTROL

ICE COLD A/C

POWER PASSENGER MIRROR

POWER SEATS

POWER LOCKS

POWER SUNROOF

You are looking at an extremely nice Mercedes 300D sedan which looks garaged, taken good care of, and regularly serviced !!!

3.0L DIESEL engine is mechanically sound, has lots of power and performs as you would expect it from MERCEDES. Engine compartment is clean and free of any leaks.
Automatic transmission shifts smooth, no slips, no skips.

The Gray exterior is in GREAT condition for the year and miles of the vehicle.

The Gray interior of the vehicle is in great condition. Seats show almost no wear at all for the year and miles. Interior looks and smells clean .

Electrical options are in working order, including but not limited to:
cruise control, all power locks, all power windows, power seats, ICE COLD A/C.

Trunk is clean and roomy and can hold lots of cargo. Looks nearly new for the age of the vehicle; previous owner barely used it.

Tires were rotated, balanced, and still have plenty of tread life left !

Vehicle has FULL SIZE spare tire in the truck with 90%+ tread on it !!!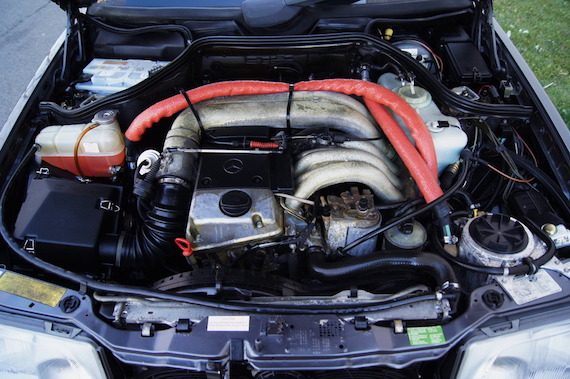 Dark colors suit this body style well, and the metallic onyx gray paint (721) on this particular example lends it a handsome, elegant air. Since this is a post-'93 facelift model, the car has a few exterior updates that slightly soften and modernize the classic shape, namely a more rounded front grille, updated glass headlights and slightly smoked rear light clusters. The gray seats are MB-Tex rather than leather and, like the exterior paint, appear to be in excellent condition. The gauges are bright and clear, the upholstery looks clean and tidy and the dash is crack free, although the same cannot be said of the wood veneer surrounding the climate control unit. Alongside the usual appointments – A/C, electric windows and seats – the car also has a front passenger airbag, an option only available from around 1991 onward.
The motor in this car is the venerable OM606, a 3.0-liter inline six-cylinder, non-turbocharged unit commonly regarded as one of the best and most durable diesel engines that Mercedes has ever built. Making 135bhp and 155 lb-ft of torque at 2200rpm, it's admittedly not very powerful. But it should be good for 35+ MPG on the highway, and therein lies the appeal of this car. It will sit comfortably at 70mph on the highway all day, every day, eating up the miles effortlessly and affordably. With a very modest 94k miles on the odometer, the motor is only just getting started.
W124s are not generally very expensive to buy so the asking price on this is steep. But the low mileage and seemingly great condition of this car lead me to think that the price is not outrageous. I suspect it will sit for a while and the seller will be forced to accept a lower offer. There is no maintenance history mentioned in the ad, so a PPI is in order. In addition, while the veggie oil tank seems like a quirky novelty, it's not clear how knowledgeable the seller is about how it works. Prospective buyers would be well advised to do their homework to find out how it integrates with the rest of the car's systems.
-Craig