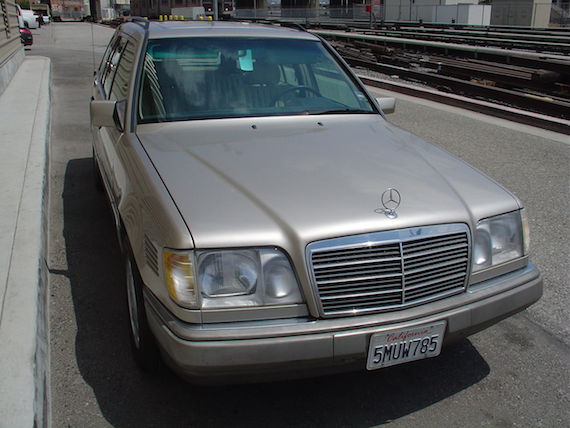 Mercedes-Benz has been one of the mainstays in diesel passenger car offerings in the United States. However, into the 1990s, the selection became a bit thin. If you wanted a diesel engine with estate carrying capacity towards the end of the W124 E class production, you were out of luck. In fact, Mercedes has not offered a diesel estate in the US since 1987, as 1988 saw the introduction of the 300TE to replace the 300TD. One intrepid Mercedes mechanic, though, has gone the extra mile to create what never was on this side of the Atlantic, with this 1994 E300 Diesel Estate.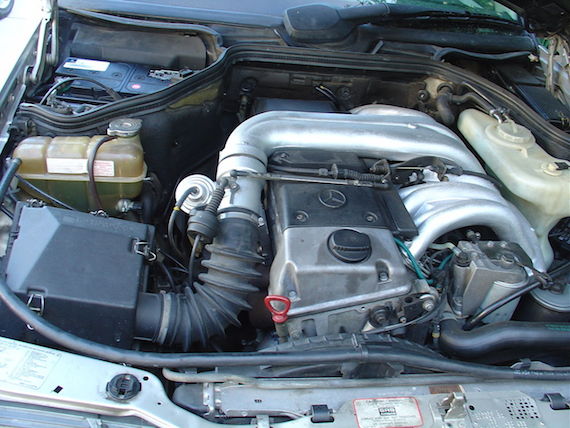 Year: 1994
Model: E300 Diesel Estate
Engine: 3.0 liter inline-6 diesel
Transmission: 4-speed automatic
Mileage: 145,900 mi
Price: Reserve auction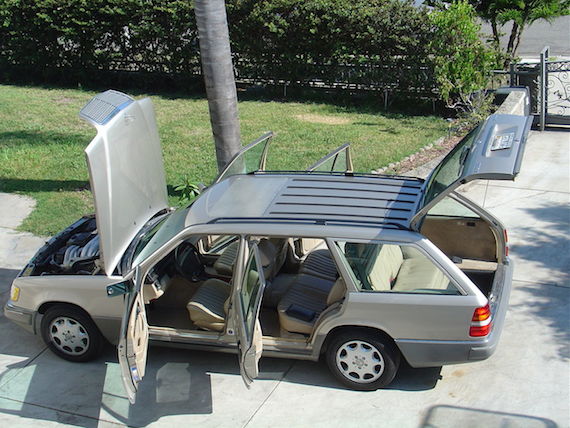 Up for auction is 1994 Mercedes E300D Station Wagon

MB Mechanic that has spent over 400 hours has completed the diesel conversion. This was a 100% conversion, not cheaply done, just the engine and transmission. However, she has been done all down to the component levels, control systems, hardware, and all related components from bumper to bumper that made this diesel wagon exactly as it was designed by MB for European model 1994 w124 wagon/Estate. While the engine and transmission was off the car, I had the mechanic rebuild the transmission by replacing all brake bands and friction discs and seals. All wire harnesses had been upgraded and replaced. Donor is 1995 E300D car VIN#: WDBEB31E8SC221602

The US model 1987 was the last import diesel wagon w124 with OM603 engine. OM606 engine was first introduced to US for Mercedes w124 in 1994 and w210 1996 diesel up to 1997, and then it was changed back to turbo after 1998. The 1987 diesel w124 model was famous for a leaking head gasket; therefore, the OM606 non -turbo was the improvement of OM603. This engine has zero rust and a low mileage non-turbo engine (<140,000 miles). This California car is absolutely beautiful with no rust and has passed all safety inspection that was performed by Mercedes Dealer prior to the delivery to perspective buyers to honor the satisfaction of this car. Also, it would pass all inspections of all states in US without any doubts. The senior Mercedes experts and mechanics have agreed this car is complete and is an excellent car. You will rarely see a nice wagon E300D like this. It has a smoke silver exterior with palomino MB-Tex interior. Straight 6-Cylinders, 3.0 liters, Dual overhead cams, diesel non turbo engine, 4-speed automatic transmission, power assisted ABS 4-wheel disc brakes, 4-wheel independent suspensions, power sunroof, cold A/C and heat climate control works, power windows, central locking, power steering, cruise control, original Becker AM/FM stereo with power antenna, electrically heated rear windshield, quartz chronometer, 8-ways adjustable front bucket seats, front and rear center folding arm rest, halogen head lamps, halogen fog lamps, 3-speed windshield wiper, and zebrano wood dash trim are in good condition, no cracks. There are a few minor rock chips and scratches and small dents at bumper driver side rear corner, but overall, the car is very presentable for the daily driver or car show. The polished aluminum rims and chromes are in very good condition. Both the front and rear bumpers are in good condition with some minor scratches. In order to compensate for the minor imperfections, I have put in 4 brand new Michelin tires, 4 wheels alignment with warranties, and a brand new Mercedes battery. The grill is in good condition with original factory Bosch lights. The car has never been driven on salted roads; thus the under carriage looks as if new, with no rust. There are no oils leaks, no fuel leaks, or water leaks. In addition, the telescopic steering wheel and power seats works well. The interior reveal normal wear, the cushions and springs are in good condition with no broken springs or damaged seats. The entire accessory switches, knobs, and buttons are in excellent condition as well. There were also non-smoker drivers. The engine is clean and it starts within the first attempt. The tranny shifts normally and smoothly. Cruise control works. The air conditioning/heater/defroster all work. Becker AM/FM cassette, CD changer. The antenna works. The radio works perfectly clear on all stations. The car is equipped with the iphone or MP3 connector hook up. Power windows operate quickly and quietly. Dash cluster gauges work excellently, including: clock, odometer, trip meter, rheostat illumination switch, fuel gauge, temperature gauge, oil pressure gauge, glow plug monitor works, etc. Seats adjust smoothly and properly. All hinge equipments open, close, and lock properly with ease. One master key fits front doors, trunk, ignition with 1 spare key included. Headlights work, along with high beams, fog lights, brake lights, parking lights, reverse lights, five dome lights, and 4 under door lights, turn signals, trunk light, and license plate lights. This car is very reliable, with 35 MPG, she could be driven across the country without a doubt. No Smog is required for this wagon. As well as any diesel cars weigh less than 8500 lb in US for diesel models 1997 and earlier. This vehicle will be located in Southern California, only 5 miles from the Long Beach Airport. It is located in zip code 90740. This is a California car; Registration is good until Feb 2015. The clear title is in the last picture shown: "SW" (station Wagon). Fuel type is "D", which stands for Diesel fuel only. This is a chance for anyone interested in a beautiful car with affordable pricing, better performance, better mileage per gallon, no rust, and runs quietly almost as if she was a gasoline engine car, but the mileage is almost double up from 18 to 35 Mpg. Thank you for your interest.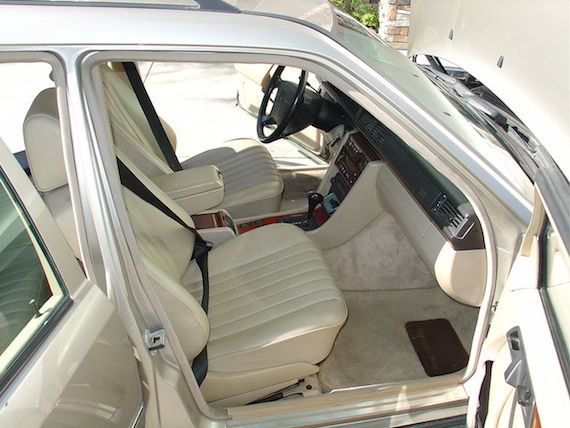 This car's predecessor, the W123 estate, is a perfectly usable machine for the modern day. Some, however, may find it a bit too vintage or be put off by the cost of entry for a good example. Thus, the W124 is naturally a good option for those wanting something a bit more modern and affordable. We featured a 1995 E320 Estate this past March that had just over 90,000 miles on the clock and sold for $6,500. Is this diesel conversion worth a premium due to the unobtanium factor? Perhaps. I do like the fact that this car looks as it should have from the factory, right down to the vented passenger side front fender that was exclusive to the diesel models. This is another one of those cars that has me contemplating the question "why didn't they offer this model here in the first place?"
-Paul