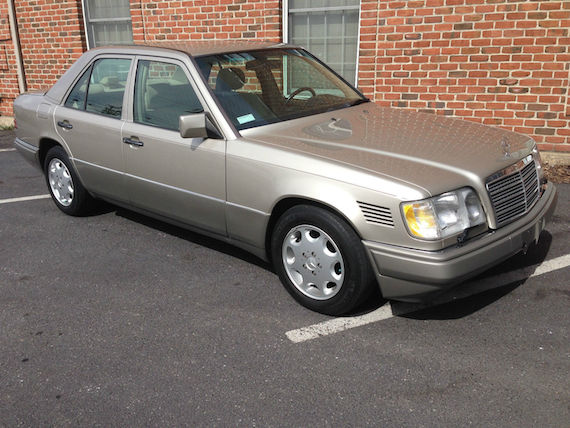 It feels as if Mercedes-Benz and diesel engines have been inexorably tied together since the Big Bang. In the mid 1930s, Mercedes pioneered this engine in the 260D, one of the world's first diesel engined passenger cars. Ever since, the company has continued on with the technology, advancing the art of the oil burner. By the time 1995 rolled around, there were few diesels in Mercedes' US product lineup, the final year W124 E-class being one of them. By the turn of the century, diesels would disappear from these shores until the E320 CDI would appear in 2005. Most of these diesel engined E-classes rack up high mileage, a testament to their durability and comfort for highway motoring. This 1995 E300 Diesel is one of the few good examples left, with just over 70,000 miles on the odometer.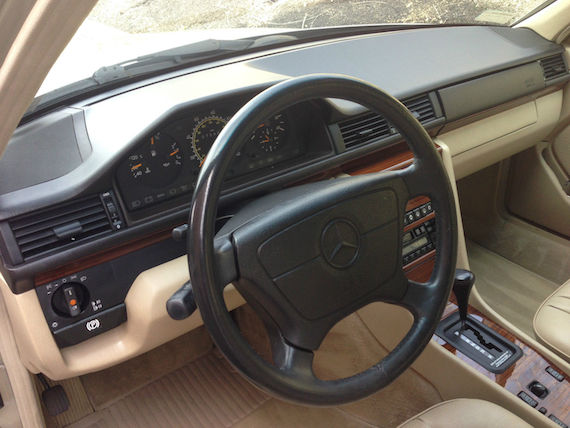 Year: 1995
Model: E300 Diesel
Engine: 3.0 liter inline-6 diesel
Transmission: 4-speed automatic
Mileage: 73,480 mi
Price: $11,999 Buy It Now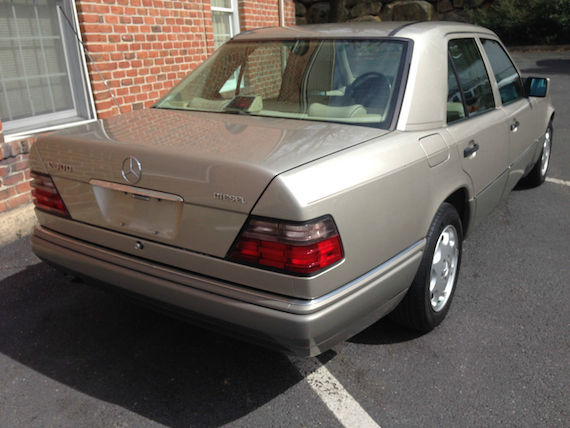 Here is a nice opportunity to buy a well kept and all original and premium example of a classic Mercedes E 300 D. It's a true one owner that was just traded at Lancaster Mercedes and it's lived it's entire life at it's owners country club home right here in Lititz, PA. Read on for a full description.

Mechanically this Diesel engine starts up smooth with no smoke, no blow by when warm. Good smooth power and shifts. Straight alignment and the steering is tight. Brakes also feel good without pulsing or pulling. The tires are matching Michelins with 70% tread remaining. Exhaust, tie rods, lighting and everything else for PA specks is above par and it has a current State inspection. I don't have any service history for this car, but it is a local 1-owner car and recently traded in for a new CDI and if it's quite possible for you to take some time and track it down. Undercarriage is clean without any rust or damage. This car is as good as you get mechanically.

Cosmetically it is about as nice as you will find. Clean straight body panels and paint. It's never had any previous paintwork done and the history report is clean. Shines very well and was just professionally detailed. It may have stone chip or two but there is nothing outside of those that you could call damage. No dings, dents, scratches, rust bubbles or issues…absolutely nothing. Wheels are all spotless and free of curb rash or corrosion and they also have their original paint. The interior is very nice. Leatherette is all plush without wear out or cracks, carpets, headliner, door panels are all very clean without damage. All options are working correctly including the A/C, sunroof and power windows and antenna. The only two flaws I can honestly say there are; is the rear bumper drivers side corner has a scuff and the drivers side mirror surround (rubber) is cracking (must have had a window on that side of the garage and let the UV rays in to damage it. I could have easily repaired these items for $300 but I wanted to be honest and show the originality of this vehicle, it is not a restored one, it's the real deal. This is certainly an impressive car I'm very pleased to say even the pickiest Mercedes aficionado will be happy to own this vehicle.

I'm asking $11,999 on my retail lot as well so the auction may end early. If you have any questions feel free to give me a call at 717-991-8991, my name is Travis. I have a clean PA title in hand and ready to sell.

This car is being sold by Platinum Car and Truck Sales, LLC in Elizabethtown, PA and we are only available by appointment so please call to set up a time to come look at the car.

Please before bidding have all money and finances done because I do not finance and I have to be paid in full within 7 Days the end of the auction, this vehicle can only be stored for 30 days after the sale, if you or your shipping company is not here to pick the car up within that amount of time you will loose your opportunity to purchase this vehicle along with any money that was put down on the car.

This vehicle is sold as-is with no warranty expressed or implied. I am a Used Vehicle Dealer Licensed and Bonded through the state of Pennsylvania. For all eBay customers I will offer free pickup from the Harrisburg International Airport or the Lancaster Train Station. If you are shipping this vehicle through DAS I can drop it off at the Harrisburg terminal at no extra charge as well.

A non-refundable deposit of $500 will be due at the end of the auction within 24 hours. The remainder will be due at delivery of the vehicle or within 7 days. I will accept Pay-pal for the deposit only. If you want to pay with pay pal for the entire item, you will also have to pay the fees. At delivery, I will take cash or cashiers check for the amount only. Any personal checks will have to be cleared by the bank before delivery of the vehicle will take place. Buyer is responsible for any taxes or title transfer fees that may be incurred. You are welcome to inspect this car prior to bidding. Also I am only human so I may have missed something that may be very important to you so please call for a fully detailed walk around description.
Apart from the legendary W123, this W124 Diesel could be one of the most durable Benzes of the modern era. It's not powerful, with only 134 hp and 155 lb ft of torque on tap from the OM606 diesel, but it will stick around for the long haul. This E300 has barely scratched the surface on what its capable of in terms of mileage, so if its a commuter you are seeking that has a bit of luxury and style, there are few better choices. Good, late model W124s are running in the $7,000 to $10,000 territory these days. Whether the diesel engine will bring a premium depends on the buyer, but I can't remember when I've seen one of these oil burners with mileage like this.
-Paul