An uncommon buying opportunity for the vintage wagon lover. This Mercedes isn't the most visually stimulating car for the untrained eye with the relatively plain front end looks of a W110 chassis Benz and beige paint. The knowledgeable Benz aficionado will immediately recognize the rarity of the vehicle. Mercedes now has a great tradition of building wagons that have grown to cult following status. The W110 chassis fintails converted by Belgian firm IMA were some of the very first.
Update 12.11.2011 – Unfortunately this listing has been ended before we could finish authoring this post. -dc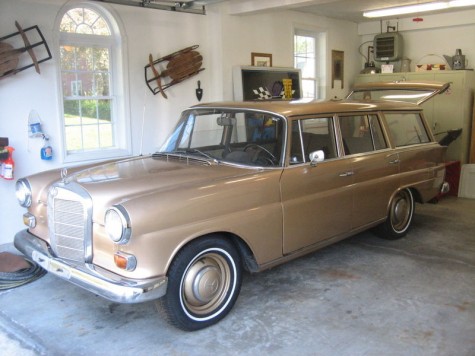 This two owner car has covered 107,000 miles and is fairly original condition. It was repainted in the 1980s in a slightly different shade than the original. If the car still had its original paint I bet we could've seen the price on this go sky high. Even with the repaint though the rest of the car shows great originality and has good service records, and even a Mercedes Universal parts catalog.
I've seen some varying figures on the production numbers of the Universal wagons. The seller is claiming this is one of two from 1968, the other being in the Mercedes museum in Stuttgart. The seller states that less than 30 Universals survive  of 300 built in 1966-1967, which definitely needs the old "citation needed" attached to it. I've seen numbers given higher than that and most certainly higher if you consider models built in 1965 as well. Regardless of what the actual number is, this is a rare car.
The conversion is not some hack job. These were well thought out and produced. The new design took into consideration the fintail profile and made sure not to lose that identifying feature.  The wood load floor in the back with cargo sliders significantly upped the practicality of owning a Benz sedan. The slick split fold flat seats with a third row bench are the type of features that you see advertised today in SUV and minivan ads like they are new inventions.
The car shows use and expected wear, just the right amount. A new owner could restore it to trailer queen status with an all the way re -freshening or leave it as is. If it had original paint the choice would obviously be leave it alone.
Mechanically things seem to all be in order. The 2 liter diesel has legendary reliability status and if something does need fixing it would not be a huge challenge. A four speed automatic should also provide trouble free stately transportation.
The auction has no reserve so we are going to be able to see what the market says about price. The auction is already heading towards $11,000 with plenty of bidding. Seeing twice that will not surprise me at all. If the Von Trapp family were 30 years younger I can easily see them picnicking in the Alps with this ride.
~Evan