A few years before I was born, my father owned a 1967 Mercedes-Benz 230S. Bought used in the early 1970s, he still waxes poetically about this car. At a time when foreign cars were scarce on the streets of Northeast Philadelphia, this befinned jet black saloon stood out. It certainly raised some eyebrows in my grandparent's neighborhood the first time my father arrived to take my mom out on a date. It was the kind of car that screamed "I'm successful" or perhaps in this part of the world, "I'm connected."
While his car was based on the more upmarket W111 chassis, the W110, previously available with four cylinders and diesel engines, became available with the same engine carburetted 2.3 liter inline six cylinder engine, the M130, that powered my dad's 230S. Sold from 1965 through 1968, this was among the last of the fintails to be sold. This model, with it's single round headlights, was simply dubbed the 230. Over the years, critics have pondered just how Mercedes could have capitulated to such a styling fad, but truth be told, the Heckflosse, or Fintail, has garnered it share of respect. This 230 for sale in California has some lesser seen options on this basic Benz, such as a sunroof and air conditioning.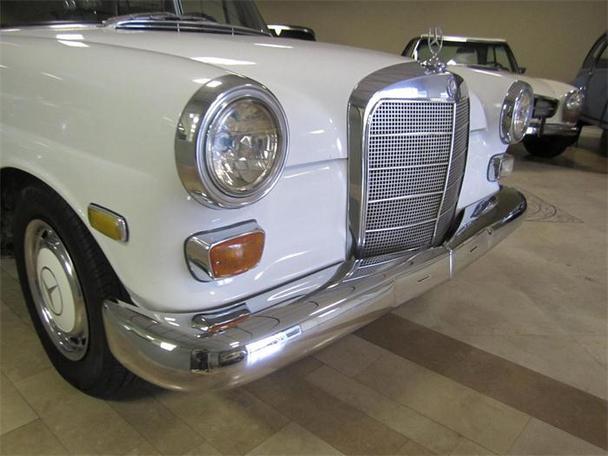 Vin# 11001110034307 Miles: 87717 4 speed on the floor Sunroof 1967 marked the end of the long lasting production-run of the Mercedes Fintail models. Produced for 18 years and sold in many countries it made Mercedes Benz a household name all over the world. The featured 230 is one of the last cars produced and is titled as a 1968 model. It has the most option I have ever seen, including a sunroof with a matching windscreen made by Webasto and a Frigiking air conditioning unit (still blowing cold air, what is hard to believe). The car was always white and has been repainted in the same 050 white color. It still shows very nice but it is not a 10K paint job. There is very little rust and an untouched original floor pan (with no after-market undercoating or any kind of visible repairs). It looks like it never had any kind of accidents at all.

The chrome is mostly very nice but there are a few minor dents and dings in the bumpers. It would benefit greatly from some new door seals and some other rubber weather-stripping. There are no water spots around the sunroof on the headliner what indicates a good a tight sunroof seal. The original blue MB-Tex interior with blue carpet is in fantastic condition. Wood panels and door panels are nice and there are no cracks in the dash. The headliner has a few perforations in the back but still is very acceptable for a car that is 43 years old. The engine has just been serviced at our local Mercedes repair shop. The trunk floor is dry and just perfect. A new rubber mat is on order.

All of the books, owners manual and service manual are present but do show some water damage. It has an original spare rim and tire and also a jack. My first car was a Mercedes Fintail and therefore I have always had a great love and appreciation for these cars. I almost look at every single Heckflosse that is close by but hardly ever do I see one in this condition and so unmolested. I have taken the car on some extensive drives and she runs fantastic. The transmission shifts smooth through all gears. Just recently a new battery was installed and also both bumpers were complete rechromed and look like new. Some of the photos might still show the old bumpers.
I'm a big fan of this car. Like the seller, I'm partial to Fintails, and the fact that this is a 4-speed manual on the floor (like my father's 230S) catches my interest even more. At almost $14,000, we are at the high end of what these base model Fintails go for these days. If this were a perfect concours example, we may be looking at a $15,000 car, but realistically, this car may bring somewhere between $10,000 and $12,000. Honestly though, I'd rather have this car than a perfectly restored 230. I wouldn't feel guilty using something with patina like this. It would surprise many folks just how well these 1960s Mercedes sedans can cope in modern day traffic.
-Paul