Towards the end of then 1960s, Mercedes-Benz finally laid the automotive fad that was the rear tailfin to rest. Never one to give into trends, it was rather surprising that the typically conservative company from Stuttgart would give in and feature such a bold styling cue. The W110 were the bread and butter midsize sedans for Mercedes through most of the decade. In 1965, the lineup was given a refresh that introduced the M180 2.3 liter inline six to the lineup that you see here in our feature car.
Not only was the W110 at the forefront of Mercedes-Benz's crash testing efforts, but a few of the W110 and larger W111 Heckflosse models were successful in competition. One of the more notable events was the 1960 Rally Monte Carlo where a 220SE claimed first, second and third place, with first place awarded to Walter Schock and Rolf Moll. This 230 for sale in Illinois has been prepared for classic rallying, which seems a bit far fetched to the uninitiated. Those in the know, however, are aware just how tough and well suited for rallying these cars can be.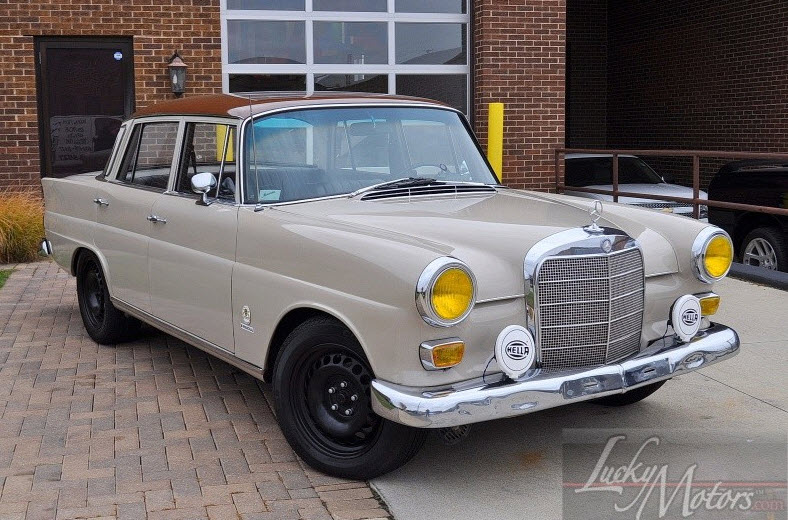 1967 Mercedes-Benz 230, W110. Fintail, Heckflosse. 2.3 liter inline 6 cylinder, complete tune-up with plugs and wires. Carbs are refurbished. New belts, new hoses. Complete repaint job two years ago, unique factory two tone paint. Front disc brakes, new front rotors, new front pads. Rear drums have been resurfaced. With new hoses all the way around, new brake booster with new spare. Reupholstered in Mercedes MB-tex, correct Becker stereo, has factory FM upgrade, new KYB Shocks front and rear. Vintage AMG factory sway bars. Sway bars were used in the 300SEL. 16″ OEM steel wheels & tires. Have the stock factory 14″ wheels. Factory hubcaps too. Upgraded headlights h4 (yellow). Hella driving lights, vintage factory trip meter for vintage rally events. Tag-Heuer Stop Watch (vintage). Dash clip used in vintage rally events. Amazing running and driving car, head turner.
After looking this car over, I'd smitten with it. But then again, I'm into offbeat rally machines. There are probably only two things I'd change, which would be the somewhat staid color scheme and of course, I'd prefer a 4-speed manual, whether it be a column or floor mounted shift. The seller is being realistic with the price here, as most late model 230s will range between $6,000 to $10,000 in good condition. With the added rally bits, not to mention the vintage Tag Heuer stopwatch, there are worse ways to spend $9,900.
-Paul