As evidenced by some of my recent posts, I've been heavily considering an E28 M5/535is as a near-future purchase to celebrate a small promotion and take over some commuting duty from my trusty pickup. While the E28 is still high on the list and satisfies my serious penchant for the autos of the 1980s, the E34 has a little more baller-cache in my eyes. My working-man's baller coach in college drove an E34 540i 6-speed, and the clean lines always look amazing in red on the M5 body. It may come down to the image I'm willing to portray at work: continue the unique and funky 80s vibe, or step up into the bigger leagues in a business-class samurai sword.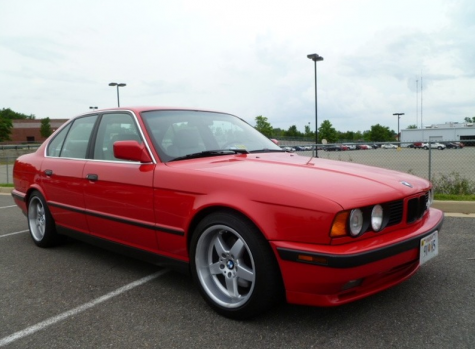 A very brief account from the seller:
You will love this gorgeous 1991 M5 with very low mileage. It's been beautifully maintained. The car was just inspected, received new brakes and rotors and some fresh rubber and a clean CarFax report is available. It runs beautifully and must be seen to be appreciated. The interior of this car is virtually flawless. Please call Aaron at 313-433-7387 to learn more about this fantastic car.
I'm not sure what part of "170,000 miles" means "very low mileage;" it's kind of the opposite. But it's not a hideous amount, and if this can stay under $8k, it's hard to not want it to be business time.
-NR