The title of this description lists it as a 1992, but the description lists it as a 1994 Canadian model Corrado. It is unclear to me whether that means the engine is a transplant or if this is a VIN discrepancy or something else. The auction lists the car as being in New York, but it appears to have an Ontario plate on the back. When we see that kind of thing happen it often means the photos aren't current.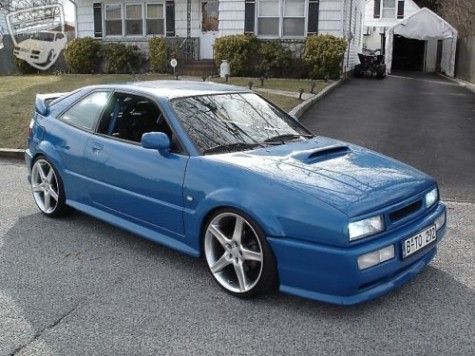 Painted up in BMW Laguna Seca blue and with added body parts the car looks great. The Corrado was an obtainable favorite of mine back in junior high. This one a has 77,000 miles, but no indication on how many of those have been covered since the supercharger was added. The VR6 is a great engine and supercharging it has been a proven way of getting a few extra reliable (when done properly and not abused) ponies out of it. With 180 horsepower stock even a modest jump in horsepower makes a difference in the Corrado.
While the seller provides a parts list, included below, there is no other description about the condition of the car or its history, which would lead me to believe that no one in there right mind will bid on this. Also only four pictures, none of the interior, leaves lots of room for hidden blemishes a new owner would want to know about. This is not how you sell a car. The ask price is $16,500.
Exterior

New Laguna Seca Blue Paint Job
Ottinger Front Lip ( Moulded )
Ottinger Side Skirts (Moulded)
Ottinger Rear Lip (Moulded)
Subaru Hood Scoop ( Moulded )
Kamei Front Upper Grill Spoiler
Audi Door Handles
M3 Style Rear Lights (FK)
Hella Euro Front Lights
McCullock Style HID Lighting System
Clear Side Markers
H2 Antenna
Shaved Side Moldings and rear wiper

Interior

Autopower Roll Cage (Painted Same Colour As Car)
Black Tom Motorsports Racing Seats
4 point Corbeau Harnesses
Sparco Steering Wheel
Momo Shifter And E-brake
Autometer Gauges:
-Boost
-Air-fuel
-volts
-oil temp

Suspension & Rims

FK Coilovers
19″ Radius Moda R6 Rims
Pirelli P7000 215/35/19 Tires
Neuspeed Upper Strut Brace
Neuspeed Lower Tie Bar

Performance

Vortec Supercharger Kit V1 Stage 3 intercooled
HKS SSQV Blow Off Valve
310cc Injectors
ATP Custom Supercharger Chip
Flexalite Oil Cooler
Borla Full Stainless Steel 2.5″ Exhaust
ClutchMaster Stage 2 Street Clutch
~Evan