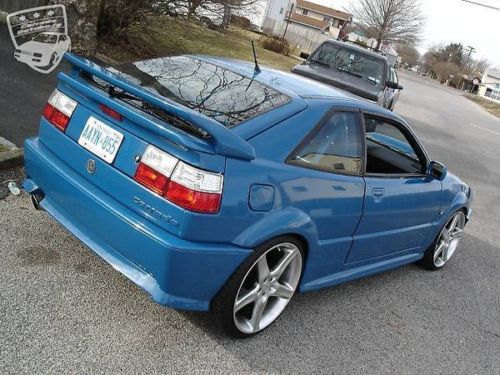 While it's not unusual to see the same car pop up more than once on these pages, usually we see new listings when over a year has passed. Yet the customized, Laguna Seca Blue supercharged 1992 Volkswagen Corrado SLC from last year is back with nearly the same listing and only a slight drop in price just over one year later with no claimed miles accrued. We also get effectively no updated photos and no interior shots. While it's not to everyone's taste, is $9,800 still too much for the amount of work that went in to this coupe?
The below post originally appeared on our site March 4, 2014: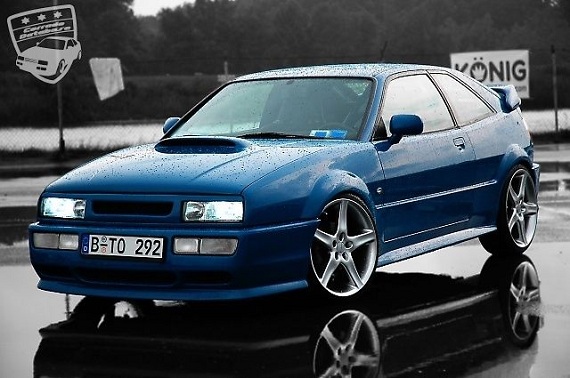 Last night, I posted a clean Corrado VR6 with some questionable wheels on our Facebook Fanpage. These Corrados, perhaps even more than their GTi cousins, seem to draw out the watercooled tuning crowd and go through many different mutations. Also like their cousins, it's pretty rare to see them in stock condition, especially good stock condition. Well, today proves that point, so to speak; this Corrado is definitely not stock, but it certainly looks pretty interesting, so I thought it was worth a look. Plus, it's been supercharged – a different sort of forcing induction than the VR6-swapped Turbo GTis from the other day. Painted fetching BMW Laguna Seca Blue, this Corrado looks ready for the show circuit: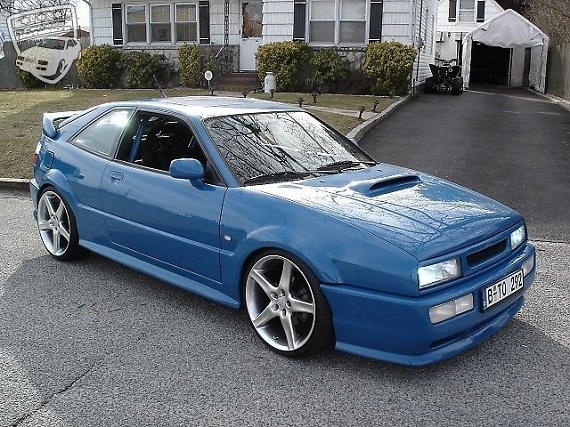 Year: 1992
Model: Corrado VR6
Engine: 2.8 liter supercharged VR6
Transmission: 5-speed manual
Mileage: 80,000 mi
Price: $9,800 Buy It Now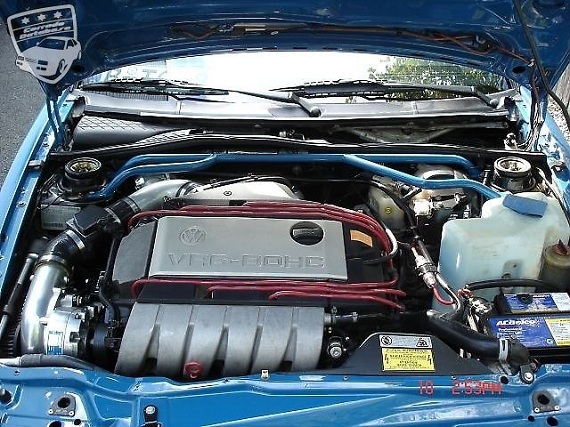 THE CAR UP FOR SALE IS A 1992 VW CORRADO VR6 SUPERCHARGED..THE CAR IS IN ALMOST PRISTINE CONDITION AND HAS BEEN GARAGED KEPT AND COVERED FOR THE LAST 9 YEARS OR SO..IT HAS NEVER SEEN RAIN OR SNOW AND WAS ONLY DRIVEN TO AND FROM CAR SHOWS…THE CAR IS AN AWARD WINNING CAR THAT HAS TAKING MANY 1ST AND 2ND PLACES FINISHES AT ALL SHOWS..IT IS AN AMAZING LOOKING CAR AND IT HAS NEVER HAD ANY MECHANICAL PROBLEMS I DID ALL THE MAINTENENCE WORK MYSELF AND KEPT UP WITH IT..I DONT WANNA PART WITH THIS CAR BUT I DONT HAVE A CHOICE AND I WOULD LOVE TO SEE IT GO TO SOMEONE WHO CAN APPRECIATE AND ENJOY IT AS MUCH AS I HAVE…BELOW YOU WILL SEE SOME OF THE STUFF DONE TO THE CAR AND THERES SOME MORE STUFF THAT WAS DONE AS WELL…ANY QUESTIONS OR COMMENTS FEEL FREE TO CONTACT ME 631-838-2300 AND MY NAME IS SAL…DONT PASS UP ON THIS AMAZING HEAD TURNER THIS CAR HAS OVER $30,000 INVESTED INTO IT..SHOOT ME YOUR BEST OFFER NO TRADES PLEASE!! BUYER IS RESPONSIBLE FOR DELIVERY OR PICK UP!!!

ALSO I AM INCLUDING ALOT OF EXTRAS WITH THE SALE OF THE CAR…THEY ARE
–ZENDER WING PAINTED COLOR OF CAR
–FULL SIZE SPARE TIRE
–ADJUSTABLE FUEL PRESSURE REGULATOR
–7 LITER WASHER FLUID RESERVOIR
–FULL REAR SEAT SETUP IN PERFECT CONDITION
–INTERCOOLER SETUP AND FULL CUSTOM PIPING WITH GASKETS & CLAMPS
–7LB SUPERCHARGER PULLEY(12LB ONE IS INSTALLED)
PLUS A FEW MORE LITTLE STUFF

Information / Adjustments :
1992 Canadian Corrado VR6 Supercharged

Exterior

New Laguna Seca Blue Paint Job
Ottinger Front Lip ( Moulded )
Ottinger Side Skirts (Moulded)
Ottinger Rear Lip (Moulded)
Subaru Hood Scoop ( Moulded )
Zender Wing(off car but included)
Kamei Front Upper Grill Spoiler
Shaved Rear Wiper
Battery Relocated
Audi A4 Door Handles
M3 Style Rear Lights (FK)
Hella Euro Front Lights
McCullock Style HID Light Bulbs 8000k WITHOUT BALLASTS!!!!
Clear Side Markers
H2 Antenna
Shaved Side Moldings

Interior

Autopower Roll Cage (Painted Same Colour As Car)
Black Tom Motorsports Racing Seats
4 point Corbeau Harnesses
Sparco Steering Wheel
Momo Shifter And E-brake
Autometer Gauges:
-Boost
-Air-fuel
-volts
-oil temp

Suspension & Rims

FK Coilovers
19″ Radius Moda R6 Rims
Pirelli P7000 215/35/19 Tires
Neuspeed Upper Strut Brace
Neuspeed Lower Tie Bar

Performance

Vortec Supercharger Kit V1
HKS SSQV Blow Off Valve
310cc Injectors
ATP Custom Supercharger Chip
Flexalite Oil Cooler
Borla Full Stainless Steel 2.5″ Exhaust
ClutchMaster Stage 2 Street Clutch
12lb pulley installed
(8lb pulley included)

Posted with eBay Mobile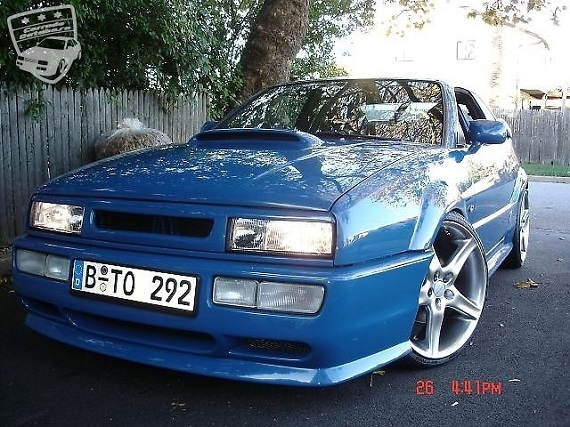 Sometimes I love reading these builds and seeing where some of the pieces came from. It's a bit of an art form in and of itself, finding bits from other cars that you like and integrating them. In this case, the Subaru intake on the hood is pretty well incorporated and it's hard to identify it outside of this application. The body kit is mostly Oettinger and Zender, and the coilover suspension supports in my mind one or two inch too big Moda wheels, but for a show they look great. Euro lights complete the look, although I'd like to see inside and check out the Autopower rollcage that is installed. The motivation comes from a reputable Vortec supercharger and exits through always great sounding Borla exhaust. All in all, well executed in my mind. The price for this work is pretty high but not relative to the prices clean VR6 Corrados usually trade at; of course, you'd have to want the modifications present but it's a cheaper way of getting it done than attempting yourself if you like the look.
-Carter