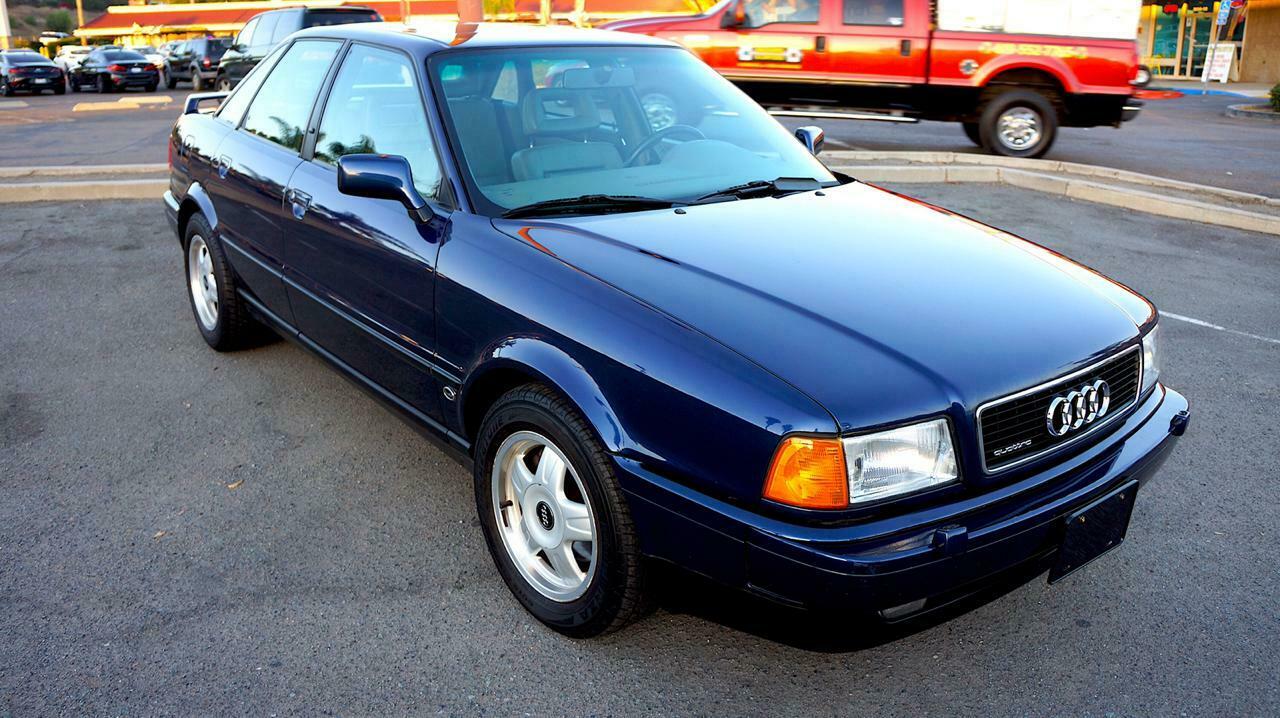 Update 12/3/19: This Audi 90CS quattro Sport is listed as sold for $7,900
Audi's nomenclature took an interesting turn once again in the early 1990s. From the B2's "4000CS quattro" – the only way the car was available at the end of the run, Audi had introduced the tiered 80/90 quattro for the B2 model range. That culminated in the 90 quattro 20V, but even though the run of the B3 was short in the U.S., by 1991 the model was already 6 years old for the European market. Audi then skipped the 1992 model year for the 90, offering only the holdover 80/80 quattro while it readied the 90's replacement. That replacement was…the 90. But strangely back again was the S/CS model designation in this "new" chassis, the B4, which was a heavily revised B3 chassis with some new sheetmetal and trim.
But the big news was new engines; gone was the NG and 7A, last of a long line of inline-5s that had populated the noses of small Audis since the late 1970s. In its place was the AAH 2.8 liter 12 valve V6. Rated at 172 horsepower and 184 lb.ft of torque, on paper it was the superior motor to the double-overhead cam inline-5 it theoretically replaced. But the power delivery and experience were entirely different. While the peaky 7A encouraged you to explore the upper realm of the rev counter, the AAH wasn't particularly rewarding at the redline. Where it was superior was in low-end torque and it's smooth power delivery, and though the cast-iron V6 was no lighter than the inline-5, it's shorter overall length meant that some (okay, only a bit) of the nose-heaviness that had plagued the B2 and B3 series was forgotten.
But the 'CS' quattro moniker only lived a short two years in the U.S. before it, too, was replaced by the last-year oddly-named Audi Sport 90 quattro. '94s are equally strange, being termed the '90CS quattro Sport'. These were also some of the slowest-selling Audis in a history of not particularly prolific sales; Audi shifted only 718 1993 models and barely more in 1994 at 773. You're much more likely to find a last-year model, as the Sport 90 quattro and the slightly lower-spec 90 quattro accounted for nearly as many sales as the '93 and '94 years combined. As with the prior B3 90 quattro, the Achilles heel of the B4 was the price. The base price for the 90CS quattro in 1993 was nearly $33,000, and add your taxes and a few options and you were close to a base M3 in '95.
3 Comments