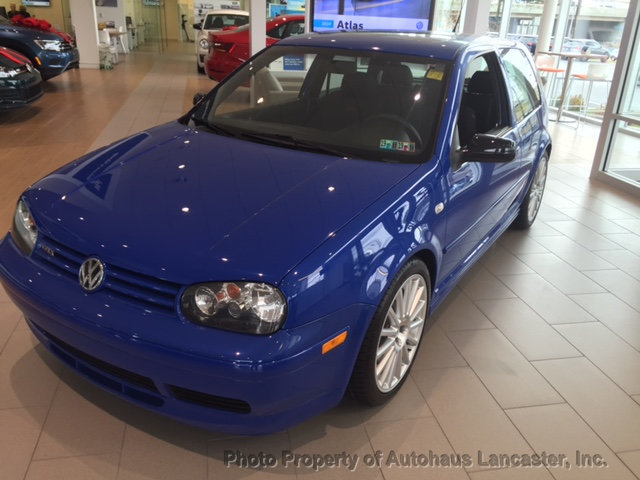 For the last few years, Volkswagen has perpetually teased us with the hottest Clubsport and Clubsport S version of the GTI, promising they "may" come to the United States but never following through. While this is no doubt disappointing to the twelve people who actually would have bought them and the 1.8 million who claim on the internet they would if given the option, it follows a long tradition in German motoring of leaving the best of the breed in the homeland. When it came to the GTI, not only did we have to wait several years before we got the original hot Golf, but indeed it was a bit watered down and heavier when it did arrive. The same continued in the next two generations; more weight, less power. Both in the second and third generations we also lost out on supercharging, all-wheel drive and special body kits available in the European market.
Once again in 2001, a neat Golf was launched that – of course – wasn't coming to the United States. But of all of the special editions that weren't sold here, perhaps this one made the most sense to be excluded. It was called the 25th Anniversary Edition and you didn't need to be good at math to realize that there was no GTI sold here 25 years before 2001. Since the "18 year Anniversary Edition" didn't make much sense from a marketing perspective even in spite of Volkswagen's continual spotty judgement in that regard, it was no surprise that it wasn't offered. That was too bad, as it had a lowered suspension, better brakes, a bit more power, fantastic Recaro seats and the best looking BBS wheels fit to any Volkswagen, ever. Volkswagen enthusiasts in America drool inwardly and shouted openly, so in 2002 Volkswagen finally did bring the special edition here. Again, since "19th Anniversary" didn't make any sense, we instead got the "337" Edition. This was, for all intents and purposes, an exact copy of the 25th Anniversary model, but instead the 337 referenced the internal project code for the original GTI. But they were quite limited, with only 1,250 sold in the U.S. and 250 sold in Canada. So, you probably missed out on your chance to own one, right? Well, wrong, because in 2003 Volkswagen re-released the 337 edition. Conveniently, there was now a round number that they could actually commemorate the GTI's longevity with as it had been 20 years since the A1 GTI rolled out of Westmoreland. Again, it was a greatest hits edition; the 337 upgraded 12.3 inch vented brakes with go-faster red calipers carried over, as did the upgraded suspension. Though they sported different fabric, inside was the same Recaro interior with deep bolsters. The golf ball shift knob also returned, though it now was mated to a new 6-speed transmission (MQ350) which in turn were connected to R32 Aristo wheels in place of the BBS RCs. Deeper front and rear valances matched the previous two models, and the 20th AE got blacked headlights more similar to the 25th AE. The AWP 1.8T turbo's boost was cranked up a bit, delivering 180 horsepower through the front wheels and tied to an electronic differential. A final homage to the original model were subtle rabbits adorning the rear and vintage inspired GTi badging. But the biggest change was that the 20th AE was available in three colors unlike the silver-only prior cars; Black Magic Pearl, Imola Yellow and Jazz Blue :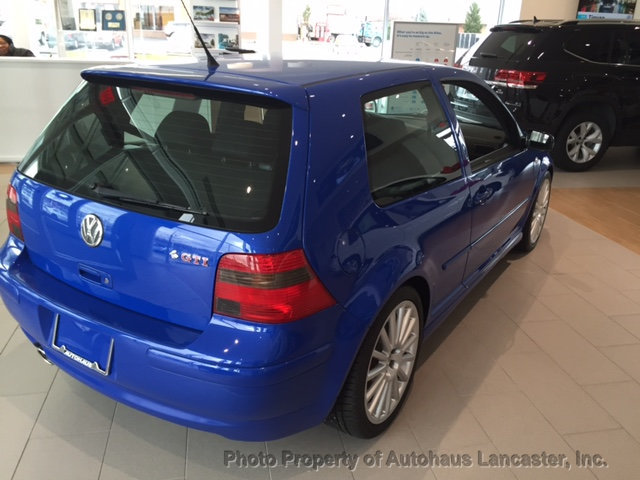 Year: 2003
Model: GTI 20th Anniversary Edition
VIN: 9BWKE61J834066481
Engine: 1.8 liter turbocharged inline-4
Transmission: 6-speed manual
Mileage: 26,071 mi
Price: $16,990 Buy It Now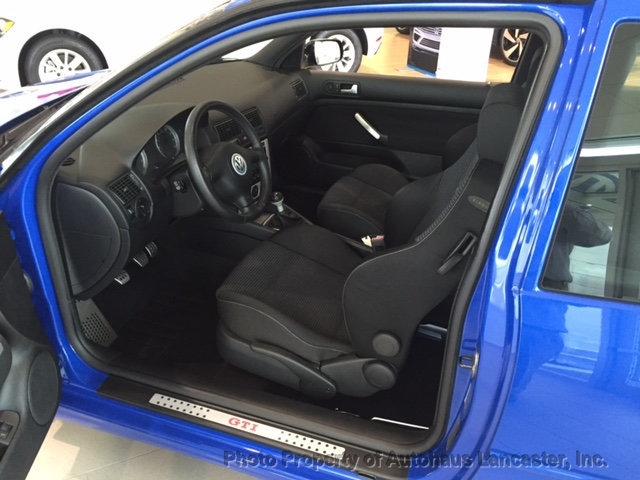 20TH ANNIVERSARY GTI MANUAL. EXCELLLENT CONDITION. ONE OWNER. MUST SEE!!!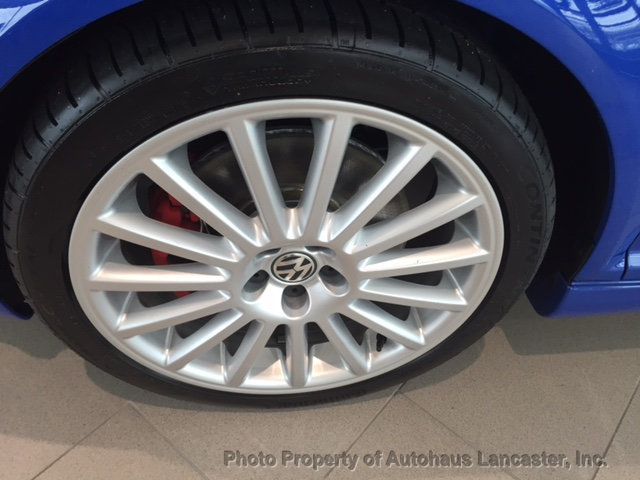 As these GTIs go, this one is just about perfect. Jazz Blue is a great color and like Nogaro and Laguna Seca it positively glows in the right light. The original OZ Aristos are there and are great looking too. The interior looks faultless and, at least from what is shown, there's nothing really to differentiate this car from a showroom example. As proof, it's currently sitting in a showroom of a new Volkswagen dealership.
Pricing? $17,000 sure seems like a lot of scratch for a now 16-year-old GTI. That more or less gets you into a 2015 GTI S at my local dealership, for argument's sake. Have Mk.4s like this moved into collector territory? I think examples like this just may have, so you're going to have to overpay for the privilege of having such a pristine, original and low-mileage example. I looked at an even lower mile Imola Yellow one back in 2017 and the ask at that time was $17,000, too. Lesser examples sell for, surprisingly….less, but you'd be hard pressed to come up with a better one than this. If you absolutely must have a perfect Jazz Blue 20th A.E. GTI, here it is, and if you're the buyer in that camp, this is likely the price you'll have to pay even if there are better cars available at the same price point.
-Carter