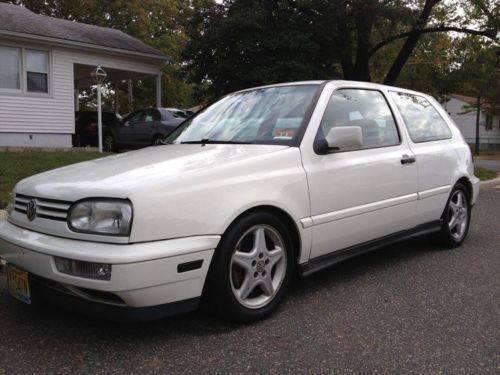 Update 2/6/2018: After selling in November for $2,250, the new owner of the Candy White GTI is selling it with an uninstalled turbo kit asking $2,900 now.
Tired of seeing high prices for Corrado SLC VR6s? Today is your day, because nearly all of the fun offered in the 6-cylinder Corrado was also slotted into the GTI. For a hair under $20,000, you got the same thrilling 2.8 liter VR6 mated solely to a 5-speed manual. Did you want an automatic? Well, then buy the Jetta. Sure, that motor and the bigger body of the Mk.3 meant it was quite a bit heavier than the previous GTIs had been – by 1995, the 'hot hatch' had bulked up with 700 additional lbs of super-weight gain Mk.3000 versus the A1. But faster? Without a doubt. With nearly double the horsepower of the original U.S. market model, 0-60 was sub 7-seconds and you could hit 130 flat out. Coupled too with VW's 'we don't care if you think it's broke we're not going to fix it' styling attitude, the Mk.3 might have not looked as slinky as the Corrado, but underneath it was still a Golf and as such, practical.
So while the Corrado pretended to be a Porsche, the GTI remained the answer to the 'what if'; you wanted a Porsche, but you a) didn't want to (or couldn't) pay for a Porsche, and 2) you occasionally needed a car that you could actually use to transport things other than your smile. This was the recipe that made the first two generations successful.
It was no surprise then that the third generation GTI remained a niche hit for Volkswagen even in relatively dire times for European imports. While finding a nice GTI VR6 can be quite difficult, it was a bit of a Thanksgiving treat to see two pop up in my feed. So which is the winner?
1 Comment