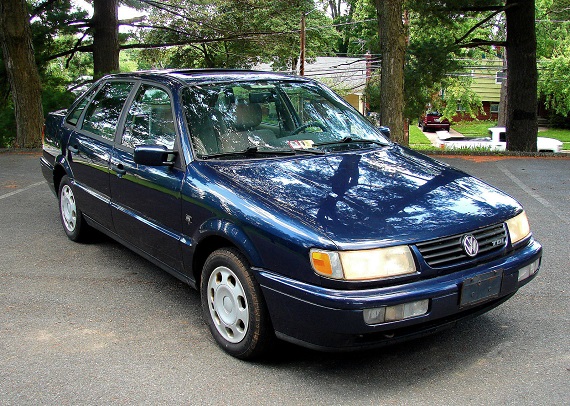 Recently, I've been spending some time driving an Audi C6 A6 3.2 Avant. While I have a report coming on that car soon, I mention it for one reason – what happened the other day when I was filling it up. The gas light pinged on and I pulled into the station; pop the fuel door, card in, nozzle removed, then I tend to pass my time judging other people's car choices as they fill up too. As I filled, I made my way all the way around the quite full station and had summed up the rather unhappy lives of most of the vanilla SUV drivers in my head. Suddenly, it occurred to me that I was still pumping gas. Filling the Passat generally limits my prejudice party as I run out of room at 12 gallons. The 530xi allows me to make judgements on more Kia drivers, as I've hit 16 and change. But I had strode past 16 with ease and the numbers were still going. Concerned, I stopped and began to look for the gas pouring out of the bottom of the car, much to the bemusement of my captive audience. Unable to locate the leak, in wonder I re-engaged the trigger and watched the number on the dial climb past 18 gallons. Now, the A6 gets pretty reasonable mileage for a big, heavy car – around 23 average, over 25-26 on the highway. And all told, if you ran it dry you'd be 21.1 gallons in the whole. That makes a real-world range of over 500 miles per a tank. Sound like a lot? It's the type of number the B4 Passat TDi laughs at.
Especially in Variant wagon form, the B4 TDi Passats have become legendary. Equipped with the 1Z motor, they're capable of a simply bladder-busting range. While the estimates of mileage on the car range from 30-41 mpg from the factory, real world results from some owners turn up with numbers closer to Prius-embarrassing 45 miles per a gallon. Now, if the Passat had a fuel tank the size of the A6, that would equate to a pretty large range. But they didn't have a tank the size of the Audi – it was bigger. Much bigger. In the Variant, many owners claim 26 gallons fills their tank while some markets even had the option for a 33 gallon sump. The result is a pretty dependable 1,000 mile range and, driven very carefully, some VW TDi-faithful have gotten closer to 1,500 miles. Shocking. That means it's pretty typical to see these TDis with multi-hundred thousand miles accrued, but that's not the case here according to the odometer. No, this sedan – while it admittedly has a smaller tank than the wagon – has apparently traveled less than 40,000 miles. Here's the really staggering part; at 20 years old, even going with the "conservative" 1,000 mile range, this car has only visited a gas station on average twice a year since new.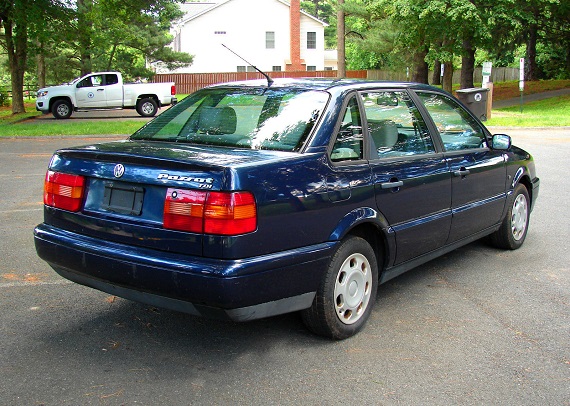 Year: 1996
Model: Passat TDi
Engine: 1.9 liter turbocharged inline-4 diesel
Transmission: 5-speed manual
Mileage: 39,500 mi (TMU)
Price: No Reserve Auction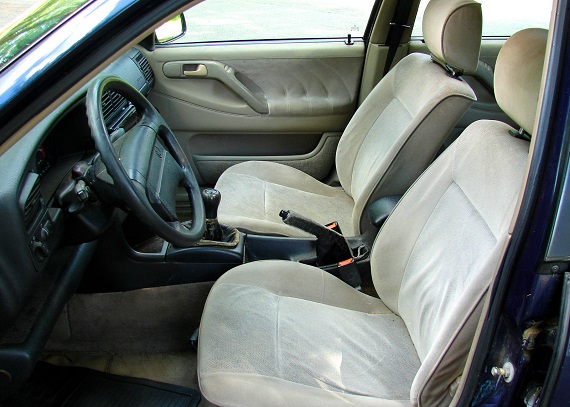 YOU ARE BIDDING ON A 1996 PASSAT TDI SEDAN WITH THE B4V MOTOR – BEST YEAR !

THIS VW PASSAT TDI HAS THE B4V MOTOR (PRE SCANDAL) KNOWN AS THE BEST TDI AND THE BEST BODY/YEAR. BUILT ON A AUDI SOURCED PLATFORM. THE MOTOR RUNS VERY GOOD – CONSISTENTLY GETS MID 40'S MPG AVG. TRANSMISSION SHIFTS PERFECTLY AND CLUTCH IS STRONG. BODY IS ALL ORIGINAL – PAINT LOOKS GOOD AND NO MAJOR RUST ISSUES – A FEW SMALL SURFACE SPOTS ON THE DOORS. INTERIOR IS GOOD CONSIDERING THE AGE. NICE ALPINE CD PLAYER. POWER WINDOWS, POWER SUNROOF. TIRES HAVE APPROX 70%TREAD. ODOMETER READS JUST 39K MILES BUT TITLE INDICATES THIS IS NOT ACTUAL MILES. SOLD TRUE MILES UNKNOWN. WILL NEED A NEW MUFFLER OR TAILPIPE. I PERSONALLY DROVE THIS CAR FOR THE PAST YEAR REALLY ENJOYED IT – RIDES VERY NICE AND SOLID. THIS CAR IS WAY ABOVE AVG. IN OVERALL CONDITION COMPARED TO OTHER 1996 PASSAT TDI'S I HAVE SEEN. I AM SELLING THIS NICE TDI IN A REAL NO RESERVE AUCTION. GOOD LUCK BIDDING !

THIS IS A NO RESERVE AUCTION. HIGH BIDDER WINS IT. LETS KEEP EBAY A GREAT PLACE TO BUY AND SELL !!!
GOOD LUCK BIDDING !

Please read carefully. Our TERMS AND FEES are as follows and apply to every auction:
For both in and out of state buyers: $500 DOLLAR DEPOSIT BY PAYPAL REQUIRED WITHIN 24 HOURS

Payment Types Accepted: We Paypal OR credit card by Paypal for the deposit only! Balances must be paid by Certified Check, bank to bank wire transfer, or Postal Money Order. These are the only accepted forms of payment.
Please do not pay in full using PayPal! We also require that you have a Paypal account to place a bid. We do this because the additional identity verification processes for Paypal greatly increases the success rate and the integrity of an auction.

$200.00 BUYERS FEE ADDED TO ALL NO RESERVE AUCTIONS – covers costs involved with documentation
and handling that would otherwise be covered with a set asking price.

WE ARE NOT A SHIPPING COMPANY SO ASKING US FOR A SHIPPING QUOTE WON'T GET YOU AN ACCURATE ANSWER. WE HAVE HAD EXCELLENT LUCK WITH ATS AUTO SHIPPERS . YOU CAN GET A QUOTE AND GREAT SERVICE FROM THEM AT 214-483-9029 ASK FOR DANIELLE.

ABOUT OUR DESCRIPTIONS & VEHICLES First off, the cars we list average 17 years old! Our descriptions are based on our basic inspections of the vehicle. Descriptions of cosmetic condition are based on our opinion of what we see & may differ from your opinion. Ebay vehicle purchase protection is included on all transactions completed through Ebay. All vehicles sold "as is" and we do not warranty any vehicle to pass a state inspection in any state unless noted otherwise in the auction description. Our descriptions, including vehicle features, are listed as accurately as possible, although we are not responsible for typographical errors in the listing or for conditions that occur after the listing is up. Please use common sense when determining if you will drive your new vehicle home. We do our best to accurately disclose all issues, but we have no way of knowing if anything will fail during a trip. Buyers assume all liability for issues that may occur.
I have been selling on Ebay for over 12 yrs and maintain a 100% positive feedback rating – bid with confidence.
GOOD LUCK BIDDING !
RV motorhome trailer class A class B class C winnebago fleetwood pace arrow southwind lesharo airstream bounder jamboree tioga geogie boy airbus coachmen flair rockwood roadtrek rialta toyota dolphin itasca lazy daze 5th wheel trailer camper born free coach house vw westfallia syncro no reserve airstream bio diesel bio diesel waste vegetable oil wvo svo TDI turbo diesel
Okay, so my theoretical visits to the pump fun is ruined by the odometer discrepancy, but at least externally it certainly appears this Passat has far less than average miles traveled. The Windsor Blue Metallic paint could shine a bit more with some work but looks good overall, and some simple VW centercap stickers would dress up the wheel covers for a few dollars. Inside the cloth shows the most age but isn't horrible looking, and if you're clever you could track down some replacement seats or just recover what is there. The seller does make some obvious mistakes; the "B4V" title doesn't reference the motor type, but the aforementioned and enthusiast loved Variant model of the B4 chassis. That B4 chassis, also unlike what the seller claims, is not Audi derived but mostly Mk.2 Volkswagen – this is basically a big Golf underneath, as was the B3. While there are some who like the later 1Z or AHU motors better, there are also plenty of fans of the early 1Z and the TMU status and lack of information about recent services like timing belt hasn't slowed down bidding much. Despite being a generally less sought after sedan, the generally good condition has already resulted in bidding that has already crested $4,000. These early TDis aren't known for the best build quality or driving experience, but have become quirky fan favorites in spite of their shortcomings. The new owner will just have to make sure to hit the bathroom before twisting the key, because you're more likely to fill up before this car needs to.
-Carter