For reasons too complicated to fully explain here, a close friend recently bought an $800 RV and moved to Neah Bay, WA, essentially the northwestern-most tip of the US. We went and visited him to see exactly how this RV situation was going to work out and offer our condolences. Side note, on the way out we found the best driving road I've ever been on, Highway 112 – I hope everyone can someday experience the empty, smooth pavement with 180-degree bends and awesome elevation changes. Anyway, what was I talking about?
Right, RVs. So the RV turned out to be a great deal, redone paneling, everything worked, runs, etc., which I wouldn't expect from an $800 car let alone a livingmobile. But seeing it, as well as the myriad forms of RV I saw on my road trip back to CA from Washington, made me wonder what kind of vehicle I would want to live in. Real RVs are out due to size and self-respect issues. Truck campers seem silly. I think I'd rather get a decked-out Syncro Westfalia and explore the globe. Go-anywhere (from off-road to normal parking lots), sleep comfortably, and do it in style.
The only issue is Westys don't cost $800. Or $8000. For the really good ones, you're looking at over $30k. Such is the case with today's immaculate, totally-redone Syncro. Bidding is only to $13k but Buy-It-Now is an eye-opening $40,000. Less than a Sprinter conversion van, but definitely not the cheap way to go RVing. If you've got a penchant for German cars like I do though, it's the only way to go.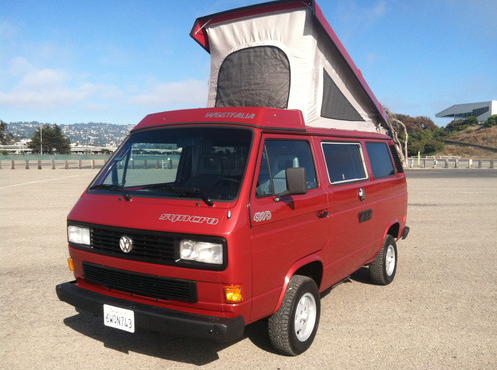 The list of how to do a Vanagon right:
Just passed CA smog and is registered through June of 2013. Within the last 6 months I have done the following to make sure this beautiful Syncro makes it another 25+ years!

Exterior:
Brand new paint (Done the right way – base and clear coat, new seam sealer, removed all windows, etc.)
All new window, door handle, and wiper arm seals.
All new front window seals and vent wing seals.
New window tint.
Powder coated bumpers, door handles, wiper arms, and wind wings.
New pop top, skylight, and luggage rack seals.
New stainless steel luggage rack hardware.
New skylight and hardware.
All new GoWesty hook-up boxes! (New highly improved design!!!)

Interior:
All new upholstery.
Re-built foam in front seats and installed additional foam for lower back lumbar support.
Steam cleaned all carpets, cleaned and bleached interior of pop top, machine washed all curtains.
New 3-window pop top tent.
New GoWesty 2nd battery and 2nd battery wiring system.
New main battery..
Powder coated all interior metal pieces (stove face, table legs, door sill, etc.).
Serviced fridge with GoWesty refrigerator pump re-build kit.
New sink tank pump, replaced all tubing, and cleaned and bleached water tank.
New ignition switch.
GoWesty high power head light kit (huge improvement over stock lights!).
Alpine stereo with CD and I-Pod connector. Infinity front speakers and new rear speakers.
AC is intact but does not blow cold (probably needs a re-charge).

Engine/Mechanical:
Engine is from a low mileage 91 Vanagon Syncro (was removed for an engine conversion).
Approximately 100K miles on the engine. Heads were re-built within the last 15K miles.
The speedometer cable was broken when I bought the van so not sure of the true mileage on the body. The odometer reads 116K.
New cap, rotor, plugs, wires, and belts.
Cooling system was flushed and various coolant lines were replaced. Re-enforced coolant pipe ends.
Re-built rear locker assembly, new vacuum actuator (works great and engages/disengages quickly).
New clutch within the last 15K miles.
New throw-out bearing.
Front diff is quiet and VC works.
New Red Line MT 90 gear oil in transmission and front differential.
GoWesty "Doka" style driveshaft.
All new front CV Joints, grease, boots, bolts, and axles. (German not Empi!)
Re-packed rear CV Joints, new boots, bolts, and grease.
New front discs, pads, and soft brake lines.
New rear drums, shoes, wheel cylinders, soft brake lines, and hard lines.
New clutch slave cylinder.
Removed and re-sealed gas tank. All new gas tank fuel lines, fuel level indicator, and fuel filter.
Stainless steel gas tank straps.
New tie rod ends.
14″ Vanagon alloy rims with Nokian Hakkapeliitta tires in almost new condition.
KYB gas shocks and stock Syncro springs.

I'm sure there's something else I left out too!
Really an amazing van. Many are fully decked out with attachments, gas tanks, rhino bars, etc., but it's pretty awesome to see one bare and beautiful and ready for a new owner. Is someone going to cough up that $40k for the honor? Probably not on eBay, but shockingly enough there really is a market for $40k-Vanagons, so I'm guessing it will find an appreciative home soon enough.
-NR