Another neat W201 Benz pointed out to us by reader Joe is up for sale. This one isn't quite as high horsepower as the 190E 3.6 we had up recently , but unlike that one this car appears to be a factory AMG job rather than an enthusiast swap.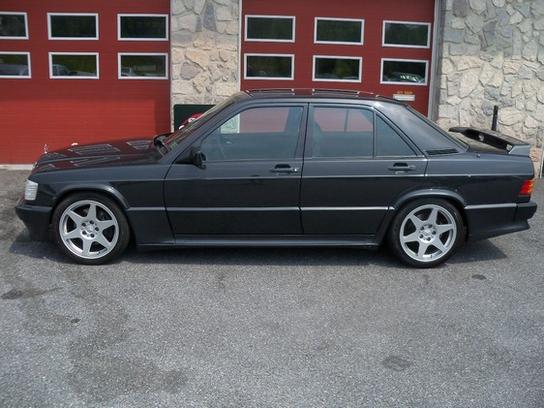 This 190E has more info than the previous one, but it would still be important to land some solid documentation on the car if you were going to buy it. I don't have any reason not to believe this is a genuine AMG 3.4 car, but these M104 engines can be hard to distinguish in their varied flavors. I've often seen them with an AMG logo on the air intake which this car is missing. The seller states that the car was owned by a popular AMG North America client and that the owner of Renntech has vouched for the car as being a one of one.
The car has AMG springs and shocks and Mercedes Evo II wheels. Brakes are upgraded 4 piston Brembo units up front.
The 3.4 liter engine puts down 262 horsepower and 240 lb/ft. of torque and is mated to the 190E 5 speed manual. A dual mass flywheel and clutch out of a 300SL hook the two together.
There is an aftermarket amp and cd changer in the trunk. You have to love that the car has the proper 3.4-24 badge on the trunk lid.
There are 65,000 miles on the car and the ask price is $20,000. that ask makes the nearly $28,000 for that other recent 190E conversion look a little silly. With proper documentation this is a pretty fair ask. I'd hope a buyer might be able to knock a few dollars off the price. I don't think the car is quite as rare as the seller makes it out to be, rare yes, but the 3.4 AMG engine can be found in other Benzs if you look around. This one does look well put together and if it is a documented factory AMG car the value will be greater and command the higher price.
The car is being offered by Euro Motors LLC in Pennsylvania.
There is a video of this car online:


~Evan