Porsche upped the 944 ante in 1988 with this car, the Turbo S. This version included the M44/52 engine with 250 horsepower, the added power resulting from the use of a modified turbo and revised engine mapping. Extensive suspension modifications came in the way of Koni adjustable shock absorbers, harder bushings and larger diameter hollowed out anti-roll bars. Larger front brakes from the 928S4 along with ABS was included in the package, as well. The following year, the "S" designation was dropped, as the normal 944 Turbo was now made standard with the Turbo S engine. This Turbo S for sale in Ohio has 35,000 miles and has had a good bit of maintenance and other items tended to in the past two years.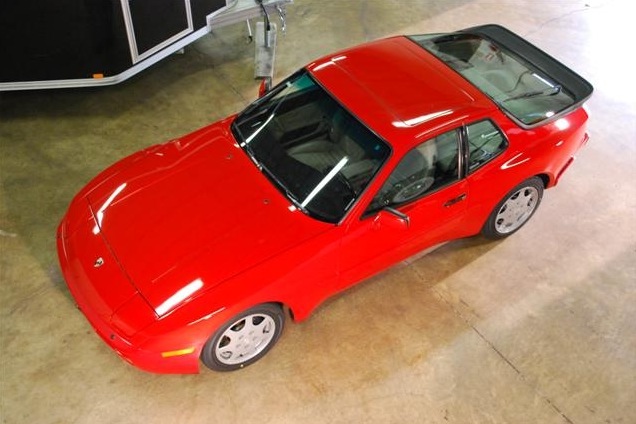 1988 Porsche 944 Turbo S – Guards Red over Light Frey Partial Leather. Excellent condition. Recent full service including water pump and timing belt. Heavily optioned car with the rare factory Turbo S option. Original option list as listed on the Certificate of Authenticity:

Special Chassis Rigidly Tuned
Limited Slip Differential
Headlight Washers
Protective Side Moldings
Rear Window Wiper
Full Power Seats – L/R
Cruise Control
HiFi Sound Package w/Speakers
Amplifier System
Anti-Lock Brake System (ABS)
Electric Sliding Sunroof
Split Fold Down Rear Back Rest
AM/FM Radio with CD Player
944 Turbo 'S'
Partial Leather Seats Front

All books, both keys and fobs, dash cover, Porsche car cover, and original factory radio are included. Recent service includes the following:

— August 2012: New tires mounted and balanced, wheels refinished. Bridgestone Potenza 205/55-16 and 225/50-16

— February 2012: K&N Air Filter, ECU chip set, Distributor cap, and rotor, Cat bypass down pipe, DME relay modified, intake manifold gaskets, OEM factory motor mounts, waste gate shim kit, high performance spark plugs, PFC front brake pads, front brake lines, all fluids changed, and more. Total bill $7956.26. With upgrades the car put down 270hp to the rear wheels on the dyno.

— October 2011: New front hood struts, upper radiator hose, coolant/water pump connector, O-ring, coolant flush, brake fluid flush.

— December 2010: PFC rear brake pads, brake fluid flush, oil and filter change, new front brake rotors.

— June 2010: Water pump, timing belt, counter balance belt, timing roller bearing and idler bearing, counter balance roller and idler bearing, thermostat kit, upper and lower radiator hose, brake master cylinder, brake fluid flush, reman Bosch starter, oil and filter change, coolant flush, power steering fluid flush, r-12 freon, new spark plugs, and more – total bill $3543.31.

As you can see this car has been meticulously maintained and serviced with all the major and minor services done and some good upgrades performed for performance while keeping the car original. A very clean car with all original paint, no damage or accident history, and great service history.
While this is a nice example of a Turbo S, the price is out of line with current 944 values. True, this car has some upgrades and a decent amount of money was invested in maintenance, but that doesn't change the fact that realistically, this is a $15,000 car, give or take. The Turbo S is a rare piece, with 718 examples sold in the US. For those who think the standard 944 is a bit soft and want something harder edged, the Turbo S certainly fits the bill.
-Paul