Of all the cars throughout Audi's history, the one that made the biggest splash on the automotive scene was the Ur Quattro in 1980. Four wheel drive technology applied to a car built for the street was nothing new. Jensen was the first to market with the FF, which employed a four wheel drive system from Ferguson Research. Audi, however, perfected the all wheel drive concept for non all terrain vehicles and used competition as a showcase for the technology, winning the World Rally Constructors' Title in 1982 and 1984. This Ur Quattro is for sale near Audi's home of Ingolstadt, Germany.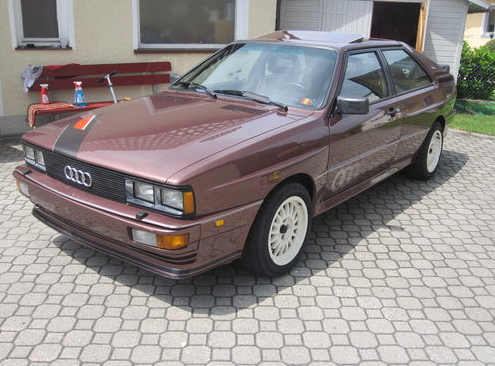 Here in a rare Audi Ur Quattro. Built in 1982 with her original 140,000 km. Previous owner installed a new turbocharger about 25,000 km prior. The exterior paint is original spot color from Audi. The Ur has three letter entries, original letter is available. Rust is only on a sill at the seam and can be seen on the surface, otherwise I have not seen anything.

Paint still looks very good since the car was always dry in the hall. Of course there is the odd scratch or bump. Features: steel sunroof, electric windows and electric door mirrors, original radio, aluminum 8 x 15 wheels. Since the last drive the front brakes have frozen. This Ur should be taken with a trailer due to the condition of the brakes. They may be gone already but a long distance ride should be taken at your own risk. Delivery in the vicinity is possible, but please ask beforehand. Car can be seen in the vicinity of Ingolstadt. Three small, about 3-5 mm in diameter rust bubbles noticed on the roof and the side panel. Sorry it was not noticed before. The car is current being inspected due to a snapped cable under the bonnet.
We've featured a few Ur Quattros here at GCFSB, the last one being a lower mileage example that was selling for $17,500. With the fixes this Quattro needs, I'd suspect bidding to inch close to $15,000 USD, but not much beyond that. With a tidy exterior and interior, this is a landmark car that is worthy of the few fixes it needs to return to its former glory.
-Paul