As a German car enthusiast, I consider it my duty to own a Porsche at some point. There are many different ways I could see this happening, but if/when I marry into the 1%, it would make sense to buy the best of the breed. Sure, the 911 continues to evolve and impress, but I see a few too many soccer moms driving around 997 Turbos to consider jumping into the modern herd. A 993 Turbo with Techart improvements would do me just right with pre-bloat lines and crazy power.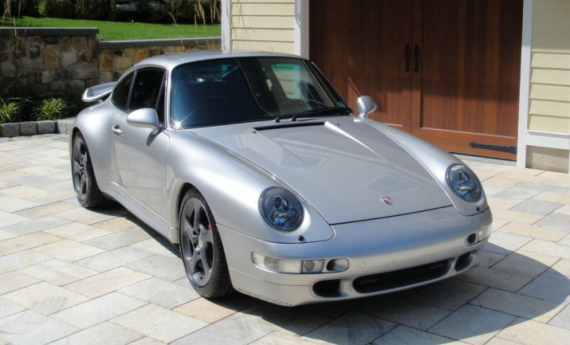 From the seller:
Amazing Driving Machine That Is Equipped With EVERYTHING!! Complete Blast To Drive, Properly Modified, Low Mileage 1997 Porsche 911 993 Twin Turbo!!

Vin: WP0AC2997VS375548

Mileage: 37,476

Classic 1997 993 Turbo Silver/Black Loaded With Extras.

Options:
-TECHART sport suspension with sport shocks and springs
-TECHART power kit:
-oil cooler
-sport exhaust system
-Air Filter
-2 larger Turbochargers
-remapping of original ECU (530 HP)
-$19,795 for TECHART Package installed by German Tech., Inc.
-TechArt Carbon Fiber Dash/Door Panels
-TechArt Brake Duct Cooling Kit
-TechArt Fog Lights
-Aluminum Dial Trim Kit
-Recaro Leather Sport Seats (Original Seats Available)
-Sport Clutch Kit ($1543.70)
-Porsche Shifter Aluminum
-Porsche Silver Hood Badge
-Porsche Hand Brake- Carbon
-Porsche Hand Brake Base- Carbon
-Alpine Head Unit w/ Ipod
-Sirius Radio
-2 JL 300/2 Amplifiers
-BELtronics Rx75Plus Radar
-CarGraphics 19×8.5 and 19×11 Wheels Also Available For Additional Price
I dig the overall stock look with hidden bite from the Techart upgrades, and the dark wheels on silver paint look perfectly mean. And those hips… good god, the 993 is awesome. Low mileage and choice upgrades on the most desirable of 993s make this a home run for me. The $70k Buy-It-Now seems in the wheelhouse for these turbos, but to be honest, if I moved up to top net worth percentile I wouldn't care what it cost to get the right 993 Turbo.
-NR