Ask any car enthusiast to name the largest engine Mercedes-Benz has stuffed under the hood of one of their road cars and they may point to the W116 450SEL 6.9 of the late 1970s. They would be wrong. It was the SL73 AMG that holds that honor, powered by a 7.3 liter V12 that produced 525 horsepower and 558 lb. ft. of torque. Sold only in 1995 and 1998 through 2001, a mere 85 of these beasts were ever built. By the time most of these AMG tuned SLs were built, the R129 chassis was getting close to its sell by date, but the M120 V12 lived on and found a home under the bonnet of the Pagani Zonda. It would help this Italian supercar reach a terminal velocity of close to 200mph. This SL73 in eye popping Calypso Green is for sale in Germany. It has a claimed 25,000 miles on the clock and comes with a full history.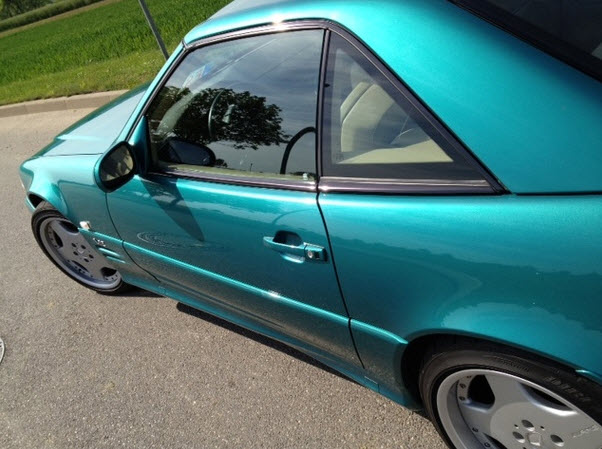 Mercedes-Benz SL 73 AMG. Unique car: blue iron or green outside with beige interior. Done only 41,215 kilometers, first registry 2000. Coming along with complete service and owner history

The SL 73 AMG has only been built roughly 50 times. This is one of them! Value is foreseen to grow rapidly in the next years! Best condition: no rust, no accidents, paint completely original, technically excellent!

Some further details:

•Production date: 27th, september 1999, First registry: 12th, April 2000
•VIN: WDB129076-1F188917
•Mileage: original only 41,215 km
•SL 73 AMG, 12-cylinders, 525 HP, 7291 cc
•Exterior blue iron or green metallic
•German vehicle inspection sticker valid until April 2014
•complete service history available, 3 owners
•Automatic transmission (5-shifts)
•Power windows
•Power soft top and Power hard top
•Power steering
•Air condition
•Orthopedic driver's seat
•Power seats with memory
•Power mirrors
•Rear seats
•Seat heating in the front
•Xenon headlights
•Bose Sound System
•Cupholder
•ABS, SRS, ESP, Airbags, ADS, etc.
•Cruise control
•Interior Leather Exclusive Nappa java
•Topping of the soft top in green

In short: A very magnificent and also decent car. Nearly limitless power thanks to the special AMG engine. Especially interesting for collectors and car lovers who like the special thing! The car currently runs in Germany next to Stuttgart. We could sell and ship it to any address all over the world. Please feel free to contact me for any question. I am looking forward to hearing from you!
I had to do a double take at the price, as $125,000 for an R129 SL is unheard of, frankly. Even an SL600 in the best condition might struggle to make $30,000 to $40,000 these days. Even the AMG and rarity factor would have a hard time pushing this car north another $80,000. At best, this car might be worth $50,000, but even that is optimistic. This car also raises a few questions. First, the driver's seat looks a bit worn for a car that reportedly has covered 25,000. Second, there's a bit or rust in the lug nut cavities on the wheels. Third, why does a car residing in Germany have a US style license bracket on the front end? These are all points which leave me a bit skeptical.
To see the SL73 in action, here's a video from Deutsche Welle TV featuring that other torque meister, the Bentley Arnage:
-Paul