The Audi Cabriolet was a rather unremarkable vehicle in the history of Audi, but nonetheless one worth highlighting. Seemingly as generic as its name implies, the Cabriolet was based on the B3 chassis, which was introduced in 1987 and featured design language that would carry Audi into the next century. Sold in some markets until 2000, this 1998 example represents the last year the Cabriolet was sold new in the US market. With its 172 horsepower, 2.7 liter V6 engine mated to a four speed automatic, it never set the world on fire with performance, but it struck a restrained, handsome pose. Even though Princess Diana sported one for a while in the 1990s, few people stateside took notice of Audi's open roofed offering, opting for more exciting versions from companies like Saab and BMW at the time. As a result, these open roofed Audis can be had for not much cash, this example for sale in Long Island being one of them.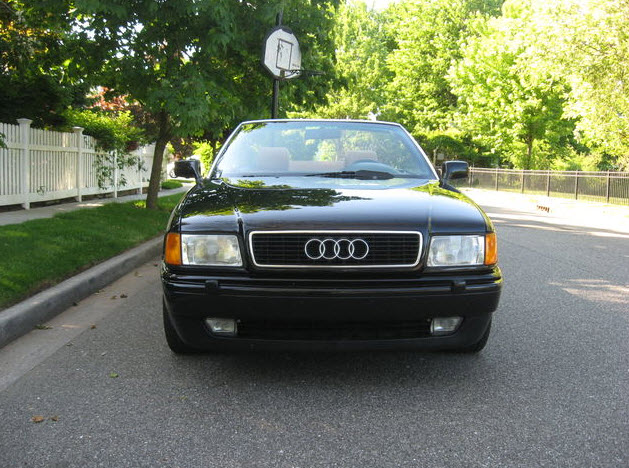 1998 Audi Cabriolet VIN# WAUAA88G4WN001789 Black/Tan. This a very rare super clean Audi Cabriolet with only 86k original miles. The car runs, drives and looks great. Plus it has a Power Soft Top, Leather, Wood Trim, Premium Package and more. And we just serviced (for over $1,300) the car so it's ready to go for the summer!
I have a soft spot for the Audi Cabriolet, which most likely comes from my attraction to obscure automobiles. Most of these Cabriolets have been driven hard or scrapped by now, so it's nice to see a clean one like this surface. While it's missing the Audi badge on the trunk, everything else looks pretty tidy. I'd say almost $6,000 is pushing it in terms of value. About $1,000 to $1,500 less would be just about right.
-Paul