The RS2 was built on Audi's 80 Avant; it was Audi's first "RS" vehicle, and the first of their long line of high-performance wagons.  The RS2 was a joint effort between Audi and Porsche, and represented some of the best efforts from both camps.
While most of the car came from the Audi parts bin, the mad scientists at Porsche transformed the 230bhp Audi 2.2l inline 5 cylinder turbo engine in to a 311bhp fire breather with the addition of bigger turbo, larger fuel injectors, a hotter cam, and remapped ECU.  The power was planted to the road through a 6 speed gear box, and Audi's legendary quattro with locking differential.  The suspension was revised with Bilstein shocks and larger sway bars.  To bring this monster to a halt, Porsche donated the brakes from the Porsche 968 Club Sport.
These cars are extremely rare, with only 2891 examples built from 1994 to 1995.  For the longest time, to own one in North America was merely a dream for Audi enthusiasts, but that did not stop the RS2 from developing a strong cult following over here.  Luckily there are enthusiasts like the owner of this Volcano Black beauty for sale in Quebec, Canada to bring cars like this to our shores.
1995 Audi RS2 for sale on vwvortex.com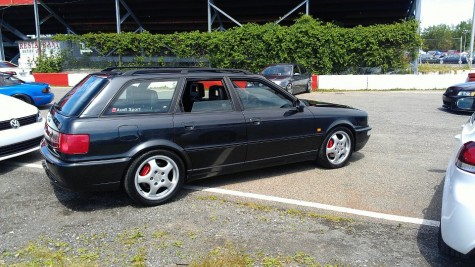 Hello Folks,
Here is a 1995 AUDI RS2 all original partially restored with 84 000km on the clock (paperwork to prove it).
Car has the famous 5cyl 2.2L turbo engine which has 315hp (tuned by Porsche with bigger turbo just for thr RS2). Car has a 6 speeds manual gearbox with locking rear diff.
Everything in the car works except for AC which will be taking care of eventually before sale.
Only 2981 RS2 were ever produce and only 400 came with that specific color which is call Volcano Black.
Things that were restored over the last 3 months are:
Front and rear bumper repainted All 5 wheels refinished with new tires installed Brakes all redone with refinished calipers New OEM front upper strut mounts New OEM thermostat New OEM engine coolant temp sensor New OEM passenger side molding New front RS2 badge New steering wheel badge New OEM coolant expansion tank New OEM front bumper turn signals Head liner redone Door cards redone A lot of new clips,bolts,screws and what not that were all missing.
Car needs nothing but safety which I manage to get done for Quebec since live in Qc but wont do for Ontario if car get sold to somebody in ON or any other province for that matter. Those who know me on here know I dont screw people around so when I say car needs nothing it litterally needs nothing!
This car is a piece of history on his own and will surely never depreciate as years goes by.
I only know 5 other RS2 in Canada so this is definitly a car you wont see everyday.
Asking price: 32 000$

Have a lot more pictures of the restoration if futur buyer wants to see, I will be glad to show them.
Any other question about the car, feel free to pm me or to call @ 819-329-3443
Thanks for looking
With less than 3000 built, and having never being offered in North America this car is certainly hard to come by, and even harder to slap a value on.  This beautiful example has only 84,000 kms (52,195 miles) on the clock, and the owner has lovingly restored this car to great original condition.  On most cars of its age, these are great selling points, but this is an Audi RS2…in North America, if you want one of these, it's not like you can just move on to the next one.  This car is for sale for $32,000, and to be honest, this car is worth every penny.  This is a car that I absolutely would love to own, which makes me wonder…what are kidneys selling for on the black market these days?
-Brian