With warmer weather around the corner for parts of the US, open air motoring is no doubt on the mind of many. This week at GCFSB, we'll be focusing on convertibles of all kinds, from cruisers to sports cars. To kick off the week, here's a modified E30 Cabriolet with some eye catching aftermarket pieces for sale just south of San Francisco.
Year: 1992
Model: 318iC
Engine: 1.8 liter inline four
Transmission: 5-speed manual
Mileage: 157,370
Price: $16,750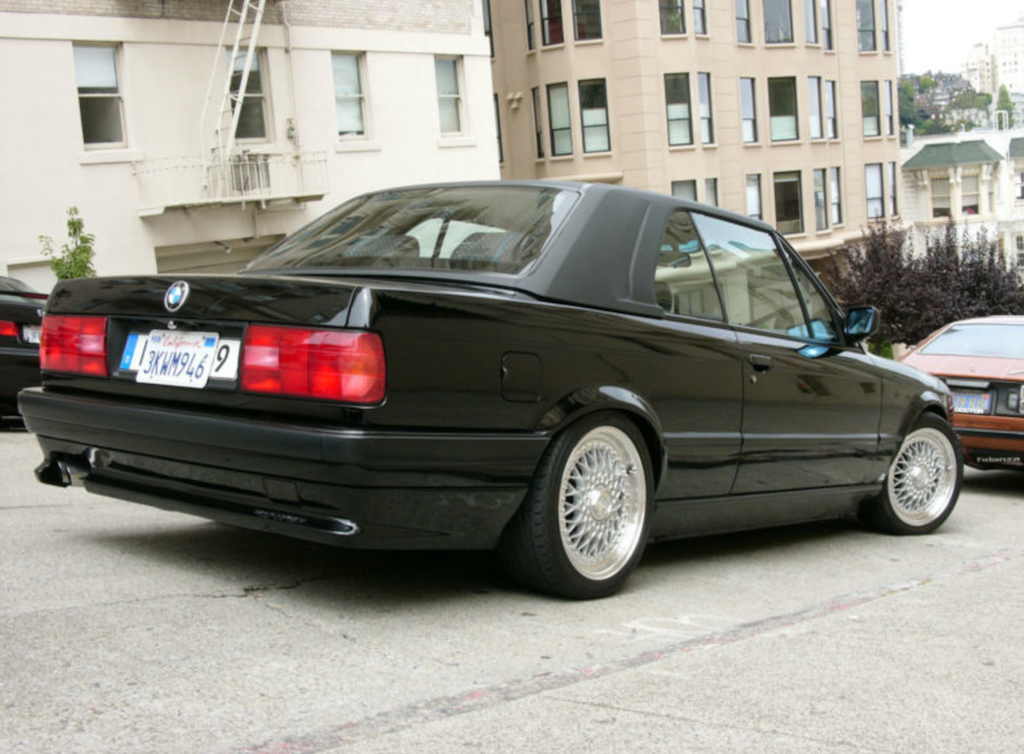 Also open to trade/cash arrangements for Citroen DS or Porsche 911 (993 series only).

Vehicle information
VIN long WBABA7311NEJ12395
Type code BA73
Type 318I (USA)
Dev. series E30 (C)
Line 3
Body type CABRIO
Steering LL
Door count 2
Engine M42
Cubical capacity 1.80
Power 103
Transmision HECK
Gearbox MECH
Colour SCHWARZ (086)
Upholstery SCHWARZ KUNSTLEDER (0166)
Prod. date 1991-09-10

Order options
No. Description
242 DRIVER AIR BAG+SERIES STRG WHL RIM(PUR)
286 BMW LM RAD/BMW STYLING
370 STOFFVERDECK SCHWARZ
530 AIR CONDITIONING
556 EXTERIOR TEMPERATURE DISPLAY
675 BMW SOUND SYSTEM
925 SHIPPING PROTECTION PACKAGE

1992 Triple Black E30 318IC Cabrio:

***********Plus***********

Engine
Coil On Plug Conversion
Cusco Catch Can
Dinan Chip
Stebro Exhaust
Maganflow High Flow Cat
K&N Air filter
M-Tech Oil Cap
New OEM radiator, water pump, hoses and fan clutch
New OEM intake elbow

Handling/Footwork
H&R Lowering Springs
H&R Hubcentric Wheel Spacers
Ireland Engineering Swaybar Endlinks
M3 Offset Bushings
Bilstein Shocks
Dinan Front Brace
Dinan Swaybars
16" BBS RS Rep Wheels
New OEM front control arms and end links
New OEM upper strut mounts front and rear
New OEM brake rotors and Pagid pads front and rear

Drivetrain
4.10 LSD
Dinan/UUC Shift Kit (Z4 Linkage)
New OEM Clutch Assembly

Exterior
Euro Shadowline trim (chrome delete)
Euro M3 EVO Bumper Seal and Hood Seals
Euro M3 Trunk Seals
Euro front and rear bumper trim (side marker delete)
Euro "Eyebrow" Front Grill
Black Out Kidney
Hella Smoked Euro Ellipsoid Headlights
MHW Smoked Turn Signals
MHW All Red Tails
Bonrath Mono Wiper
Lamin-X headlight and foglight shields
Euro Headlight Wipers
Front BavAuto License Plate Eliminator
Debadged Trunk/Shaved 3rd brake Light
Racing Dynamics Rear Apron
New OEM Euro Rear Filler Plate
New OEM IS fog lights
New OEM Power Antenna
Smoked front signals lenses
Polarg bulbs throughout
Factory Paint Respray

Interior/Audio
Bazooka 10" Amplified Subwoofer
Hardwired Valentine 1 radard detector
Genuine Alpina retrim on seats, headrests, door cards and change slot
Alpina Shift boot and ebrake cover
Hella Steering Wheel with Momo hub
OEM hardtop with new headliner
M-tech pedal set with dead pedal
New OEM armrest/cup holder
Aluminum Gauge Cluster trim rings
Euro Instrument Check Panel
Rear Headrest Conversion
Sony MASK Stereo
CDT Component Speakers
JBL Amplifier
New alarm system with keyless entry and window control (staggered raise)
New OEM floormats
Polarg bulbs throughout

Misc/Fluids
Motul 600
Mobile One
Current California Smog
Clean Title In Hand
I was reminiscing with a fellow petrolhead the other day about how much I miss my '88 325is. Of all the BMWs throughout history, this particular 3 series will always stand a little higher above the rest. An E30 convertible wouldn't be my first choice if I was going to get another E30, but this one is certainly a looker. With the four cylinder engine, it's not the quickest car off the line, but I like the mods on this particular one, from the interior trim to the rims. It's not too overdone and doesn't stray too much from the proper period look. I doubt the car will sell for the asking price, especially considering that it is about the entry point for higher mileage E30 M3s. To the right person, we might be looking at a $10,000 to $12,000 car.
-Paul