The Mercedes-Benz 300SL is a car of imagery for me. Whenever I see one, I think of scenes past of the French Riviera, or perhaps a winter weekend jaunt to St. Moritz with skis strapped to the rear luggage rack. In any case, this is a car that defined the jet set of the late 1950s and early 1960s. Following the iconic 300SL Gullwing, the 300SL Roadster attempted to tame a bit of the hard edges of its closed roof sibling, with a lower pivot swing axle in the rear with compensating spring. Fewer than 2,000 300SL roadsters were produced and they have long been some of the priciest classic Mercedes-Benzes. This 1960 300SL for sale in Vancouver is no exception.
Year: 1960
Model: 300SL
Engine: 3.0 liter inline six
Transmission: 4-speed manual
Mileage: 190,000 mi
Price: $799,000 Buy It Now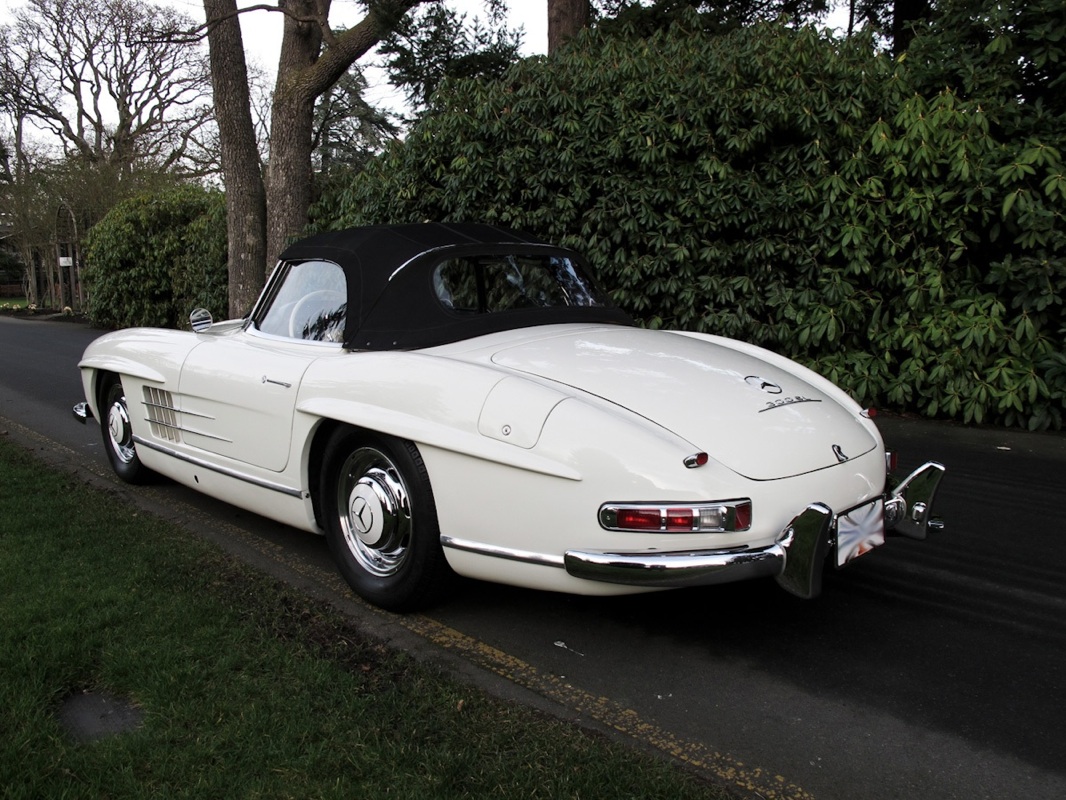 Chassis: 198.042.10.2625
Engine: M198.980.10.002639
Body: 198.042.10.00135
Exterior Color: White (DB050)
Interior Color: Black

This is a matching numbers, big brake, two top (Hard top and Soft top) Roadster with chrome wheels, Original tools, original jack, Dual Talbot mirrors, Factory Becker radio, 1960 USA Specification model. Originally DB 050 (white) with black leather. All leather interior is still original! Original carpets have been replaced with Mercedes German carpets. The original paint has been refinished at least once with DB 050 (white), The current paint finish is patina'd with touch ups from typical road use.The car was bought new by an American Airforce Captain, picked up from the factory in Germany (tourist delivery) while he was stationed there. He reportedly requested the second Talbot mirror when picking up the car. The 1st owner took it home to Arizona and sold it to his friend (another ex-service guy). The next owner, a very proud and active member of the 300SL club and resident of California, bought it in 1968 and ran it right up until he couldn't drive any more.

This car is essentially a single owner car (1968 – 2011). The first 2 owners had the car for just a few years. The most recent owner used it to get his "feet wet" and see if he liked the car and ultimately bought a 1963 Alloy block car. He put about 2,000 miles on the car, driving it in Canada and Southern California during the winter. The thing I love most about this car is that it has a factory hard top box which I have never seen before! The box has all the original markings and names of the first three owners on it. The top end of the motor on this car has been re done in the past 3 years and the car runs and drives faultlessly.

Ownership History:

Captn. Jim Lancaster
E.D. Miller
"Pinky" Winther
Canadian collector

Please call Tim at +1 (250) 812-6409 to have any additional questions answered or to see the car in person. We have another 1960 two top, two owner from new, matching numbers 300SL Roadster for sale as well. It is an ideal candidate for a full restoration. Inquire if interested.

Terms & Conditions

Used vehicles are sold "as is", "where is" with no warranties either expressed or implied. We do not accept refunds. Winning bidder must contact us within 24 hours of the auction end, and make arrangements for payment at that time. A $2000.00 deposit is due within 48 hours of end of auction. The remainder is due within 7 days of auction end. If no contact is made within 24 hours, we reserve the right to re-list the vehicle, sell it to the next high bidder, or sell it otherwise.

The car is advertized locally. We reserve the right to end the listing if the vehicle is no longer available for sale. Seller accepts Paypal for deposit only. Make sure if financing that your financial institution accepts the year and miles of this vehicle before bidding. Please arrange financing prior to bidding. Please do not bid on this auction unless you are serious about owning this vehicle. All non-paying high bidders will be reported to eBay, and negative feedback will be posted. Buyer is responsible for pickup or shipping of this vehicle. F.O.B. Vancouver, BC, Canada.
Prices for 300SL roadsters are ranging between $600,000 and $800,000 on average. I really like this car because it has been used regularly, was repainted in its original color and bears a nice patina. It's not a perfect 300SL, but I like to think that if I had the means, I'd have a classic like this to tool around in from time to time, because as time passes, new cars aren't doing it for me anymore.
-Paul