Of all the variations of the BMW 2002, perhaps the most elusive is the turbo. This was BMW's first production turbocharged engine, produced between 1973 and 1975. The engine, based on the 2002tii 2.0 liter motor cranked out 170 horsepower, good for a sub 7 second 0-60 mph run and 130 mph top speed. These were formidable figures for the time. A shade over 1,600 of these models were ever produced and none for US sale. Here is one of these rare beasts for sale down in Florida.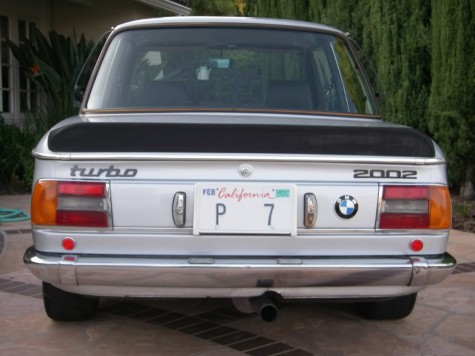 For your considerations, here is another unique and distinguished example from our private collection one of the most sought and desired, one of the only 615 Polaris Silver in existence, this 1974 BMW 2002 turbo. This beauty is the 1,462nd car out of 1,672 total production, manufactured in October 1974. It was exported to JAPAN and, ended it up with Kobayashi family where we took the ownership and ship it to California. This is NOT a FACE-LIFT, RE-PAINTED nor a LOOK-ALIKE car! This is a true and legitimate factory turbo, built in Munich, Germany, painted in Polaris Silver, and, has been kept the
same exact way as it rolled out of the assembly line, as much as possible, ready to go, right now at a real LOW RESERVE!

Here is a list of some of most recent major and minor mechanical updates and/or repairs to this BIMMER, keeping it up to the full running conditions.

11651259477 BOOT
13711259534 BELLOWS
NEW BATTERY

ALL HOSE CLAMP/s
ALL FUEL LINE/s
ALTERNATOR
HOT-TANKED FUEL TANK
NEW FUEL PUMP
ENGINE MOUNTS
BRAKE MASTER CYLINDER
ALL BRAKE LINES
NEW BRAKE FLUID

COMPREHENSIVE ALL FOUR WHEEL BRAKES SERVICE WITH NEW ROTORS AND DRUMS, WHEEL CYLINDERS, CALIPERS, SHOES, ETC.

BRAKE PROPORTION VALVE
EXHAUST MANIFOLD
EXFAUST MANIFOLD GASKET
STAILESS STEEL EXHAUST END SECTION
COMPLETE & COMPREHENSIVE KKK (Kuhnle, Kopp & Kausch)
TURBOCHARGER OVERHAUL & REBUILT (very expensive)
COMPLETE & COMPREHENSIVE Kugelfischer mechanical fuel injection OVERHAUL & REBUILT (very expensive)
This unique and awesome car drives flawlessly. All gauges and electrical system work perfectly including the clock! The newly added gauges, oil temp as well as oil pressure keeps you informed constantly with the engine's overall condition/s. The interior is extremely clean. There are no cuts, cracks anywhere.

The dashboard looks like a brand new one! There are no cracks! The four nearly newly purchased racing tires mounted on the racing wheels have lot of life and treads on them. The 4-speed transmission shifts smoothly with no problems. New high performance clutch and throwout bearing as well as machined and balanced flywheel were the most recent services. There are no fluid leak anywhere! The new AM/FM CD Stereo system sounds awesome.
The last time I saw a turbo up for sale, it was right around the $40,000 mark. That could buy a number of new BMWs, but those in the market for a vintage car like this wouldn't contemplate such things. With about four days to go and bidding around $35k, I'm guessing we should be closing in on the reserve. Whoever winds up with this BMW in their garage will be the hit at the next club meet or car show. These are truly outstanding machines that will only become more collectible, especially since BMW has now returned to turbocharging as a way of achieving increased horsepower.
-Paul