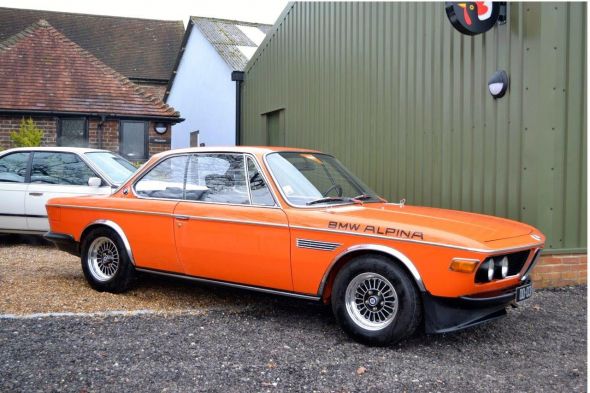 They say imitation is the most sincere form of flattery, and when it comes to Alpina cars there certainly have been a lot of enthusiasts who are eager to copy the legends. Part of that is the great look that Alpina achieved, but also worth considering that Alpina models – especially early ones – command a premium that rivals some of the most exclusive models put out by the factory. Today, then, in honor of Coupe Week I have two E9 models. The first is a real-deal and rare 3.0CSL, but even then a special CSL; this one is an early carburetor model which was modified in period by Alpina to B2S spec. I then have an end-of-run U.S. spec 3.0CS that tries to imitate that look. These two cars obviously aren't in contention with each other – but is the imitation good enough to warrant looking at?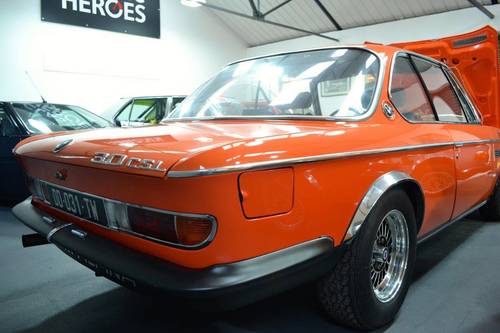 Year: Not Listed (1971/1972)
Model: 3.0 CSL Alpina B2S
Engine: 3.0 liter inline-6
Transmission: 5-speed manual
Mileage: Not Listed
Price: Price on Inquiry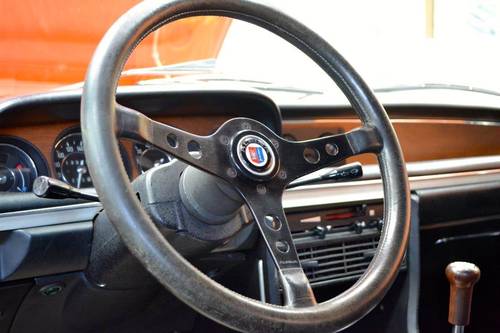 As passionate enthusiasts of the 3.0 CSL and her competition pedigree, a car of this rarity and quality brings the whole garage to a standstill. We all just stand and gaze. It's times like these that we all realise just how lucky and privileged we are to work with cars of this calibre.

It is Alpina that we always thanked for the birth of the 3.0 CSL. The racing and tuning company applied pressure to BMW to build a lightweight version of their E9 Coupe and to homologate the car for the ETCC. The first 169 carburettor CSLs were built and have always been considered the purist form of CSL. The first carburettor versions were as BMW wanted the car and before the market place had an influence on the finished article. The ultra-lightweight versions of BMW E9 were pure. No interior light, no front bumper, plastic rear bumper, boot and bonnet props instead of springs, bonnet pins instead of interior bonnet pull down, Plexiglas rear windows, fixed rear windows, wind up front windows, thin carpet and no underseal made a significant weight saving over the more luxuriously equipped 3.0 CS.

We now have available for sale the rarest of all the 3.0 CSLs. Not just is this example one of the first generation CSLs in the purset form she is also a genuine Alpina B2S.

Alpina was now well and truly established as both race team, race parts provider and road car tuner. The B2S was a very cleverly modified and tuned version of the CSL. It took the lightweight coupe to a higher level, taking her closer to her Gr 2 race cousin whilst keeping the road usability. This Alpina achieved with great success although it has to be said that this conversion came at a jaw dropping price. Nearly doubling the price of the already exorbitant production CSL.

This particular example was supplied new to Alpina straight from the factory. The BMW paperwork and certificate show this. The car was then fully converted to include the 230 BHP B2S engine, triple twin choke side draught Solex carbs with Alpina intake and air box, tubular exhaust manifold, engine oil cooler, Alpina interior gauges, a road version of the ZF race dogleg gearbox, Alpina exhaust, Alpina 45% locking differential with pump and oil cooler, Alpina adjustable front and rear roll bars, Alpina progressive rate springs and Alpina Bilstein dampers, larger Alpina front brakes, Alpina front spoiler, gearknob, steering wheel, Britax three point harnesses and the beautiful 14X8 Alpina split rim wheels.

This Inca orange example has to be the rarest and purist CSL now available, a genuine carb CSL in Alpina B2S spec from new. The car is 100% original, with every correct Alpina part still fitted. Every panel is original to the car and the bodyshell is unwelded. The car is presented in concourse condition and is ready for use having undergone a nut and bolt rebuild over the last 10 years.

This has to be the rarest and most special CSL available today.

Please enquire with Barney for further details.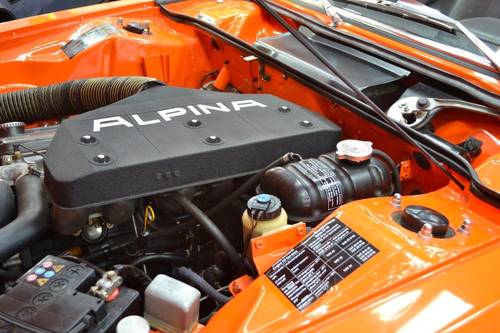 Talk about rare beasts! As if clean and original 3.0CSLs weren't rare enough, in modified Alpina form with all of the correct period details, this has to be one of a number you can count on one hand. The year is not listed, but as an original carburetor model it would have been produced as one of the 169 between 1971 and 1972. Interestingly, apparently these early CSLs do not have a unique VIN, but fall into the regular 3.0CS vin range – making documentation quite important, though it doesn't seem to be an issue here. Inka Orange was one of the four colors that you could choose originally, and this one looks spectacular and mimics the later Alpina 3.0CSL race cars. Details abound; the lovely race seats and Alpina steering wheel, the awesome multi-piece Alpina wheels with inset Alpina script, the bespoke spoiler. The B2S engine would have been a 50 horsepower upgrade over the original unit, so quite substantial and more than the later injected CSLs had. Additionally there is the special suspension, brakes, differential and gearbox fitted to this car. In terms of value, I'd have to agree with the seller that this is probably one of the more special CSLs available; pricing is hard to peg given the unique nature, but a condition 1 carb CSL is currently valued around $160,000 – I'd expect that the ask on this particular one, given the condition and original Alpina equipment, is far above that.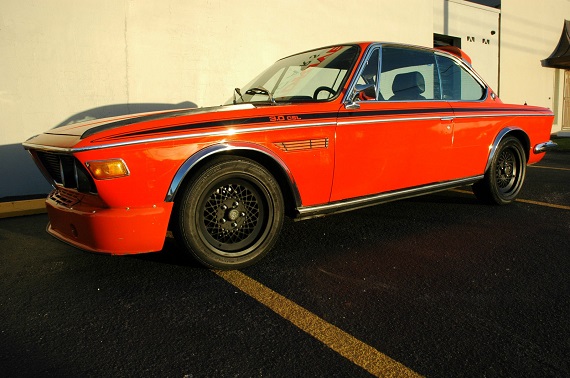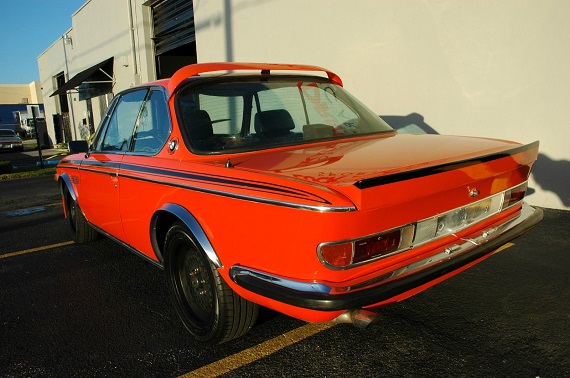 Year: 1975 (4)
Model: 3.0CS
Engine: 3.5 liter inline-6
Transmission: 4-speed manual
Mileage: 86,237 mi
Price: $48,500 Buy It Now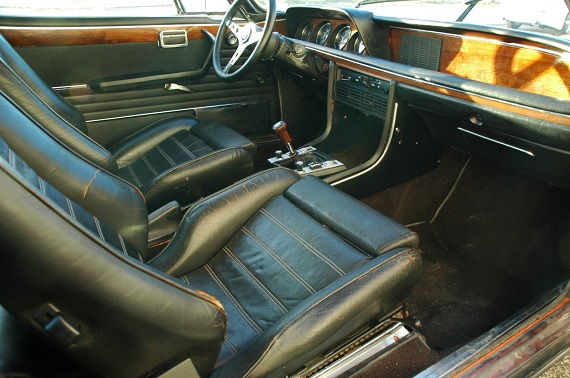 1975 BMW 3.0 CS Coupe. Inka Orange on Black Leather Interior. Alpina Tribute Car. Manual Transmission. 3.5 Liter Engine with Triple Weber Carburators .Sport Seats in Excellent Condition. Sunroof Delete Car. All Chrome Trims are Present. Exterior is Good Condition. No Scratches. Paint Has Good Luster. Interior Is In Very Good Condition. No Tears. Door Panels are in Good condition. Wood Dash Recently Refurbished.Car Runs and Sounds Fantastic. Tools in Trunk. For More Details Call Tony@305-776-8111. Excellent InvestmentOpportunity .Inspections Are Welcome. Vehicle Sold As Is. Buyer Is Responsible For All Shipping Cost.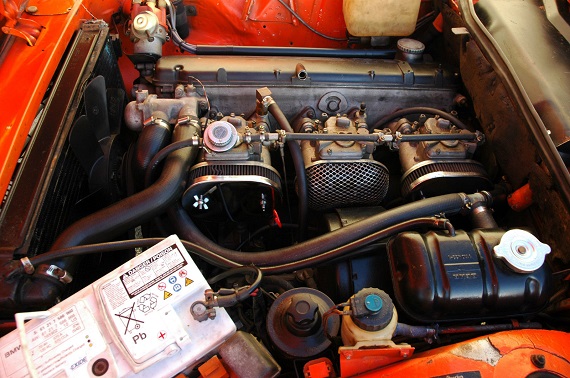 So does this 3.0CS pull off the immigration of the real deal well? Well, externally I think there's probably more that the seller could have done. There are obvious details that are lacking; first, the real Alpina cars didn't have the "3.0CSL" stripes, but instead said "BMW ALPINA" in that spot. The front spoiler obviously doesn't match either, nor do the wheels. It's certainly possible to track down a set of Alpina wheels or even replica wheels to complete the look, so the blacked-out BBS wheels are also a bit odd. However, overall the look of this car is pretty good; the Inka color is neat, the interior looks sharp and the upgraded engine should give some CSL-like motivation. Plus, it's available on more of a budget; the $48,500 asking price is towards the higher side of the market and probably unjustified there, but at least it's not outrageously unreasonable. For a few thousand dollars less, you could either revert the car to clean "CS" look, or go the next step and finish some of the Alpina details and have a special driver. Either way, these are some of the best looking Coupes BMW has produced, and both of them are special in their own way!
-Carter