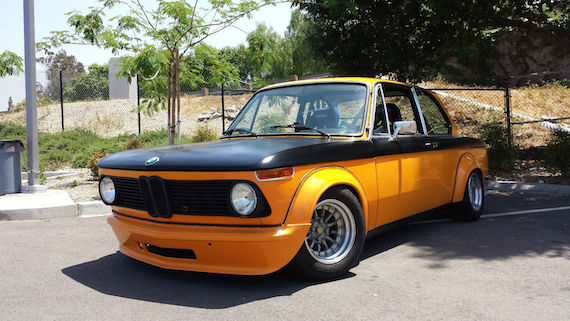 Akin to the modern day M3, the BMW 2002 has become a bit of a blank canvas for enthusiasts looking to try their hand at improving what already is an impressive package. BMW made their sport sedan bones with the 2002, helping the company emerge from financial crisis post World War II. The 2002 would also break new ground, becoming the first European turbocharged production car with the 2002 Turbo. With 170 horsepower and flared fenders, this car was all business and proved to be a popular template for tuners. This 2002 for sale in California is built in such a way for the new owner to enjoy it on the street or track, with turbo look flares, Momo seats and a worked over engine linked up to a 5-speed gearbox.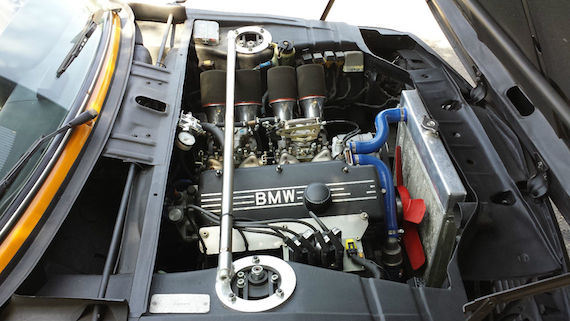 Year: 1975
Model: 2002
Engine: 2.0 liter inline-4
Transmission: 5-speed manual
Mileage: 40,525 mi
Price: Reserve auction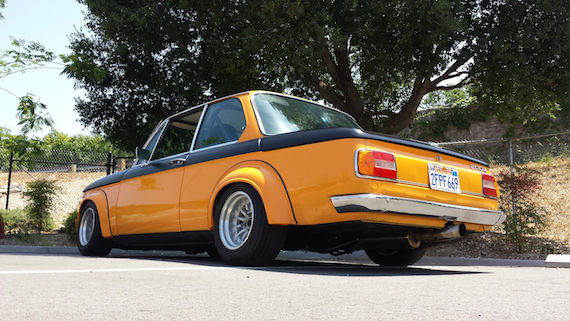 REAL 1975 BMW 2002 RACE & STREET LEAGL CAR

PERFECT RUNNING CONDITION

ODOMETER READING IS 40525 AND LESS THAN 10.000 MIL AN ENGINE

This car is built in a way that anyone can get in the car and enjoy it, very reliable and easy to drive, it can be driven in the streets & race track and canyon drive as well, it can be enjoy et in however you please, really easy to drive, not like other cars that are modified for track purpose only! This 2002 it can be driven anywhere and where you please to drive,

Time has come for me to set apart from my dream car, the BMW 2002. Always loved the 2002, The journey of this car was a lot of fun, I had pictured the car how it would look like once it was complete to the way I wanted. The amount of time and effort with all the parts it went to this car, it drives amazing, fully tuned and very reliable. The scrimmage of the motor is a music to ears. Words can't explain how fun and amazing it is to drive this car.

Vehicle information:

Engine:

– JE Pistons

– Stainless steel valves (intake, Exhaust)

– 45mm Side draft Weber (long tube velocity stack)

– Electromotive Distributorless System

– Triger wheel Crank Angle sensor

– Coil Packs (Custom coil pack mount)

– Custom Aluminum pulleys

– Custom Altenator Bushings, and Bracket

– HB Rods

– ARP head Studs

– Oil pan Baffle

Exhaust System:

– Stage 3 Race Stepped headers

– 2 1/2 Stainless Steel Exhaust system

Suspension:

– Front Coilovers ( Bilstein Sport shocks )

– Rear Bilstein Sport shock with lowering spring "Race"

– Sway bar with Adjustable linkage Front / Rear

– Strut bar

– Adjustable Camber plates ( Fixed Caster ) "Racing"

– Tie rods, Front control arms ( 1 Year old )

– Rear Urethane Bushings

– Rear Subframe mount inserts / Bushing Stiffeners

Drivetrain:

– E21 5 speed Transmission

– 3.91 Limited slip differential

– 228mm Clutch Disc

– BMW E30 M3 288mm Pressure Plate

– Ligthened Flywheel

– Steel Braided clutch line

Cooling System:

– Aluminum Radiator

– Sillicon Hoses

Brake System:

– Front vented Rotors / Big brake kit

– 4 Piston Calipers

– Rear drum Upgrade kit 250mm

– Steel Braided Brake lines

Wheels / Tires:

– 13×8 " 3 Piece Compomotive racing Wheels " (Rare) Direct Fit

– Toyo Proxes RA1 205/60/13 50% thread

Exterior:

– Turbo Flares (2" Wider, Custom)

– OEM Turbo Spoiler (2" Wider, Custom)

– Exterior color (Colorado Orange with hot rod Black texture ) ( Strong Durability, wont get Chipped that easy)

– Paint Condition 9/10

– Front Euro Corner Light

– Euro headlights

Interior:

– Brand New Carpet

– Momo Bucket Seats "New Upholstery"

– Custom rear seat delete

– 4 Point rollbar

– Original headliner (In Good condition, that's why it hasen't been changed)

– Custom Aluminum center console

Cons:

– The Dashboard is clean " Slight crack in the center

– Slight Scratch on the driver Side window

– Window Seals are dry " Driver / Passenger

Important Note to Buyer:

That's pretty much it, What you see is what you get, buyer is responsible for the shipping of the vehicle! Need help on loading the car? Not a problem will give an helpful hand.

$1,000 non-refundable deposit is required within 48 hours of the auction's close.

This deposit reserves the vehicle and removes it from the market. Acceptable payment types for deposit are: wire transfer, cashier's check, and money order.

It has a clean California title and registered. Car is being sold AS-IS, no return, no warranty. Buyer is responsible for shipping.

Thanks for looking and good luck bidding!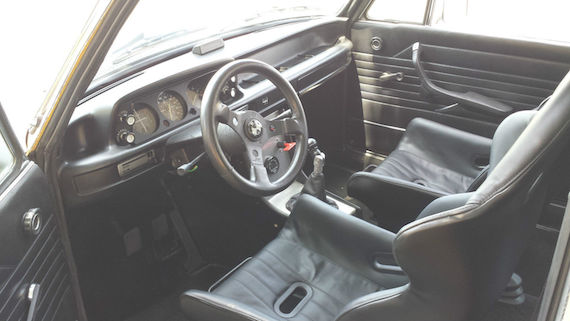 For me, this 2002 is a bit aggressive but I can appreciate the work that went into it. The 2002 can be an affordable classic, depending on the model and year. Typically, the earlier "roundies" are more sought after, with the 2002tii fetching the strongest values. Later models, like this one, tend to be a bit more affordable. Then you have the 2002 Turbo, of which examples are few and far between on these shores. Those models are the most highly prized of the 2002 clan. This one might hover around where a driver quality, late model 2002tii would pull, which would put it around the $20,000 to $25,000 mark.
-Paul