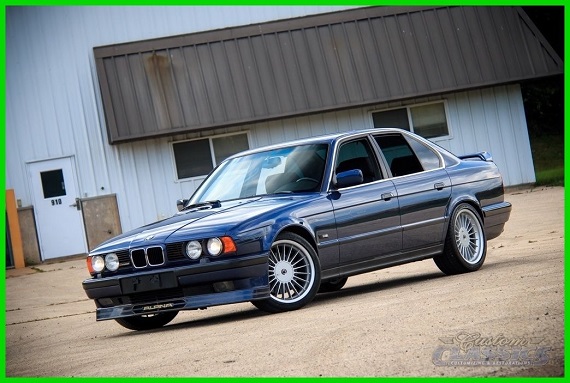 While I've recently covered quite a string of impressive Alpina models, the reality is that all of them leave me a bit wanting. It's not that they aren't lovely, or full of incredible and beautiful detail. It's not that they're in bad condition, misused or abused. It's not salvage titles, accident history or even poorly presented advertisement. No, for me, it's what you get for your money. I understand the nature of exclusivity and certainly the Alpinas offer that. They, for the most part, also back up that exclusivity with well-engineered increased performance, so while the appearance package helps to set them apart, few Alpinas are posers. But when the asking prices for aftermarket E30s are $50,000, $60,000 – even $90,000 dollars, for you not to question the sanity of the market would be seriously worrysome. That's especially true since you can get Alpina's arguably most impressive product from the same period for less: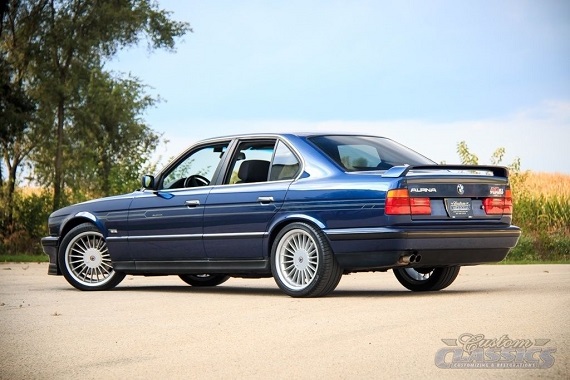 Year: 1990
Model: B10 BiTurbo
Engine: 3.5 liter twin-turbocharged inline-6
Transmission: 5-speed manual
Mileage: 75,276 mi
Price: Reserve Auction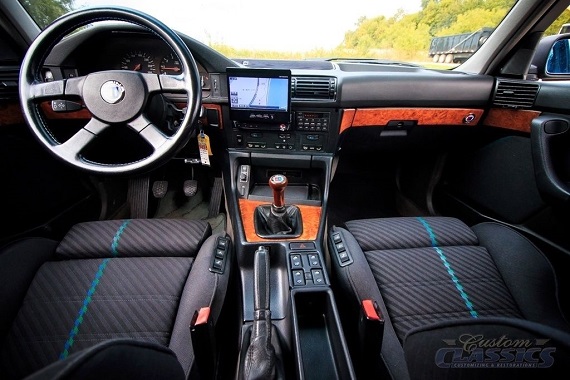 Description

1990 BMW Alpina B10 Bi-Turbo E34 Ultra rare, Guinness Book World Record Car

Vehicle Details & Description

HISTORY

The Alpina B10 Bi-Turbo was first introduced at the 1989 Geneva auto show, and was based on the popular and very successful E34 535i. At the time it was the fastest Alpina ever built and it remains the second fastest only after the B12 5.7 Coupe. The extremely smooth and refined inline-6 engine, coupled with twin Garrett T25 turbo chargers that work together to practically eliminate turbo lag, provide over 100 horsepower per liter. A 5-speed manual transmission especially developed by Getrag for the B10, transmits the powers to the 17 inch Alpina wheels while Lucas-Girling four pot fixed caliper brakes, 332mm ventilated brake discs and of course a ABS system help slow this mighty beast. Other modifications performed by Alpina include new Mahle pistons, new valves and camshafts, new intake and exhaust systems, an intercooler for the turbochargers and standard exterior trims including front and rear spoilers. The interior is also updated with Recaro sport seats, a hand-stitched leather steering wheel by Momo and a whole bunch of dials including everything from boost pressure to oil temperature. Only 507 Bi-Turbos were built in total and the last produced rolled out of the plant in March 1994. The Bi-Turbo is extremely quick and should not be under-estimated by any BMW M5 owners.

Based on the E34 535i and developed at a cost of $3.2 million, the B10 BiTurbo was introduced at the Geneva Motor Show in March 1989. To build each B10 BiTurbo power unit Alpina dismantled a BMW M30 engine, replaced the stock pistons with forged Mahle units, installed two Garrett T25 water-cooled turbochargers, and added a Bosch variable boost control with range of 0.4-0.8 bar, adjustable from the driver's seat. Additional modifications helped raise the horsepower of the stock M30 engine from 155 kW/208 hp at 5700 rpm and 305 Nm/225 lb-ft at 4000 rpm to 265 kW/360 hp at 6000 rpm and 520Nm/384 lb-ft at 4000 rpm. A Getrag 290 5-speed manual transmission was specified to handle the power.

Modifications to the suspension included Alpina-spec springs and anti-roll bars. Bilstein shocks were used on front and automatic-load leveling units by Fictel & Sachs were used in the rear. Front rotors were large 13.1-inch discs from UK-based Lucas Girling, bigger even than the 12.8-inch pieces found on the E34 M5.

The Alpina claimed a 0–100-km/h time of 5.6 sec and a top speed over 290 kmph putting it in the same league as the Ferrari Testarossa. In the September 1991 issue of Road & Track Paul Frère wrote: "For me this is the car … I think this is the best 4-door in the world." Despite a base price tag of 146,800 DM, nearly twice the price of an E34 M5, the B10 Bi-turbo became the best-selling single model in Alpina history up until that point. The six-year production run beginning in 1989 ended in August 1994 with only 507 examples produced.

This car is number 46 and was built in September of 1990. We have all service records for the car from day one. This is one of the lowest kilometers and probably the best documented B10's we ever seen.

The car was bought to the US directly from the first owner in Japan in fall of the last year. The car was imported in January 2016 and was serviced professionally on arrival.

All the tires are nearly new Michelin Sports. The Alpina wheels are in fantastic condition.

The car does not have any dents or major scratches. The front end has some typical rock chips for it's age. The car is just sensational and hard to fault. The interior is clean, tight and odor free.

The car drives perfectly with no interior or exterior rattles or noises. Feel free to have the car inspected.

Included in the sale of this car are the following items;

· Hand books, toolkit and first aid kit all correct.

· All original keys including service keys.

· Full Service History from new.

· This vehicles VIN number is WAPBATL000B750046. This vehicle was legally imported from Japan and currently has a valid title. The mileage is displayed in kilometers, which we converted to miles for the ad.

Please keep in mind you are bidding on a pre-owned vehicle. Everyday driving can cause minor chips, dings or scratches on a vehicle. Unless otherwise noted in our photos or description these items are minimal, but may exist in some cases. If you have any questions about this or any of my other auctions, please feel free to contact Gary at (847) 774-9855. Thank you for your interest and I look forward to hearing from you!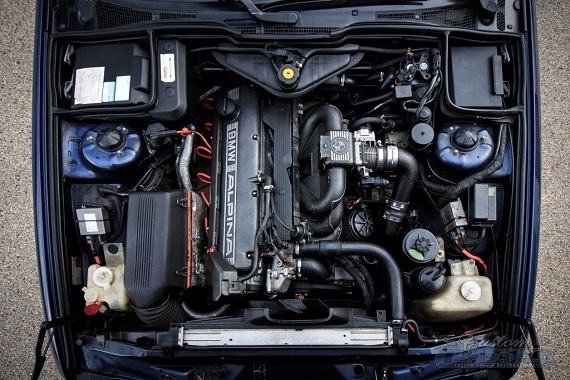 Most of the ad copy is history borrowed from The Alpina Archives, but does a good job of representing how much more special this car was than a B6 2.7, for example. The color combination is perfect. The condition appears to be near perfect. The extensive photographs are not only tastefully done, but do a great job of showing the condition. The car is located in the U.S., so you don't need to worry about at least the getting it here part. Heck, they even managed to write in complete sentences. In fact, the only real nit to pick for me is the price – which, we find out from the dealer's site, is $55,000. That's a lot for an E34, no doubt. But is this car worth twice what a nice E34 M5 is worth? Yes, especially with them heading up in value. And judged in the context of where bidding has gone on Alpina E30s as of late – notably, most seem to stall around $30,000 – this BiTurbo deserves to be in a much higher league. This truly is one of the ultimate driving machines, and has the chops, the credentials, and the provenance to back up the asking price.
-Carter