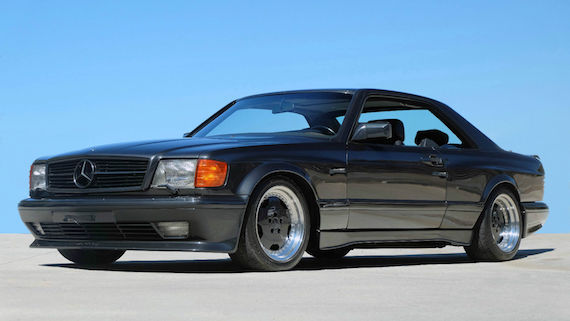 When it comes to cars of the 1980s, some may drool over the side strakes of the Ferrari Testatossa or the scissor doors of the Lamborghini Countach, but one of my favorite styling themes to emerge from this decade was the widebody look. Popularized on cars such as the Porsche 911 Turbo, other vehicles adapted this design cue to mixed reviews. One of my favorites though was the widebody Mercedes-Benz C126 AMG coupe. This 1990 560SEC AMG Widebody for sale in San Diego is the stuff dreams are made of for me, looking mean as ever on those color matched AMG Monoblock alloy wheels. The wheels aren't the only thing that is mean, though, as the asking price is sure to scare off the casual punter.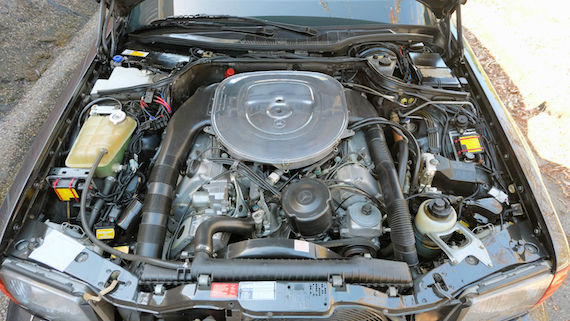 Year: 1990
Model: 560SEC AMG Widebody
Engine: 6.0 liter V8
Transmission: 4-speed automatic
Mileage: 45,203 mi
Price: $149,000 Buy It Now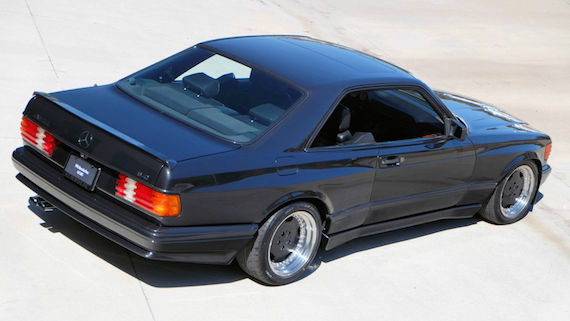 VIN NUMBER ENTERED IS NOT ACTUAL VIN. EBAY does not allow the entry of a non-conforming Euro VIN. Actual VIN is:

WDB1260451A508313

This vehicle is not road legal or registrable in California. If you are a California Buyer, delivery must take place out of State to a valid address or you must have a current dealers license and resale certificate.

Actual original mileage is 72,748 Kilometers from new (45,203 miles)

Background:
AMG was founded as a racing engine forge in 1967 under the name AMG Motorenbau und Entwicklungsgesellschaft mbH (AMG Engine Production and Development, Ltd.), by former Mercedes engineers Hans Werner Aufrecht and Erhard Melcher in Burgstall an der Murr, near Stuttgart. The letters "AMG" stand for Aufrecht, Melcher and Großaspach (Aufrecht's birth Town). In 1976 most of AMG moved to Affalterbach, with the racing-engine development remaining at the old location in Burgstall. At this time Erhard Melcher ceased to be a partner, but continued to be an employee at the Burgstall location.

From 1986 to 1992, interest and the desirability of AMG tuned and prepared Mercedes Benz road cars bordered on the obsessive with demand and interest far exceeding the small firms capabilities to keep up. These facts were not overlooked by MB corporate personal and in 1993, Daimler-Benz AG and AMG signed a contract of cooperation, allowing AMG to leverage Daimler-Benz's extensive dealer network and leading to commonly developed vehicles (the first one being the Mercedes-Benz C36 AMG, in 1993). On 1 January 1999 DaimlerChrysler, as it was called between 1998 and 2007, acquired 51 percent of AMG shares, and AMG was renamed to Mercedes-AMG GmbH.[4] Racing engine development was divested and continues to exist in Burgstall under the name HWA (Aufrecht's initials). On 1 January 2005 Aufrecht sold his remaining shares to DaimlerChrysler, and since then Mercedes-AMG GmbH has been a wholly owned subsidiary of Daimler AG.

1986-1992 The Golden Years of AMG:
The release of the AMG Hammer sedan in 1986, based on the W124 E-Class, took AMG's performance modifications for a fast midsized sedan to a new level. AMG made the world's fastest passenger sedan at the time, nicknamed the Hammer,[7] by squeezing Mercedes 5.6-litre V8 tuned by AMG to 360 hp into a midsized sedan. It was very aggressive for the era, with 32-valve cylinder heads and twin camshafts, and said to be faster than the Lamborghini Countach from 60 to 120 mph.[8] Later models were even more powerful and introduced the 17-inch AMG Aero 1 Hammer wheels. 1986 was also the year Mercedes introduced the 560 M117 engine. This provided yet another opportunity for customers to order the largest AMG displacement available at the time, the 6L 100 mm bore SOHC or DOHC engines available for both the W126 coupe and sedans.

1990 AMG 560SEC 6.0 Wide-Body "Widenamebody":
AMG received a series of orders from several prominent Japanese Private Museums and Collectors in the late 1980s. Shortly thereafter the first of a handful of fully re-engineered 560 SEC 6.0 "Wide-Body" Coupes fitted with the ultimate development of the already legendary M117/9 V-8 engines appeared in several Japanese motor shows. The engines were now fully developed to 6.0-liters with radically improved cam and ignition timing on the quad-cam, four-valve cylinder heads. Massive increases in bhp were achieved but more impressive was the fact that these machines now produced more than twice the torque and at 1/2 the rpm of the original MB Factory design. The result was un-heard of performance in an utterly reliable overall package that came with the same warranty as provided new by the MB Factory. Such performance and utter exclusivity came at a steep cost. Individual sale prices varied but they were now all in excess of $200,000 and even at that level, there were long wait lists and very few such examples were completed.

WDB1260451A508313:
This particular 6.0 Wide-Body was one of 6 similar vehicles completed for Japanese enthusiasts based on a series of orders submitted in the Spring of 1990. These were all ordered and completed at about the same time and based on brand new, fully warranted 1990 560 SEC models. The transformation and re-engineering took a fair amount of time and it was nearly two years before they began to appear at Japanese Motor Shows and in various Japanese enthusiast magazines. This led at the time and still to this day a false belief that these were being assembled in Japan by a new devision of AMG. The simpler answer was that at the time few other buyers had so much extra cash on hand to give AMG free reign to build and design as best they could with otherwise little to no restriction. A handful of additional examples were completed before AMG came under more direct control of the MB Factory in 1993 and the model phased out of production.

Our subject AMG 6.0 Wide-Body was built under AMG Commission No. 919734 as project 138 under production sequence No. "438 6.0 25" which is stamped in various places on the vehicle today. This loosely brakes down to AMG sequential assembly project No. 138 and that it is a type 6.0-liter, four-cam, four valve "wide-body 560 SEC. It was sequentially the 25th of a total of 100 planed vehicles to be completed in the program. (Today, most experts do not believe that many were actually completed and the actual total production run probably is less than 50 examples.) After initially delivery and road-registration to Japan, this example remained carefully conserved and preserved in the care of an obsessive Japanese enthusiast for 25 years during which time it covered just over 72,000 kilometers (45,000 miles.) Our purchase and import of this vehicle to the States was quite fortunate as very few of the original surviving examples has ever come up for sale on the secondary market.

This is absolutely warranted and guaranteed to be an original AMG, full steel-bodied example built new and not converted on an used or donor vehicle. It retains its original AMG engine as delivered new and it completely and totally accident and corrosion free.

This vehicle has been fully safety checked, inspected and all services are completely current and up to date. This is an issueless vehicle with current USA title, license and registration. It is available for immediate inspection, evaluation and road-testing for those so inclined to acquire such a machine.

More than 100 high resolution inspection photos and full history from new for this vehicle can be accessed by contacting me at

bill AT billnoon DOT com

or by phone or text at 619 840 7811

Please feel free to contact to arrange for inspections and test drives. I can assist with full door-door delivery anywhere in the world.

Many thanks for your time and patience and good luck in all your automotive searches,

Bill Noon
Symbolic International
11425 Sorrento Valley Road
San Diego, California 92121 USA
Phone 619 840 7811
bill AT billnoon DOT com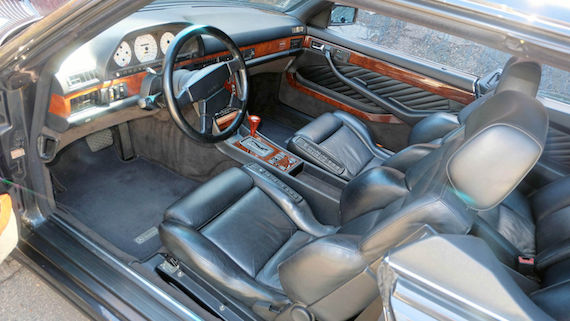 I've yet to see a C126 or similar vintage AMG reach the level of value being asked here. Ignoring the price, I could certainly see the potential for future collectability with something like this. I could spend hours just eyeing the engine bay, with those twin-cam valve covers sitting atop the 6.0 liter V8. This is one beastly machine. This was a special time for grand touring cars, with the likes of the Porsche 928GTS and BMW 8 series roaming the roads. Sure, you can buy an AMG-tuned S-class coupe these days with either a V8 or V12 engine, but somehow, those are lacking the magic of this bespoke machine.
-Paul