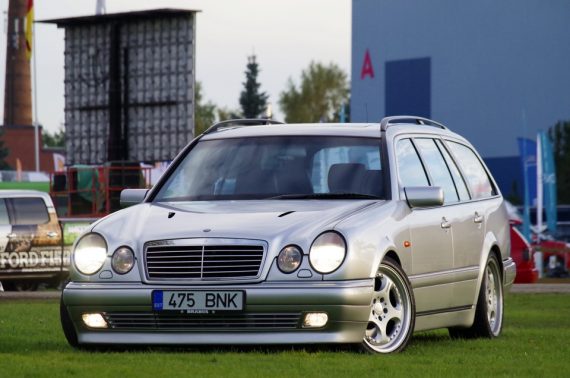 A few days ago we featured a W211 E63 AMG wagon that is one of the baddest long roofs you can buy. In the later half of the 2000's, getting that kind of power from your wagon was easy. You could ride down to your local Mercedes-Benz dealer, write a large check, then ride off and answer the question that no one ever asked. Why does someone need a station wagon that damn fast? In 1996, it wasn't that easy. In order to pin your groceries to the back window when you accelerate, you needed to do a little more leg work. Enter legendary Mercedes tuner Brabus. This 1996 E430 Brabus 6.0 Wagon located in Estonia was transformed from an adequately powered kombi to supercar with a hatch.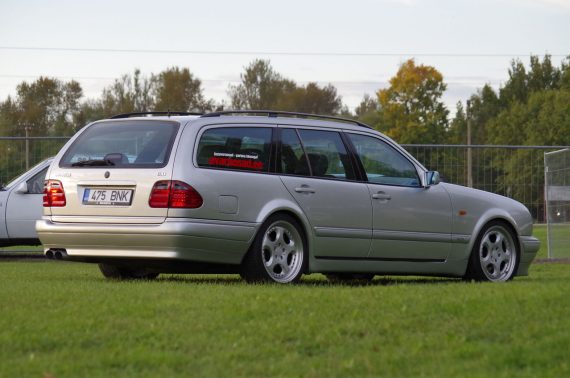 Year: 1996
Model: E420 Brabus 6.0 Wagon
Engine: 6.0 liter V8
Transmission: 5-speed automatic
Mileage:  73,000 km (45,300 mi) 
Price: E.12,500 ($13,946 today)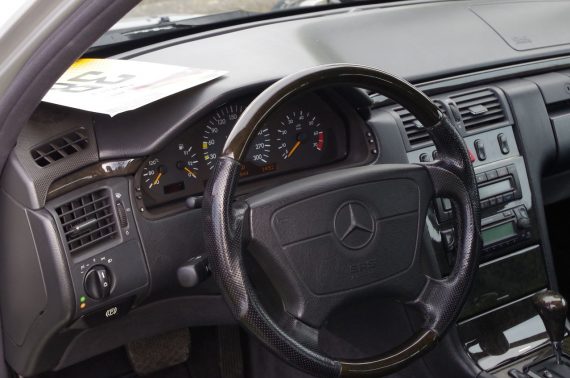 Hello guys. Tryin to sell my car, i have it for bout a year. Real classic and unique car. I dont know how much of the same engines was made, but there are now much still alive.
Condition is perfect, it just need some 500$ investigation for rear brakes, original hood and oil change. thas all) running perfect
It is a 119.985 ,6 liter made of 4.2 liter engine, whit 410 HP, 300KW and 610 NM, whit 5 speed automatic transmission 722.625. Color is 744. And inside is 954 AVANTGARDE salon.Car was driven only in the summer , in winter in the garage.
New battery , new spark plugs , new coils, new tips coils , all filters , the new fuel pump , new tires front and rear, all in perfect factory condition, all components are serviceable and work perfectly , the car was released in limited edition as u know here.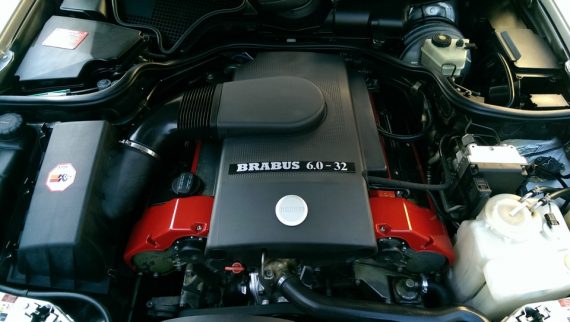 Now before our American readers bust out their checkbooks, this wagon isn't legally eligible for import under the 25-year rule. For the Canadians, keep those chequebooks out because this thing is a monster. The M119 was already a nice motor in its day and increasing the displacement to 6.0 liters produces 410hp and 450ft/lbs. The rest of the wagon got the full on Brabus treatment with flared fenders, full Brabus aero body kit, Brabus suspension, Alcon Brabus brakes, 18×8.5 and 18×9.5 Monoblock IV wheels and a whole slew of Brabus bits on the interior. Production numbers with cars like these are often hearsay, but I'd have to imagine that this is only one of a small handful of W210 Brabus 6.0 wagons.
At around $14,000, this is a great buy. While Brabus never really advertises prices for projects like this, I'd be willing to bet it was over $14,000 for all the upgrades alone. The price of E430 wagons in mainland Europe right now can be had for a few grand unlike the US where they, surprise, command a premium over sedans. The seller mentions he is willing to export. Shipping to North America would be $3000-4000 and he would burden half the cost. So for any Canadians out there looking for a super wagon and to save $10,000+ over the price of a W211 E55/E63 wagon, this might be something to explore.
-Andrew