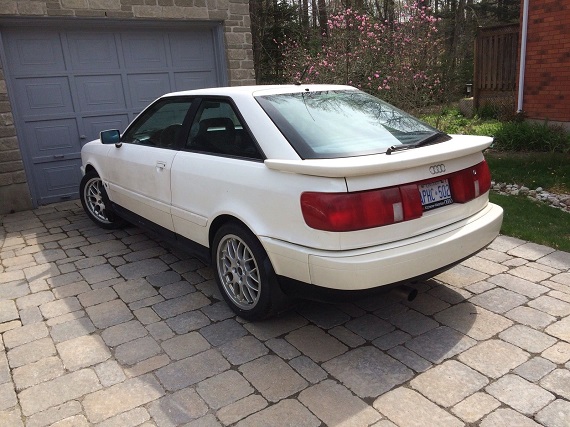 Nomenclature has been something Audi fans have struggled with, but to be fair the naming scheme from Ingolstadt hasn't always been particularly straightforward. For example, though ubiquitous as the Coupe GT, there was actually a trim and performance difference between B2 front drive Coupes and Coupe GTs. Similarly, though U.S. fans often fair to recognize it, the B3 Coupe quattro was actually the second Coupe quattro; Europeans enjoyed the option of having a non-turbocharged, non-flared version of the B2 platform which few but the most dedicated U.S. Audi Coupe fans are aware of. Then there's the name – properly, a capitalized Quattro refers to the aforementioned legend – the model that launched the branding of Audi's all-wheel drive system. Every subsequent model that followed properly has a lowercase "q" if it sported the optional all-wheel drive. That even goes for models that were only offered in all-wheel drive, such as the V8 quattro. So confusing is the naming scheme that fans have taken to using "Ur" to refer to the Quattro (though proper capitalization would take care of the problem) for not only the original model, but the C4 S4/S6 and I've even been seeing it used for TTs, A4s and a few others. But the B3 and B4 Coupe wasn't just offered in all-wheel drive; there were a long line of optional engines in the Coupe in both two and four wheel drive. However it only came to the U.S. in one configuration – the under appreciated 7A inline-5 20V motor pushing all four wheels. The B3 ran the second generation of quattro, with the center differential controlled by a Torsen unit and the rear open with an optional, speed limited locking unit. It upped the safety and electronic options to respond to market demands. They were heavy with electronic features including power seats, and passengers enjoyed the confusing safety net known as PROCON-10 – essentially, a series of cables which pre-tensioned seatbelts in the event of a crash. Though the production run of U.S. Coupes was brief at only 2 years and roughly 1700 units, there were many changes over that time. The motor changed ISV valves and computers as well as swapping from a tubular header to a cast iron unit. Shortly into production, airbags became standard on both the Coupe and sedan models. A rear swaybar was added, along with changes to the hydraulic system. All of these went relatively unseen to consumers, making the only notable change the addition of a glass sunroof to 1991 models. For the most part, these cars came fully loaded with the only options being Pearlescent White Metallic paint and power heated seats, unlike the sedan which despite being fewer in number has much more variety in options. This 1990 example was basically as expensive as a B3 got here: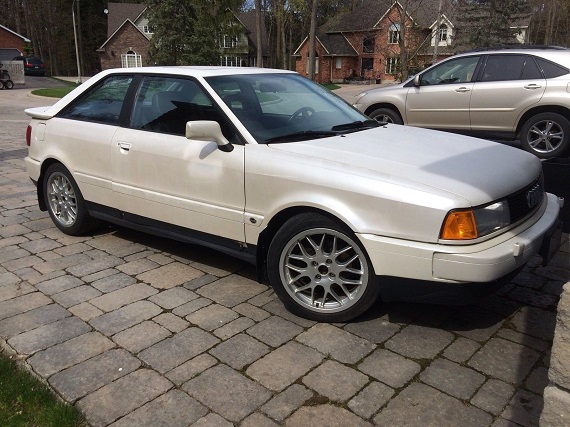 Year: 1990
Model: Coupe quattro
Engine: 2.3 liter inline-5
Transmission: 5-speed manual
Mileage: 120,000 mi
Price: No Reserve Auction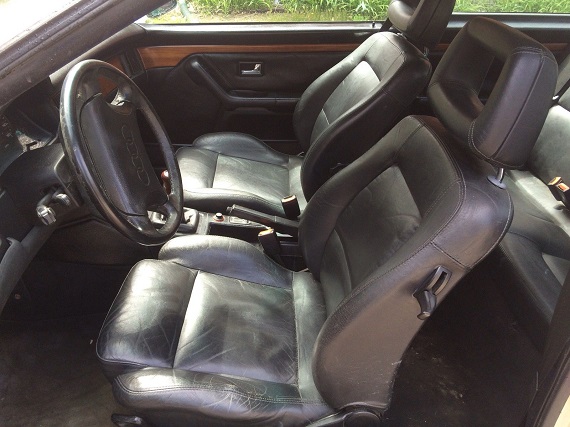 1990 Audi Quattro Coupe 20V NA 5 speed US spec car.
Runs well and sounds great.
3″ stainless exhaust with high flow cat, resonator and exhaust.
17″ BBS Rims. Quattro (lizard) centre caps not shown in pic with decent Michelin Pilot tires.
Leather interior with heated seats in great shape.
Factory selectable diff lock, ABS switch (on /off)
Driver side air bag, power sunroof, power windows, console gauge set.
Fully galvanized body is in decent shape for age, but has a few dings here and there, and pearl clear coat is oxidized and partially power washed off.
Originally from the US and easily imported back. Mileage is in Miles. (Approx. 120,000)
Car was safety inspected and emission tested last fall. The etest is still valid for transfer in Ontario, but will have to be reinspected for a safety certificate – it may now need rear brakes as they stick momentarily when parked to reverse.
It does not appear to have any noticeable leaks (nothing on garage floor where it has been parked)
Deposit of $500 is required within 24hrs.
I can help load for delivery and shipping (within reason) if required. Please contact prior to building
The car can easily be imported free of duty into the U.S. as it is over 25 years old. As per US Customs it is DOT and EPA exempt and considered a "Classic or Antique Automobile". Check the US Customs website for details.

Contact shipping or trucking companies directly for shipping quotes etc.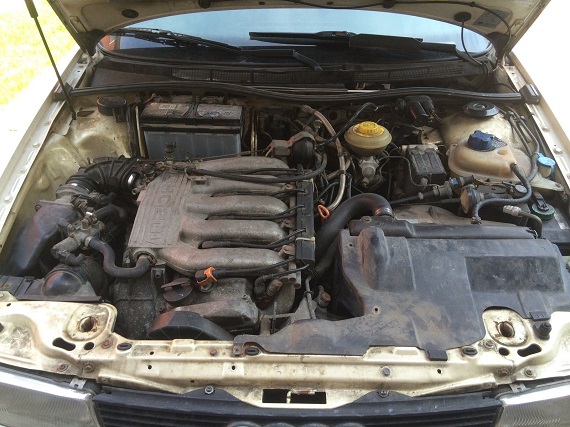 Though it looks pretty solid in the photos, a closer examination of the listing and photos indicates that the clearcoat has completely failed. Various trim bits – some NLA – also look a bit tired, but the BBS RX wheels are a nice addition which freshen up the package. This car appears to sport the tubular header judging by the heat shield. While there was no listed change in power, the sound of the tubular header cars is a bit different – you can hear it here on my GT with Stebro exhaust. The interior certainly looks to be nicer than the Pearl paint but under the hood needs a serious bath. Keeping the 7A in top running shape can be difficult but rewarding as they're a sweet and long-lived motor that got a bad reputation as being under-powered due mostly to the weight of the Coupe. The Coupes also enjoy a more valuable reputation than the sedans as especially clean examples are often used for S2 replicas, though I don't think we'll be seeing many more full-on conversions given that the real cars will soon be available for import. What you're left with is a generally clean and lower mile Coupe quattro which could be improved upon with a lot of detail time and some paintwork. Bidding is currently very low; the no reserve auction has so far failed to break $3,000 Canadian, so with a few days to go this car sits under $2,500. There some work to do but if it remains under $3,500 it is a heck of a deal on a pretty nice Coupe quattro.
-Carter