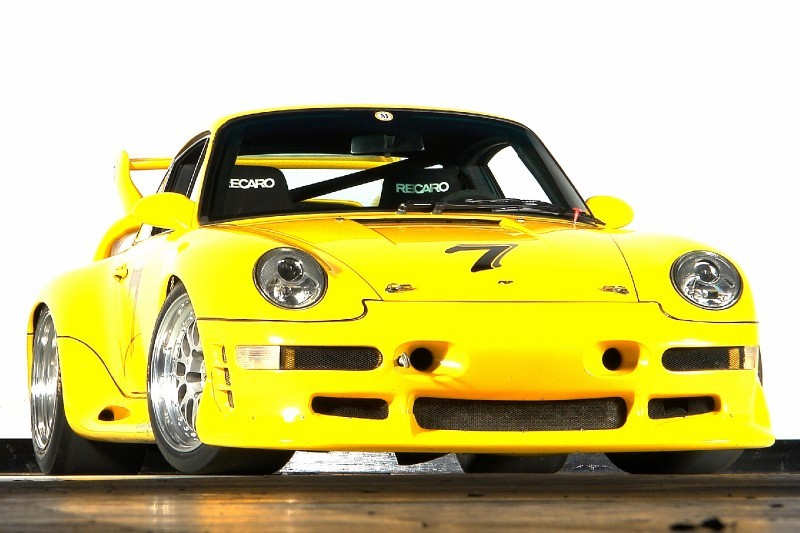 Most Rufs need little introduction. They can be summed up in one word: fast. As such, let me tell you about my encounter with this particular Ruf. The year was 2001 and I was at Road America for a PCA race with Mustante Motorsports. On the first day that we were there, it was a combined test day and Viper race. This car was racing a pack of 25-30 Vipers, all well set up. The green flag flew, and so did the Ruf – so much so, that it had a solid 5-6 second lead at the end of the first lap. That kind of lead is something Vettel would give his left arm for. I remember thinking it was such an unfair race, but at the same time sooooo cool. What was particularly memorable about it, though, was that you could see the car, but unlike the bellowing Vipers, the Ruf made almost no noise. It was both fascinating and surreal – the only other object I've ever seen moving that fast and not making sound was a supersonic jet fighter – a fitting comparison, I think. Fast forward a few years and now you can own the "ludicrous speed" of what is probably the best known Ruf in the United States – the prototype CTR2 Sport built for the Beddors: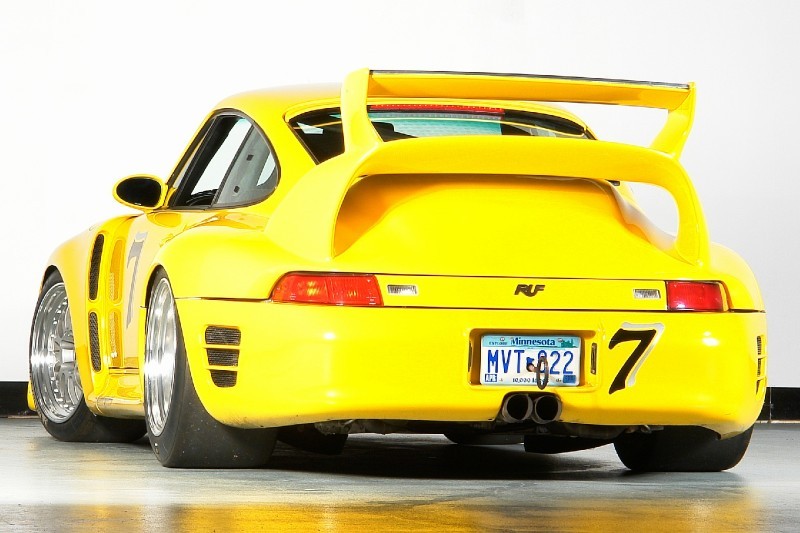 Year: 1997
Model: CTR2 Sport
Engine: 3.6 liter twin turbocharged flat-6
Transmission: 6-speed manual
Mileage: 13,007 mi
Price: $229,900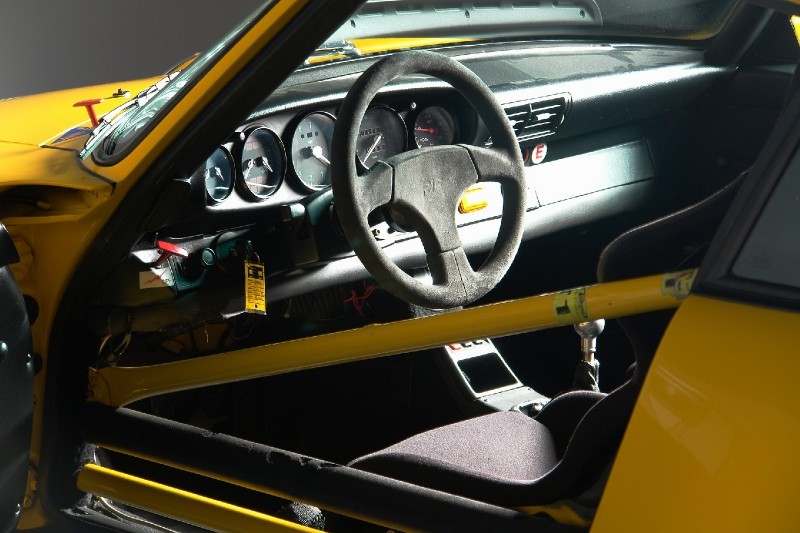 RUF Auto Centre is pleased to present you with the very rare piece of RUF history: The 1997 CTR2 Sport built for Steve Beddor. This car served as the Production Prototype for all future CTR2 Sport's built by RUF Germany.

The Car:

RUF Manufactured ( RUF VIN ) CTR2 Sport
One of only 16 wide body "Sport" versions built by RUF, this being the first one
Registered and licensed in the USA as a RUF

The Body:

In addition to the standard RUF intergrated cage, this car has enhanced door bars and cross bracing to meet FIA and Pikes Peak requirements.
Front and Rear bumper covers, front fenders, rear deck lid, dual rear wings, and sill-extensions of body are composite material.
Carbon Fiber hood and doors
Multi Function Rear Spoiler – acts as both downforce-producing wing and an inlet for direct airflow to cool the twin side mounted intercoolers.
Unique to this Sport, the rear wing is mounted higher than normal and is coupled with a 2nd adjustable bi-wing that creates more downforce. Aerodynamic balance is acheived with the addition of a removable front splitter for front downforce.
Front and Rear independent suspension utilizes Ohlins motorsport springs and dampeners with uni-ball spherical bushings in control arms and rear multi-link axle. Suspension is fully adjustable in bump, rebound, and ride height and matched with anti-roll bars front and rear with the rear being adjustable.

The Engine:

Engine: CTR 36011 dynoed at 702HP
This is the most powerful CTR2 sport RUF every built and has a very linear torque curve.
Air cooled horizontally opposed 3.8L 6 cylinder, mounted longitudinally
Motorsport Titanium Connecting Rods, lightweight motorsports flywheel
Special RUF Twin Turbochargers designed to spool quickly, producing peak torque at 5,000 rpm
Twin Air – to – Air intercoolers that are saddle mounted outside of the engine bay and fed fresh air by the unique rear wing along with "on demand" computer activated water cooling system with fan assist
Dry Sump lubrication system with seperate oil tank
Thermostatically controlled oil coolers; front mounted, fan and force fed
13.6L oil capacity

Transmission:

RUF 6 speed manual with short gearing matched to engine's torque curve for incredibly quick acceleration

Brakes:

RUF four piston calipers front and rear with Motorsports ABS system
Dual circuit hydraulic brake system with hydraulic booster
Manually docked parking brake using additional rear drums
380mm vented / drilled front rotors
320mm vented / drilled rear rotors

Wheels:

Lightweight BBS 3-piece Magnesium centered race wheels
11×18 Fronts and 13×18 Rears
Mounted with Michelin Pilot SX Racing Slicks

The car is painted in traditional Yellowbird Yellow and does have the rain gutters removed as well as the A-pillars being smoothed down.

Click the following link to see the CTR2 Sport in action against the famous Ferrari 333SP:

http://www.youtube.com/watch?v=BaJY LEvkQBg

Please feel free to call us with any questions that you may have.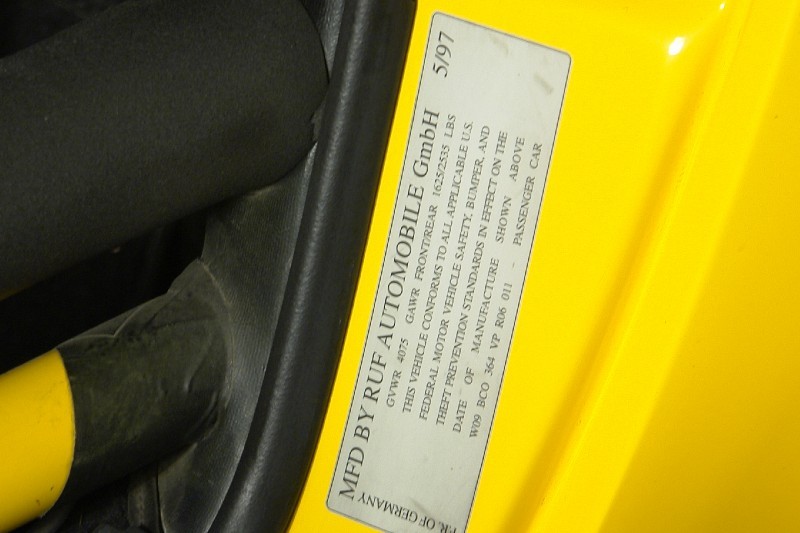 If you look up "No expense spared" in the dictionary, a picture of this car might appear next to it. You may not know the Beddors, but they started bringing Rufs over early as well as starting the "Quattro Club" – what would become the Audi Club of North America. At one point, the late Frank Beddor had 3 or 4 Sport Quattros (yes, the real deal), and ended up donating a few of them to the club. To this day, the ACNA national driving events are named for him. This car took the already impressive CTR2 and kicked it up a few notches, with composite panels, Magnesium BBS race wheels, more power, a FIA approved cage and that crazy rear wing. It is most certainly an impressive build and might be the fastest CTR2 ever made. At 700 horsepower, there isn't much that you'll encounter that will be faster.
We've featured a few 993 based Rufs recently – first the white Ruf engined replica Turbo R then the silver replica Turbo R. While the white car was asking over $100,000, the lesser silver replica is still listed below $70,000. Both of these cars would wither away in the presence of this CTR2 Sport, though. Three years ago, we even featured a similar $190,000 yellow CTR2 Sport, but even that hides in the shadow of this car's glory. I'd like to say that a quarter million dollars for a soon to be 17 year old Porsche is outrageous, but I think in this case, it may be spot on. I'd certainly rather own this car with it's impressive history than a Carrera GT for $100,000 plus more. Which would you rather have?
-Carter