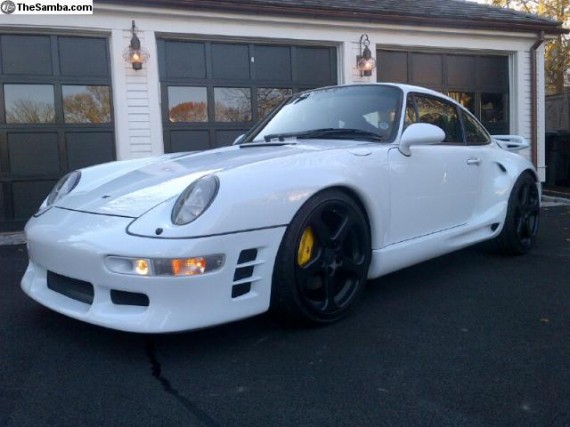 One of the premier names in Porsche tuning, Ruf Automobile GmbH is a German automobile manufacturer. that specializes in specialty builds based on Porsche chassis. Founded in the late 1930's as a repair shop, it wasn't until 1977 that Ruf debuted their first full production car based on a 930 Porsche. What really put Ruf on the map was the creation of the CTR in 1987 which set the record as the world's fastest production car at the time. Since then, Ruf has become the most renound names in the automotive tuning market with such hits ar the CTR2, CTR3, and RGT-8 all of which produce number that put most supercars to shame.
With such a stellar resume, it's no wonder the seller of this stunning 993TT turned to Ruf to build his dream car.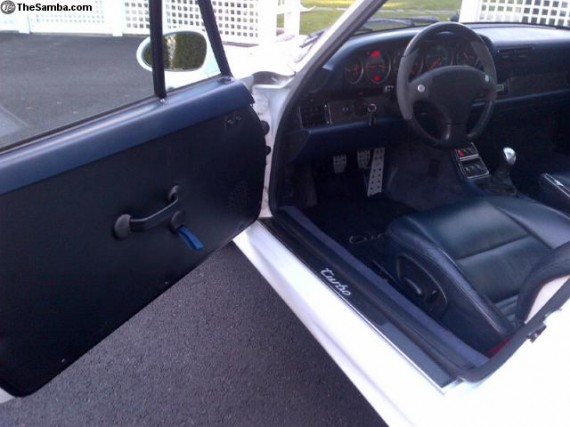 Year: 1998
Model: RUF Turbo R
Engine: 3.6 liter twin turbo flat-6
Transmission: 6-speed manual
Mileage: 35,000 mi
Price: $110,000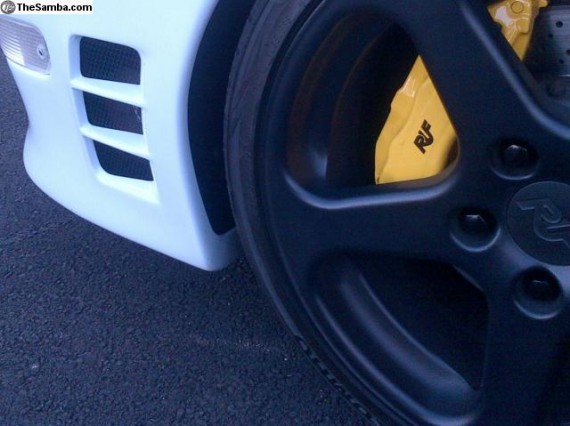 1998 RUF Turbo R (993TT)

This is my own personal car (I am not a dealer, not that dealers are bad) and I am an avid adult car enthusiast, this is my second Porsche and I am a PCA member…

1998 Porsche 993 RUF Turbo R Conversion…On record at RUF Germany and have RUF Receipts/Paperwork…
Clean Title (in hand)
Exterior – White
Interior – Two tone Navy Blue/Black with Carbon Fiber accents. The blue is truly navy (so darker tone but in pics do to lighting can look purple-ish but it is NOT, it is dark navy)
Miles Total – 35,500 on car, with roughly 15K range on RUF Turbo R package engine installed at time of conversion…
I bought the car in summer 2012 from a Porsche PCA Member who was the second owner and has owned the car since July 2000; first leasing through his business and then buying out the lease. (I am the third owner.)
RUF Turbo R conversion done in April 2001, car at the time had roughly 21,000 miles. This was a new engine sent from Germany from RUF with RUF techs to do the conversion. This engine now has about 15K miles on it bringing total 35,500…. Conversion Documented and on Record at RUF Germany; I have paperwork.
Prior owner added many upgrades and available to talk by phone if needed with serious buyer; Bilstien PSS9 Adjustable coil overs, stainless fabspeed exhaust  – car sounds amazing… see links to vids below, check valve kit, serpentine belt upgrade, 993 to power 996 seat conversion with white painted seat backs, also many genuine RUF parts…

*RUF front bumper/facia
*RUF rear bumper/facia
*RUF steering wheel w/airbag
*RUF stainless exhaust tips
*RUF badging front and rear

The car has Rain gutters shaved (this is a big job), prior owner also added Porsche TURBO S Ducts (the look amazing) and the Gemballa side skirts…….
When I bought the car I immediately wanted to go through it top to bottom, so we removed engine just to address light oil damp on timing chain covers etc (normal stuff with these cars)..check turbos etc…(again normal issues with these cars after 15 years). We had the Turbo's fully rebuilt by one of the best shops in the country (have receipts), we replaced cylinder head #2 (all with Porsche OEM part(s)), did upper seals, new seals on all timing chain covers, replaced flywheel and clutch, new engine mounts, new Turbo hoses, and more… detailed engine ticket/receipts in the $25,000.00+ range (Done by TOP notch local shop www dot eurotechracecars.com) I also went through the chassis/car replacing stereo (ipod, hands free, etc)+ new speakers, adding RS Leather door panels, hardwired V1 up by rear view mirror, all new Carbon Fiber Dash+CF Ruf ebrake lever+ have carbon fiber RUF logo sills not yet installed (all CF made in Germany by Marcus Buhler, many know him on RL, his CF is top shelf). We also did steering rod boots and some other things…. I added more RUF parts as well noted below… I have detailed receipts of all work done. I also added…
* RUF Euro gauges (done by Palo Alto Speedometer)
* RUF shifter
* RUF pedal kit,
* RUF 19 wheels powder coat black (matte)
* RUF Carbon Fiber e-brake (custom)
* RUF Carbon Fiber sills (custom not yet installed)

I had calipers (These are Porsche Big Red Turbo Brakes) removed tuned and professionally painted yellow and added RUF script, replaced brake lines, some faded trim pieces replaced on car, a malfunctioning rear view mirror control replaced, removed stock CD changer and factory amp etc.. (have stock parts and door panels etc) All this work and parts was over $15,000.00.
We finally sent the ECU to RUF for a go through as wasn't reading in DME, and decided to buy a new RUF TURBO R/Porsche ECU all again documented with RUF and have receipts…

This was a near open check book full top to bottom sorting of a very unique and rare Porsche RUF automobile. Very few RUF Turbo R conversions in existence in the states and even less as a 1998, white in color, with so many RUF parts, low miles (only 35.5K on car and not even 16K on RUF engine) + rear wheel drive! Many unique upgrades from S Turbo ducts, rain gutters removed etc….
*Original Porsche turbo books, binder, tools, Full organized folder of receipts and documentation included…
*Clean title and in hand
*Autocheck report clean
*Carfax shows Minor accident in 2006 < I have original police report that says what happened and will provide… minor. Flat tire caused wheel to come off rim and brush along car next to it. The car had some paint scrapes on one side and dented rear fender, needed a new wheel etc… no dents filled, body shop replaced rear fender with OEM Porsche fender and painted… I talked to shop that did the work and they confirmed the same and again the police report that outlines what happened (which I have)….full disclosure seller here.
(prior owner also available to speak with as noted prior)

…. Car comes with two sets of keys, I have many parts left over like the original door panels, I have a TON of pics of engine work in progress, I have a big piece of matching blue leather hide, car cover, and even a rear TURBO 993TT wing as the car now has a Porsche oem TURBO S wing…. I was going to swap the S wing out for the base 993TT wing but haven't yet…(just my preference)

open to answer any questions.
.. … my mechanic thinks I should keep after all this work.

NOTE – Fresh inspection sticker from Porsche Dealer (Inskip Porsche Warwick RI) just added a few weeks back….only person that touched the car at dealer is a 25 year air cooled tech that has worked on other RUF cars… also available if needed to talk with serious buyer…

Car could use some paint touch ups mainly around Gambella side skirts to be perfect, these were added over 10 years ago etc.. can send pics to interested buyers.

Why selling? I am into this car for much more then I have ever imagined… I was planning to keep the car for ever so the work that was done got done right but simply exceeded budget. That said, I can pay my bills, and far from a car poor guy here, not forced to sell but choosing to sell… Just have family and son in private schools and I keep my toy budget to a certain $ cap… and this has gone past that point….. it happens!

I wrote the above the way I like to see adds with as much data as possible. Any questions PM me directly… car can be seen in Newport RI… I am hoping to get better pics done soon… but for now hope these are OK..

http://www.youtube.com/watch?feature=player_embedded&v=cBd6uX6jUlc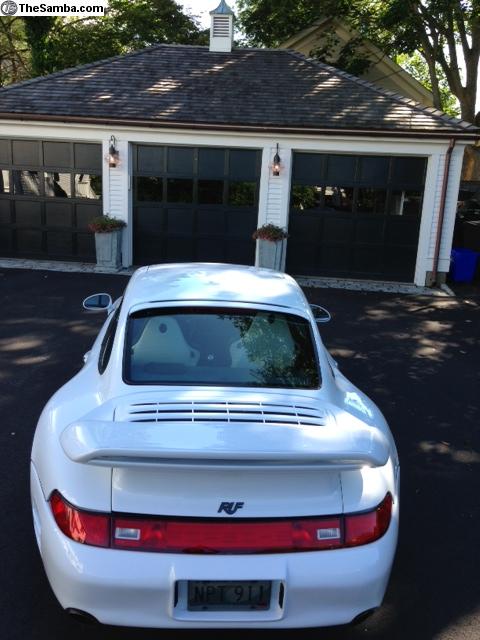 WOW is an understatement with this car, not only is fast, but I could literally stare at it for hours….it's that beautiful. These days, the 993 Turbo models, because of raw power,and status as the final air-cooled 911 Turbo cars are commanding a massive premium. Couple that with the extensive list of modifications, Ruf records and paperwork, and suddenly the $110,000 asking price starts to seem reasonable. While this car is out of most hobbyist leagues, it's nice to know that cars like this are out there. I'd be happy with a poster of it on my bedroom wall, as that's about as close as I'll ever get.
-Brian