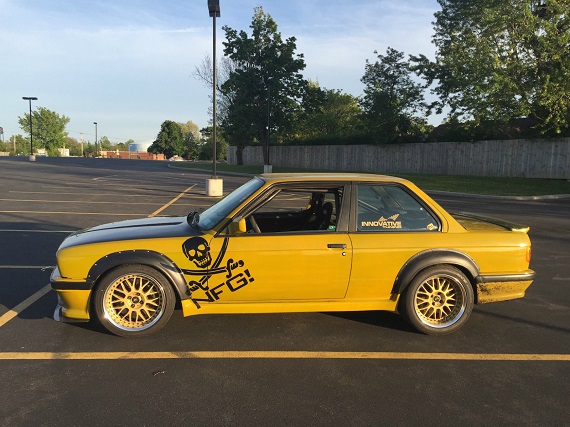 This isn't the first time I've written up sacrilegiously swapped cars, so it's probably no surprise to see two Japanese-powered BMWs pop up. And in each of their own ways, neither is on the surface, at least, a car we'd typically cover. But before you judge a book by its cover, are either of these cars executed well enough to be a neat package?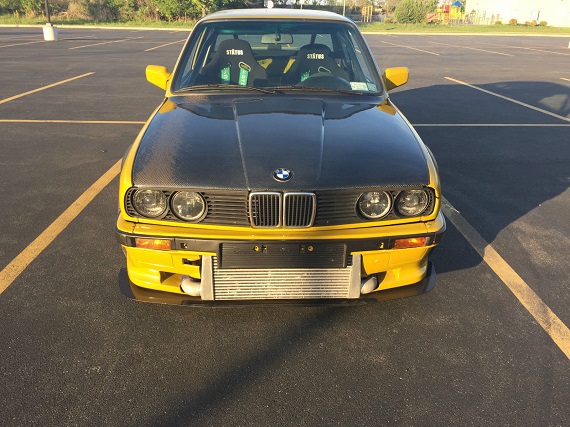 Year: 1987
Model: 325is
Engine: 2.6 liter twin-turbocharged inline-6
Transmission: 5-speed manual
Mileage: "5,000" mi
Price: $21,500 Buy It Now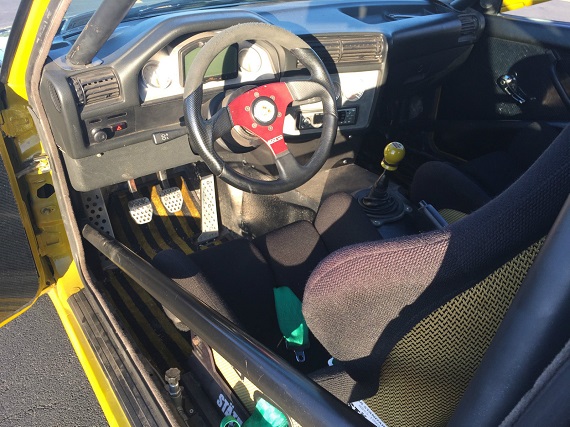 I've been halfheartedly toying with the idea of selling this car for a few years, but I've got another project that I'd like to start on, and this simply has to go.

The chassis began its life as a 1987 325is, was stripped to a bare chassis, sand blasted, seam welded, undercoated and reassembled with almost entirely new parts. Every single part that has been put on the car has been refurbished, repainted or replaced. All wear items were replaced: new suspension bushings, motor mounts, etc. All hardware was replaced, usually with stainless steel. All suspension members have been powdercoated. There is no rust on the car. A 10 point cage helps stiffen the chassis, tying into suspension members front and rear. An OEM MTech1 aero package has been installed. This is aero that is not available in the US and is very rare. OEM Euro bumpers complete the package. The aero package has been modified slightly for a more modern look: normally there are grooves that run around the edge of the aero, these have been removed. The result is a very clean, OEM appearance. At the bottom of the front valence, a custom aluminum splitter has been installed. I will include one spare with the sale, in case of any future damage. In addition to the OEM aero, I removed the door and side molding, this complements the overall look. Euro "smiley" style headlights have been installed with HID lights in the low and high beam locations. Euro grills complement this. A carbon fiber hood has been installed, as well as a carbon fiber insert in the rear trunk wing. A custom hybrid GTR/BMW badge sits on the hood, and is a subtle hint at what lies inside. Ireland Engineering fender flares have been fitted to allow a much wider than factory wheel to be mounted. The car is painted in a unique paint which appears very green in certain lights and very gold in others. The sunroof and fuel door have been removed and filled. There are some chips in the paint from use, but none detract from the overall appearance of the car. Rubber I leave on the rear bumper as a badge of honor will come off. The decals on the side of the car can be removed as well. I have some touchup paint available as well.

Certainly the most defining part of the car is the engine. Removed from a running R32 Nissan skyline, the RB26DETT it was nevertheless completely disassembled and rebuilt. Klispie Machine bored the block to 87mm to accept new Wiseco forged pistons. Eagle rods connect them to a reground OEM crank that also had an HPE oil pump drive collar installed to prevent potential damage to the new OEM oil pump. ACL calico race bearings are installed on both the rod end and main bearing locations. At the end of the crank sits an ATI Race Damper. Machine work to the head was again done by Klispie Machine; the work here being a 3 angle valve job and installation of new bronze valve guides and a full Ferrea heavy duty dual spring kit, complete with titanium seats, locks and retainers. The lifters were all re-shimmed and new buckets installed. All OEM gaskets were placed between mating surfaces, with the exception of the head and intake gaskets, where metal upgrades were used from Cometic and Trust, respectively. ARP high strength hardware holds the motor together in the following places: head studs, flywheel bolts, exhaust studs. Spitfire coil packs, a high strength trust timing belt and a new OEM metal impeller water pump and cooler Nismo thermostat complete the engine's internal upgrades. On the exterior of the motor, the valve covers have been powdercoated, the custom high-flow fuel rail has been polished, as has the alternator. A carbon fiber spark plug cover is fitted, along with an OEM R34 engine ornament. A Bings oil cap seals the valve cover, which are modified to vent through braided lines into a Steph's baffled oil catch can.

A Vipec ECU running via speed/density (no MAF) controls the spitfire coilpacks and 870cc Seimens flow calibrated injectors. The injectors are feed by a Bosch -044 fuel pump that is in turn fed by an 8 gallon fuel cell. An Aeromotive rising rate regulator controls fuel pressure and a Billet aluminum fuel filter makes sure the injectors stay clean. Stainless braided lines connect every portion of the fuel system together.

Feeding the Garrett GT35R ball bearing turbocharger (which has an A/R of .82) is a custom built stainless sch10 manifold. The manifold is well braced and was CAD designed and is equal length to within .125". The induction and exhaust system are entirely custom, all built from stainless steel and aluminum. The 3 inch exhaust uses stainless v-band junctions and flex-sections. The Tial 38mm wastegate is recirculated into the downpipe and has its own flex section. The exhaust is routed over the transmission and to the rear before exiting through a hooker stainless muffler. The sound is perfect. Contrary to popular belief, the exhaust never runs through the cabin of the car. A second firewall is part of a custom-built, removable aluminum transmission tunnel. Stainless piping connects the turbo to the intake manifold, passing through a PWR 24 x 11 x 3 intercooler with custom end tanks. It should be noted that this is a high quality, name brand intercooler, not a generic eBay one. A tial 50mm blow-off valve is mounted just before the throttle body.

A custom built Moxies radiator cools the engine. A custom surge tank and catch can complete the package, which is joined with steel hardlines, and stainless braided hose, as opposed to rubber hoses. A Flex-a-Lite E-fan is mounted to the radiator and is operated by the ECU.

Power is transferred to the ground through an Exxedy 3 puck clutch attached to a nismo flywheel into a rear wheel drive R32 RB26DETT transmission. This is uncommon and achieved by removing the center dif from the car and replacing it with a closeoff plate. A custom Driveshaft Shop driveshaft connects the transmission to the BMW 4.11 LSD rear end. New OEM axles drive the wheels. The transmission shifts well, though occasionally has a very slight grind in second gear, but it does not inhibit shifting at all. The clutch master cylinder, on a reinforced mount, and clutch slave cylinder are both brand-new, and are joined with a braided hardline.

The suspension, as mentioned before, has been fully updated. All suspension parts were powdercoated, many outright replaced with new, then powdercoated. New Ireland Engineering (IE) Road Race springs were installed along with Bilstein HD dampers. Swaybars were new IE 22/25mm units with brand new endlinks. Trailing arm bushings and subframe mounts were replaced with IE polyurethane pieces, while the wheel bearings and upper strut mounts were replaced with OEM parts, both front and rear. Suspension adjustment is made via IE camber and toe adjusters, integrated into the rear subframe.

The brakes on the car are huge and completely custom, but utilize off-the-shelf wear items. Wilwood Billet Forged Superlite Narrowbody calipers with differential bore pistons grip Willwood 13" GT48 rotors. In the rear, Wilwood Superlite 4 pisston calipers act on Wilwood 11.75" HD rotors. The rotor rings are attached to Custom rotor hats in the front, and Massive brand rotor hats and parking brake rings in the rear. Speaking of the parking brake, all components, from cables to springs and pads and clips and retainers were replaced with OEM components. The main brakes are fed by fully stainless lines. Rigid lines on the chassis and stainless flex hoses where applicable. A Wilwood brake proportioning valve is located next to the driver's seat and is adjustable in-car. The car utilizes a power master cylinder that's been polished and is fed from a custom billet reservoir that also feeds the clutch system.

The wheels are custom built Work VS-XX in 17×10 and 17×8.5 fitment. Falken Azenis tires are installed in the front and NT05R drag radials are installed in the rear. The car hooks great in every gear. Vorshlag extended wheel studs are installed with open ended lugnuts. The rims are in perfect shape and the tires have lots of life left.

Sitting in the Status Ring Kevlar seats, the driver is held in by genuine Takata racing harnesses. A Sparco 300mm steering wheel, which shows a slight amount of wear has a working horn and an NRG quick release wheel hub. From the driver's seat you can monitor the engine via a RaceTech Dash2 digital dash, displaying speed, engine ROM, oil and coolant temp. An AEM Uego gauge monitors fuel mixture, while 4 greddy warning gauges allow you to monitor the boost, exhaust gas temperature, oil pressure and fuel pressure. It should be noted that while the car was tuned with the aid of the EGT gauge, the Greddy control unit has failed on that particular gauge. Despite lacking HVAC, the car does have a basic radio with four speakers and CD head unit. The entirety of the car has been rewired and updated with Molex connectors and a kwikwire fuse panel. Rare for a custom car is the inclusion of a CAD drawn complete wiring diagram. A few different shift knobs are available to choose from, including a few 3D printed one-off pieces and a JDM Yashio Factory unit. Front and rear striped carpets are custom fit to the interior, with all other surfaces painted body color or wrinkle black. Carbon fiber front door skins and rear closeoffs are installed, as well as a few custom aluminum closeoffs in the dash. The pedals are custom made and say E30GTR. The dead pedal is a Massive brand and is very nice. The windows are manually operated.

The car is an absolute blast to drive. It's fun, fast, handles well, sounds great, turns heads and weighs very little. Running 93 Octane I made 500 whp with plenty of room left to go, but that was plenty fast for me. It always starts easily, never stalls and always pulls hard. All turn signals, exterior lights, hazard lights and horn function as intended with factory controls. Inspection has never been an issue for it and the car has been registered and inspected yearly as a 1987 BMW. That said it is not what I would consider a daily driver. It's a very stiff car. Polyurethane bushings are prone to squeak, there is no power steering and the cage makes getting in and out less than simple, but these are compromises made for performance, and it shows. I'm not interested in trades unless you have an OEM Harley Knucklehead with paperwork. That's it. Please do not ask me to trade. There are over 48,000 dollars invested in this car, and that's not putting any price tag on the labor that I did myself, which totals in the range of thousands of hours.

If you have any questions, feel free to contact me: ctnewman@gmail.com or message me for a phone number.

A complete bulid blog of the car is available here:
blog post

Here's a list of what's been done to the car and pricing, and does not include any smaller items, hardware, etc: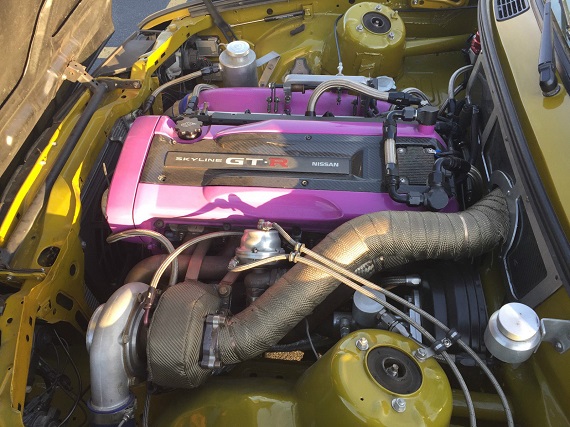 Get past some of the semi-garish details, and this is a really cool build. The "No F*cks Given" stickers are particularly inappropriate, consider the builder obviously took some serious time and effort assembling this car. The engine bay is very clean and gives a professional appearance of the swap. The suspension is full Ireland Engineering; quite respected in their trade. The M-Tech body kit is sought after, and the Wilwood brakes are a great option if you don't have the resources to go with Alcons or custom Brembos. Even at it's root, I like the concept of this car. There are, of course, some details I'd tone down. I don't like the raw-carbon hood, for example, though the black flares don't bother me as much. The color coded Work wheels would have to go; but, put on some BBS RS wheels, tone down the paint color and suddenly I think this car could be a real stunner – and if the look doesn't stun you, the performance certainly should. The RB26DETT is a great motor capable of some fantastic noise and impressive power output, and the inline-6 keeps the spirit of the M20 alive. It's a turn key, high performance E30 that marches to the beat of a different drummer, and personally I think there's nothing wrong with that – the detail work on this car is particularly impressive (custom badges, for example!) and overall with some detail changes to me it's a really neat car.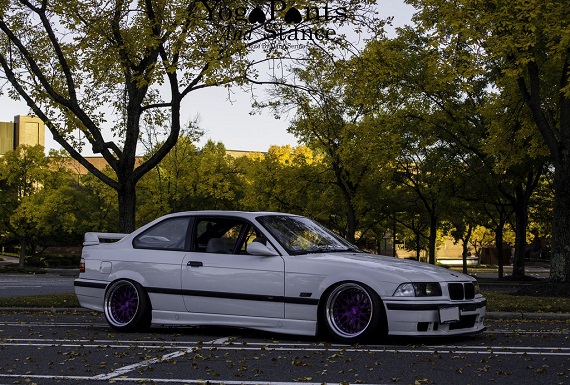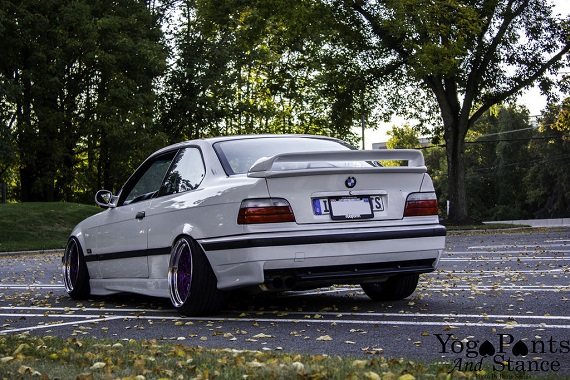 Year: 1995
Model: M3
Engine: 3.0 liter twin-turbocharged inline-6
Transmission: 5-speed manual
Mileage: 165,000 mi
Price: $10,499 Buy It Now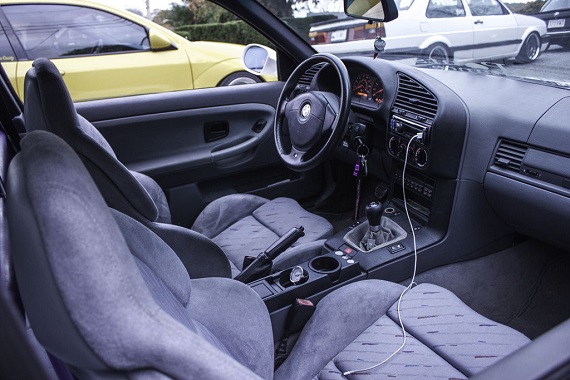 Hey everybody, I've honestly been to busy and sort of lost motivation in my build. Seeing if anyone would be interested in buying or trading for my project. I have about 9k in part receipts from the swap itself so far, not to mention what i already have into the shell.

Car just got full restore and respray.
2 inch folder full or receipts.

781 983 3607 – dario

Trades offer up Prefer RWD, and MUST BE MANUAL (NO HONDA CIVICS, American, or FWD)
Exterior: its a 8.5/10
Interior: its a 9/10

Engine:
2jz GTE NON VVTI paid $2700
Cx racing single turbo manifold paid $487.99
cx racing single turbo oil lines paid $99.99
Cx racing downpipe paid $114.00
Tweaked performance plug and play harness $1300
ABC 2jz to ZF adapter plate with tilton clutch and flywheel paid $2600
Rear Sump Oil Pan paid $250
Motor Mounts paid $300
more misc parts i forget

Exterior:
Fresh paint, pulled and rolled fenders
low Rise LTW wing
Clears all around
Black Grills
5k HIDs
Depo Headlights, frenched highs with city lights
felony form widebody (uninstalled)

Interior:
Alcantara suede Grey OEM VADER INTERIOR 1/50 In US
Purple Roll half cage
SSK with ZHP knob
Suede shift boot
Alpine head unit, with Ipod Integration

Suspension:
stock blown used for rollers
Adjustable Sway Bar Links
Ground Control adjustable rear camber arms
Aftermarket swaybars (front&rear)

Wheels:
stock ds2s

Brakes:
Brand new Zimmerman Cross drilled rotors and texstar pads(front)
Slotted Rears
Stainless Steel Brake Lines

What does the car need to run?

Time
turbo
front mount+ piping
power steering lines
radiator
do general maintenance (timing belt, plugs, coils, sensors)
blow off valve
exhaust from downpipe back
starter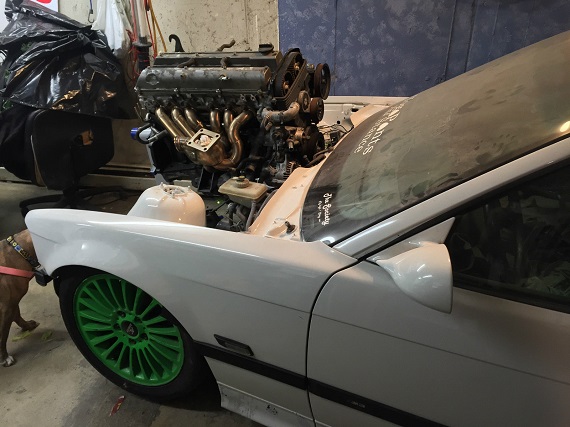 Okay, again back out some of the garish details and this is a neat package. First, it's a real M3 coupe, and I have to admit, I feel pretty bad for the E36 M3. It's a neat car, but most are a bit…well, used up, if we're honest. Check out the autocheck – a score of 7 (out of 100!) and a nearly equally impressive 8 previous owners. When the number of people that have owned the car exceeds the autocheck score, odds are you're buying a basketcase. Of course, most E30s aren't much better, and if you think this E36 is bad the E30 above has an autocheck score of 1 and 10 previous owners. Yikes! This car has a respray in what appears to be the original white, which is nice. Thankfully, the pretty horrible purple wheels and silly too-low suspension aren't included. Unfortunately, a running car also isn't included, as the ridiculously tunable 2JZ-GTE isn't currently hooked up. Think of this as an Ikea M3, replete with the bald, emotionless Captain Picard assembly character scratching his head. But the bones of the build are here and you get a really neat Alcantara Vader interior, which might be the only reason to buy the car. Personally, I'd probably ditch the Supra drivetrain and source a S54 or S62 transplant to have a bit more fun in-house so to speak, but that's me. Would either of these Axis powers appeal to you?
Thanks to our reader Colin for spotting the GTR powered 325is. I was sure I had written it up before, but I couldn't find the article. So, thanks Colin!
-Carter