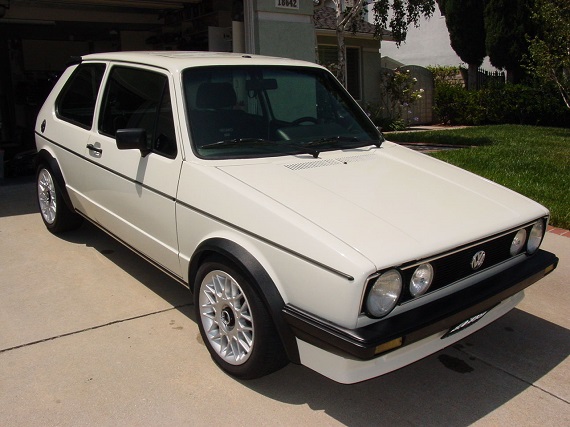 I was at my mechanic's just the other day picking up my Passat when he asked me to give him a hand pushing a Mini Cooper S with a blown motor out of the way. He laughed as it rolled to a stop and remarked how heavy it was for such a small car. Of course, BMW made up for this by upping the power and the first of the new Minis is still a hoot to drive in S form, but he said to me "I'd rather have an original GTi". I concurred; a legend even in its own time, the A1 GTi's magic has never really been replicated by even Volkswagen themselves. Sure, there are faster, better built and better looking hatchbacks, but there's something magical about the original – right down to the crazy stories both of us had about 11/10ths driving, flinging the small hatch at corners, overpasses, underpasses, small pets and occasionally pedestrians with abandon. Has all of that nostalgia turned into dollar signs in today's market, though?
Year: 1978
Model: Rabbit
Engine: 1.8 liter inline-4
Transmission: 5-speed manual
Mileage: 211,480 mi
Price: $22,500 Buy It Now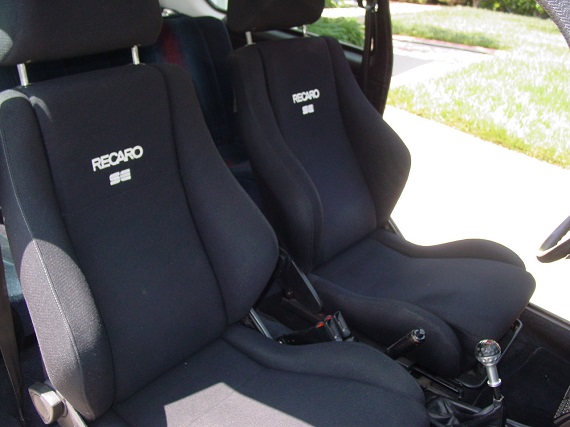 YOU ARE BIDDING ON A VINTAGE GERMAN BUILT 1978 VOLKSWAGEN RABBIT/GOLF CUSTOM BUILT TO EUROPEAN SPECS FOR THE GOLF GTI IN 1978.CAR FEATURES 1.8 LITER GAS ENGINE WITH THE INCLUDED MODIFICATIONS 10.5 TO 1 HIGH COMPRESSION PISTONS VW MOTORSPORT G GRIND CAMSHAFT WITH AUTOTEK ADJUSTABLE TIMING CAM DRIVE GEAR.ENGINE HAS PORT AND POLISHED CYL HEAD LARGE VALVES NUESPEED BIG BORE THROTTLE BODY AND FULL MECHANICAL CIS FUEL INJECTION.FRONT/SIDE MOUNTED OIL COOLER SYSTEM,COLD AIR INTAKE MODIFIED STOCK AIR BOX K&N FILTER PANEL ABD BIG BORE INTAKE NUESPEED IGNITION WIRE SET W/ ELECTRONIC IGNITION. 5 QUART SHRICK BAFFLED ALL ALLUMINUM FINNED OIL PAN AND OIL PAN WINDAGE TRAY ENGINE HAS NO LEAKS HAS RUN ON ONLY SYNTEC 5-50 SINCE BUILD AND 3000MI OIL CHANGES.HAS A FRESH TIMING BELT AND WATER PUMP,OIL SEALS TENSIONER ETC.80 AMP ALTERNATOR ROTARY A/C COMPRESSOR(NEW)HAS A CHROMED VALVE COVER WITH ALL RUBBER GASKET, TECHTONICS EXHAUST SYSTEM TURBO MUFFLER(WALKER POWER FLOW) AND CAL LEGAL OEM HIGH FLOW CATALYTIC CONVERTER.TECHTONICS EURO EXHAUST MAINFOLD LARGE BOLT DUAL OUTLET TO TECHTONICS DUAL DOWN PIPE.TRANSMISSION IS 5 SPEED CLOSE RATIO WITH 3.65 FINAL DRIVE AND QUAFFE TORQUE BIASING DIFFERENTIAL ALL TRANS COMPONENTS ARE NOISE FREE AND SHIFTS SMOOTHLY.INCLUDES NUESPEED WEIGHTED SHIFT ROD AUTOTEK SHORT SHIFT KIT NEW SHIFT ROD AND SHIFTED BASE NO PLAY HERE.ALSO HAS A NEW DELRIN SHIFT BUSHING BRACKET.BRAKES ARE SCIROCCO 16 VALVE 4 (ALL) WHEEL DISC BRAKES(STOPS ARE FAST AND CONTROLLED FRONT DISC IS 256MM ZIMMERMAN SPORT CROSSDRILLED ROTOR REARS ARE STOCK GOLF DIAMETER WITH LARGER MASTER CYLINDER ALL BRAKE LINES ARE STEEL BRAIDED AND LARGER FLUID RESERVIOR.NEW PEDALS CLUSTER BRACKET WITH BRAKE LIGHT SWITCH.MOMO ACCELERATOR, BRAKE AND CLUTCH PETALS.ALUMINUM MOMO SHIFT GOLF BALL SHIFT KNOB.FLOOR PAN INSIDE COMPLETELY INSULATED WITH SOUND DEADENING DYNAMAT MATERIAL VERY QUIET INSIDE.UNDAMAGED RECARO RACING SEATS AND BRACKETS.INSTALLED POWER STEERING SYSTEM HAS K&W VARIANT 3 ADJUSTABLE COMPRESSION AND REBOUND COILOVER SUSPENSION1 1/2-3 INCH CAPABLE SET AT 2 INCH LOWERING. NEW RUBBER CV BOOTS, BALL JOINTS CV AXLES ENGINE MOUNTS REAR TRAILING ARM MOUNTS ARM BUSHINGS.TSW HOCKENHIEM 15 INCH WHEELS KNOCK OFF STYLE LUG COVER SPANNER NUTS AND RACE CLIPS, MICHELIN TIRES.EUROPEAN FRONT REAR LIGHTWEIGHT BUMPERS GTI FENDER FLARES CLEARANCED FENDER WELLS(NO RUB UNDER FULL COMPRESSION)DUAL INSIDE REMOTE MIRRORS ZENDER 3 PC REAR SPOILER.EUROPEAN FACTORY 4 LAMP GRILL WITH FOG/DRIVING LAMPS ALARM SYSTEM DOOR LOCKS AND HOOD LOCK SYSTEM.GAS LIFT HOOD SUPPORTS LEATHER GTI STEERING WHEEL.PIONEER 12 DISC CD CHANGER AM FM CASSETTE 1500 WATT SOUND SYSTEM.3 GAUGE CLUSTER WORKING HEAT AND AIR CONDITIONING CALIFORNIA CURRENT SMOG CERTIFICATE.HAVE HAD THIS CAR SINCE 1991.RUNS AND DRIVE SUPERBLY HANDLING IS EXCEPTIONAL POWER TO WEIGHT RATIO IS VERY GOOD 65MPH AT 3000 RPM.HAS AUTOTEK FRONT UNDERSIDE SUBFRAME AND ADJUSTABLE UPPER STRESS BAR.ALSO HAS FRONT AND REAR NUESPEED SWAY BARS BALL LINKS URETHANE BUSHINGS.THIS GOLF GTI HAS NEVER HAD AN ACCIDENT SINCE IVE OWNED IT AND DID NOT FIND ANY EVIDENCE OF ONE DURING THE RESTORATION PROCESS.HAS SHAVED ANTENNA HOLE, SIDE MARKERS, REAR EMBLEM, REAR FILLER PANEL HOLES.1500 WATT STEREO 5 1/4 DOOR PANEL SPEAKER MAP POCKET ENCLOSURES MB QUART DRIVERS WITH REAR APRON FLUSH MOUNTED AMPS TUBE SUBWOOFER.INCLUDES SPARE TIRE JACK SET UPPER REAR CARGO MAT(ORIGINAL).THE PAINT IS WORN CHIPS BLISTERS ON TOP SMALL HOLES IN REAR OF HEADLINER LITTLE DINGS HERE AND THERE.THIS CAR IS VERY VERY RARE IN THIS CONDITION.GOOD LUCK!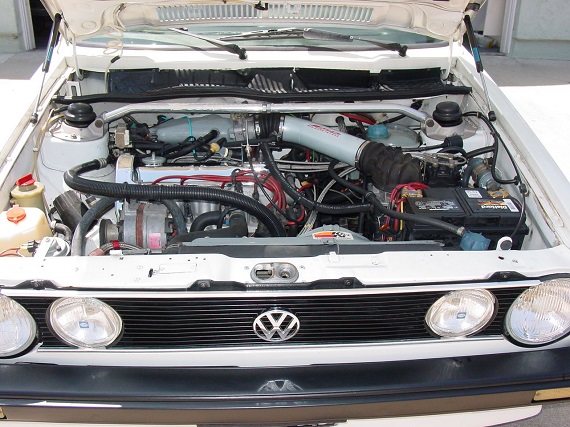 This car popped up on eBay a few months ago, and I got quite a chuckle out of it. The asking price was the same as it is today, but instead of a lengthy description and good photos it had a few hazy pictures of old pictures (no joke) and a limited description. I'm glad the seller has taken the time to be more thorough with both, since the car is in remarkable shape and has a bunch of neat things items installed. It appears that just about everything was upgraded, and for the asking price it should have been. While the overall aesthetic is eye-catching, I'm not sure that the end result is more desirable than an original '84 GTi; the TSW wheels are too new, the engine bay is a bit too blingy and the seats look a bit out of place. I do like the small taillights and the white color as well as the Euro bits, but overall it's a bit overdone for my liking. Mind you, the overdone aesthetics are nothing compared to the overdone price; at an ask of $22,500 for a home-brewed creation, this car is arguably much more ambitious in it's asking price than the S6 from earlier. We've seen some stellar original GTis clear $15,000 – but to me, this car is a hard sell above $10,000 even with the considerable amount of work the owner put into it. In many ways, the car would have probably been worth more if it had been restored to a very high level of originality than modified to clone a Euro GTi, which it just doesn't pull off well enough to me.
-Carter