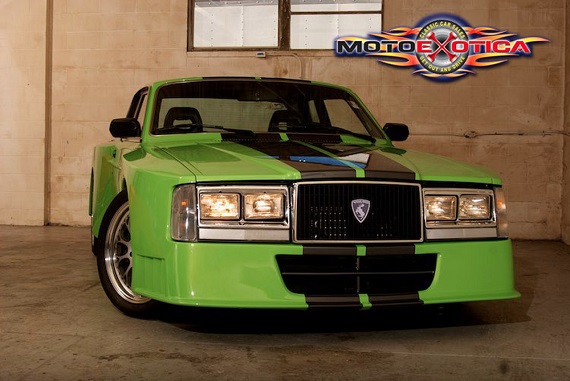 Okay, before we get going – yes, I'm aware that Volvos aren't made in Germany. Worse yet, this Volvo isn't even made in Sweden. But occasionally we like to showcase some European cousins from the land of Abba, so if you'll grant me a little leeway we're going to look at this particular Volvo. As Volvos go, I think the 262C Bertone might be the least attractive made. That's saying something, since I think the 240 might be the least attractive car of the 1980s. But the 262C was basically gone by the 1980s, and it embodied all of the wrong things of the 1970s. There was the chopped-look that Bertone gave the ungainly coupe. It was always somehow out of proportion to me, and despite the top-tier name I don't think it's an attractive design at all. Then there's the reputation of the parts; assembled by Bertone in Turin, Italy, the 262 also featured the anemic and much maligned Peugeot/Renault/Volvo "PRV" V6. Top that off with a vinyl roof, and the 262C always seemed like a bit of a joke to me – what Swedes thought people in Florida would like if they bought a Volvo. So, I was not upset at all to find that someone had modified one. And when I say modified, it's hard to see what they left alone: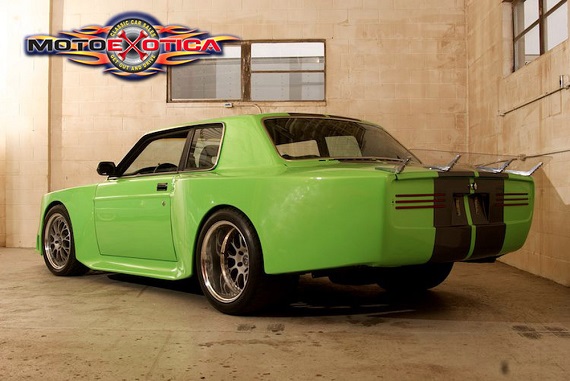 Year: 1978
Model: 262C Bertone
Engine: 6.0 liter V8
Transmission: 4-speed automatic
Mileage: Does it matter?
Price: $37,900 Buy It Now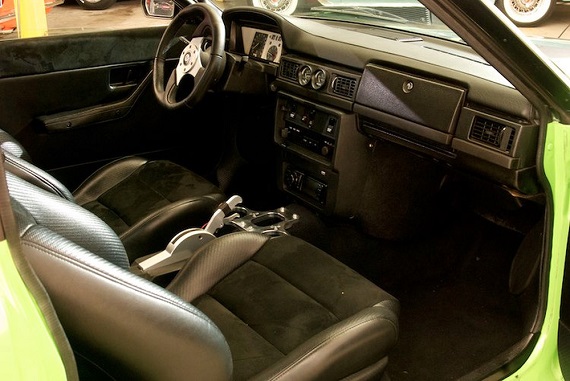 Professionally Built 2011 SEMA Car!
100% Street Legal! Show Quality!
Custom Leather and Suede Interior!
Very, VERY Fast Car!
376ci LS3 with Wet Nitrous!
4L80 Automatic Tranmission!
$10,000 Custom Stereo System!

MotoeXotica Classic Cars is pleased to offer yet another incredible, one of a kind, custom SEMA built vehicle; the 1978 Volvo Bertone 262C you see pictured. This incredible, seldom seen vintage 2 door Volvo coupe boasts a loud paint job and an even louder powerhouse!

This badass car was professionally built by KAO Customs out of Las Vegas, Nevada for the 2011 SEMA show. The Volvo possesses an all steel body, complete with handmade steel flares, ground effects and air dam. There is also a clear spoiler on the rear of the car. The car has been custom painted with House of Kolor "Gotta-Have-It-Green" paint with two center gunmetal racing stripes. If you're looking for a car to grab attention anywhere and everywhere – look no farther, we have you covered at MotoeXotica!

Inside, the custom interior is subtle but unique. The Sparco Alcantra leather and suede bucket seats are in excellent condition, as are the back seats. The door panels, headliner and carpet are in comparable condition and look awesome. The dashboard is in great condition as well and shows no signs of cracking or fade. The gauges are the original Volvo gauges, which is pretty awesome! The power window switches are installed in the dash and are functional. There is a custom stereo installed in the dash, valued at over $10,000! It includes a Kenwood stereo with 665 watt Zapco amplifier, trunk mounted subwoofers and MB Quart and Morel interior speakers. You almost need this kind of stereo to listen to your music over the roar of the engine!

This vintage Volvo is powered by a very powerful, aluminum 376 cubic inch LS3 V8, complete with Comp Cams camshaft, valvetrain and an Edlebrock wet nitrous system. This is a SERIOUSLY fast car! Mated to the engine is a strong, 4-speed 4L80 automatic transmission with overdrive and upgraded internals. The transmission is shifted through a ratchet shifter on the floor. The transmission does have a Yank Billet stall convertor, and pretty hefty one at that; but we do not know the specific stall specs. Other powertrain modifications include a GMPP Controller with custom tune, an Aeromotive Fuel system, custom built ceramic coated headers, dual 3" into 4" exhaust, Borla XR1 Race muffler, heavy duty driveshaft with 1350 joints, billet yokes, positraction Ford 9" rear end with 3.50 gears, 4 pin LSD and spline axles, tubular A-arms, coilover suspension, power rack and pinion steering and 4-wheel Wilwood disc power brakes. As mentioned before, this is a VERY fast car. It is definitely not for the faint of heart!

The car sits upon a set of 3-piece custom Kinesis forged alloy wheels that look absolutely stunning on this hot custom! The front wheels are 18×8 wrapped in P245/40ZR18 and the rear wheels are 18×13 wrapped in MASSIVE P345/30R18 tires. The monstrous rear tires are necessary for the wider surface area which is better for transferring the power to the pavement.

This is your opportunity to own a truly one-of-a-kind, custom, show quality vehicle that was professionally built specifically for the world renowned SEMA Show in Las Vegas. This car is an excellent driver (and could even be daily-ed!), 100% street legal and VERY fast while being totally streetable. It would make an awesome addition to any collection or for anyone looking for that special something that is sure to knock socks off everywhere it goes!

The VIN is VC26265LD003381 and the mileage currently shows 82,983. It is being sold on a clean and clear Pennsylvania title. GET OUT AND DRIVE!!!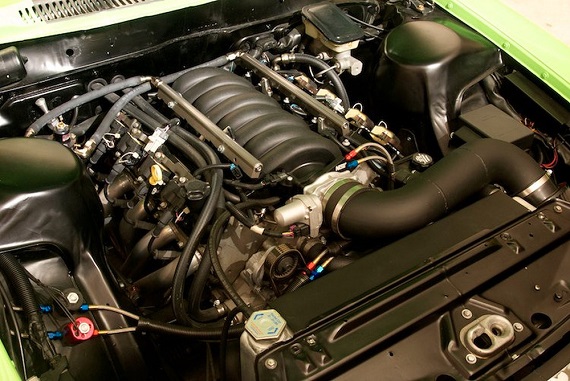 I'm not hugely into the SEMA scene, but I imagine this car probably caused quite a splash when it appeared. The super-wide all-steel box flares coupled with massive wheels give the car an almost clownish appearance which is backed up by the ridiculous lime green paint with stripes. There are some special crazy details, too – the Volvo Moose badge, for example, and the plexiglass rear spoiler. They even managed to get Volvo center caps in the 18×13″ Kenesis wheels – nice touch! Inside are some comfortable looking suede and leather seats which appear to be in good shape and, compared to the outside, look relatively tame. But the center of the package has to be the 6.0 V8 with nitrous. Because, why not? I have no doubt that this car meets the seller's claim that it's quite fast and not for the faint of heart – in any measure. Modified Volvos hold a special place in my heart though; they're the unusual choice and the fit and finish on this example seems to be very good, overall, even if it's not in the taste that I would have done it. While this car is far over the top, it has in my opinion gone so far that it's come full circle to the point that it's cool again. It's no surprise, then, that the asking price is quite high; nearly $38,000 in this case. That's about three times the absolute top market for a 1978 262C, but also probably less than half what was invested into making this car. Of course, not many want this level of craziness – but to me, it's a neat car that's well executed overall for what it is. Tone down the paint and perhaps go for a slightly more classic wheel design, and this thing would really be awesome in my opinion. As is, it's a bit of a laugh – but it got us talking, which I believe was the original intention. Between this car at the earlier RENNtech SL, though, at the same price I'd find it hard to plunk down the deposit on this Swede.
-Carter