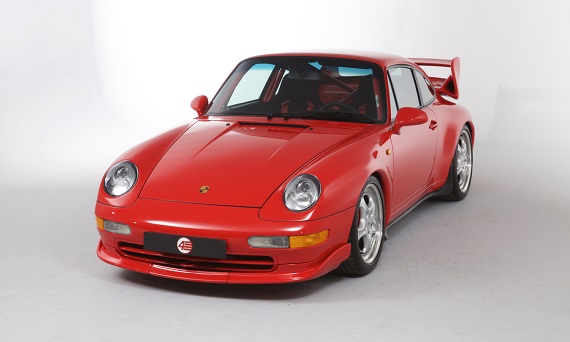 This post along with the next one will feature a pair of very rare, very fast, and very expensive air-cooled Porsches. These are the crème de la crème of the 911 line, at least when we combine their performance with their value and rarity. There are certainly rarer and more valuable 911s, but with time these too could reach similar heights. We will begin with this Guards Red 1995 Porsche 911 Carrera RS Clubsport. The Carrera RS moniker is perhaps Porsche's most highly regarded and the '73 Carrera RS the most sought after 911. As models intended to meet homologation requirements they are about as no frills as a modern Porsche will get, yet fitted with the appropriate aerodynamic and interior necessities to improve handling and insure driver safety. For the 993 Carrera RS, displacement was bumped to 3.8 liters – up from 3.6 liters – bringing horsepower up to an even 300, all tasked with propelling a car weighing 100 kilograms less than the standard Carrera. The transmission, braking and suspension also received appropriate modifications. For the Clubsport, comforts such as the carpet, radio, A/C, and power windows were deleted and a roll cage added to further increase the car's track-going personality. Curiously, this particular Clubsport has retained its A/C, setting it apart – though maybe not in a good way – from other Clubsport models.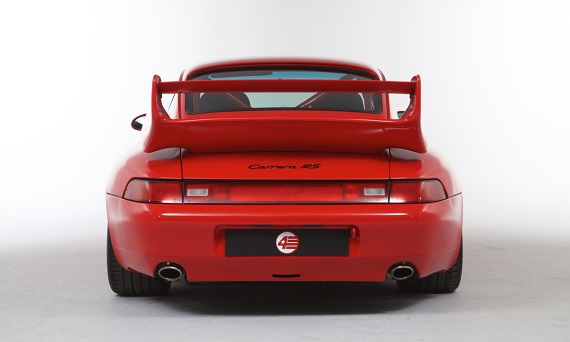 Year: 1995
Model: 911 Carrera RS Clubsport
Engine: 3.8 liter flat-6
Transmission: 6-speed manual
Mileage: 33,127 mi
Price: £274,995 (~ $413,633 USD)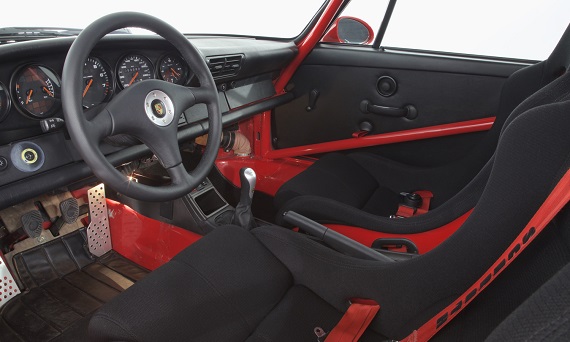 MODEL HISTORY
The Carrera RS is a lightweight variant of the Carrera. It features a naturally aspirated 3.8-litre engine with 300hp. On the outside it is easily distinguishable by a special non-retractable rear wing, small front flaps and split-rim 18-inch aluminum wheels. The headlight washers were deleted for weight saving reasons. Inside the rear seats were removed, and special racing seats and door cards were installed. Soundproofing was also reduced to a minimum.

There are further RS variants, in particular a track-oriented Carrera RS Clubsport (also referred to as the RSR). The Clubsport came equipped with a welded roll cage and certain comfort features such as carpets, power windows, air conditioning and radio were deleted. Externally it sports a larger rear wing and deeper chin spoiler than the standard RS.

The Carrera RS was produced in model years 1995 and 1996. It was street legal in European and many other countries around the world, but was not approved for export to the United States.
EQUIPMENT
Air conditioning, Recaro bucket seats, Schroth harnesses, Leather steering wheel, Adjustable rear spoiler, Dash clock, Lockable glove compartment, Battery cut-off, Immobiliser.
EXTERIOR
Presented in Guards Red, the paintwork on this 993 RS is truly spectacular. Emphasising the muscular rear flanks and sublime RS styling, the paint displays a beautiful deep colour. Aside from one or two insignificant chips to the lower spoiler only, there are absolutely no blemishes to note.

The car is straight done both sides with no corrosion whatsoever. All glass and lenses around the car are like new and show no signs of cracking or moisture. Even the protective rear arch decals display zero wear.

INTERIOR
Sitting inside this Porsche is a real treat for any car lover. Equipped with factory-fresh Recaro bucket seats, an unmarked roll cage, and 4-point Schroth harnesses displaying no wear at all, the raw nature of this impeccable car is undeniable.

Apart from very minor wear to the paint in the driver's footwell, which given there are no carpets is easy to excuse, the interior of the car is spotless. The dash is free from any cracks or sun damage, the dials are perfectly clear, and the steering wheel presents as new and retains an excellent texture.

With the factory deletion of the radio and electric windows, this example is rare in that it does feature air conditioning.

ENGINE & TRANSMISSION
Lurking below the imposing rear wing is the supreme 3.8 litre air-cooled engine. The entire engine bay is in pristine condition and shows little signs of any usage. With every componant standing to attention, it absolutely sounds as good as it looks.

The six-speed box feels tight and precise, handling this Porsche's power perfectly through the gears.

WHEELS, TYRES & BRAKES
The car sits on the correct 18-inch split-rim Speedline wheels. Presenting beautifully, the alloys display only very minor age-related marking to the polished rim, retaining an excellent patina.

The wheels are shod in matching set of Continental tyres. The red Porsche calipers appear brand new with the ventilated discs showing plenty of life.

HISTORY FILE
Built on 21st November 1995 this 993 has covered just 53,329 km, which equates to just 33,137 miles. The correct leather document holder features the original service book, which is fully stamped up to 52,154 km.

There is also a selection of paperwork further complementing the car's low mileage, which includes a detailed invoice from Porsche specialist Paul Stephens showing a cost of nearly £3,000.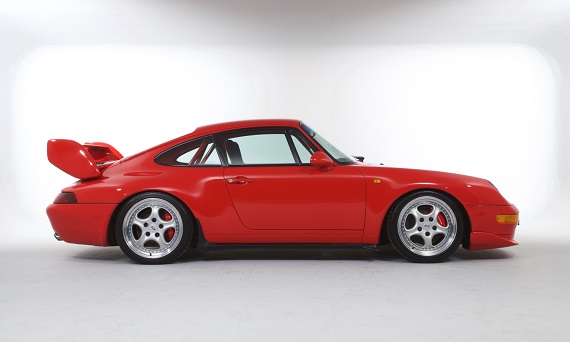 If it were ever possible for Guards Red to be a bit boring, or not brash enough, then this may be the car. I recall coming across a Carrera RS in Riveria Blue and it was absolutely stunning. This is the most niggling of niggling criticisms, but when looking at things I can only dream of, then why not aim for the top? Still, an amazing machine and certainly one of the best air-cooled 911s Porsche every produced. At nearly $415K the asking actually seems somewhat reasonable given the asking prices we've seen with many other air-cooled 911s and this is sure to remain a highly desirable collector for a very long time.
-Rob