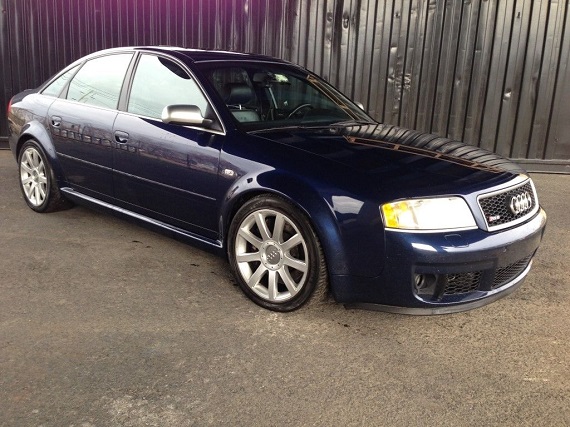 The other day I wrote up two M5s, questioning whether the E34 was a smart decision when the E39 offered more performance and luxury at a lower price point. That's not the end of the story, though, because the car that created a sensation and helped to once again redefine the category has dropped to historic lows in value. The Audi RS6 wasn't the first car to offer a V8 in the mid-sized luxury segment, but as with the original Quattro they upped the game by offering not only a V8, but twin turbochargers and all-wheel drive to the mix. The result was a hunkered down Autobahn warrior with 450 horsepower on tap. It was immediately the top dog, and being turbocharged it was capable of even more outrageous levels of power. As with its AMG and M counterparts, it was also quite expensive as the newest piece of kit in 2003; at nearly $90,000, not many could afford the super sedan. But now a little over a decade on, the Audi RS6 has predictably gone through a few generations of ownership and has dropped substantially in value. In part, that's because the Audis of this generation have some known faults and keeping the twin-turbocharged V8 running in top condition can be an expensive proposition. But if you want to go fast and have one seriously menacing luxury car on the road, it's hard to argue that anything can do it better for less money today: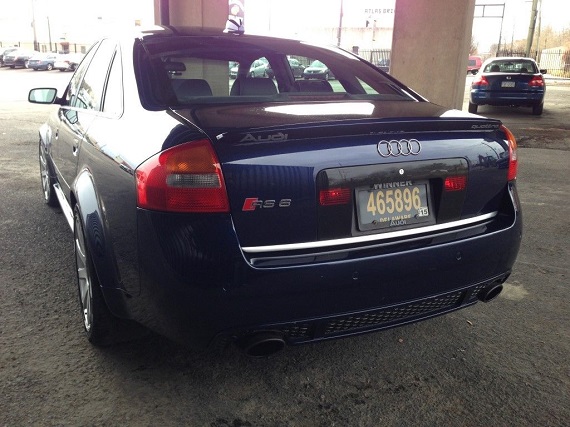 Year: 2003
Model: RS6
Engine: 4.2 liter twin-turbocharged V8
Transmission: 5-speed manual
Mileage: 173,800 mi
Price: $14,000 Buy It Now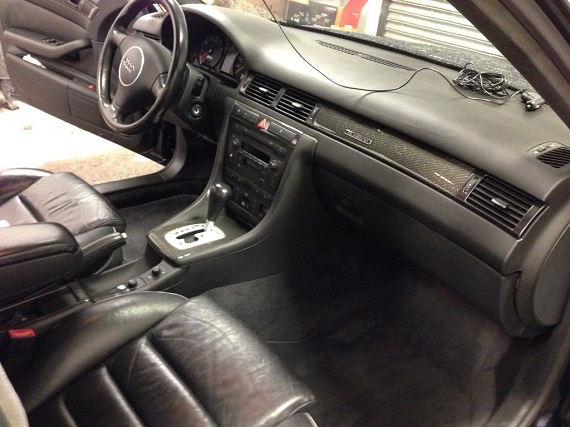 RS6 in fantastic condition. Every factory dealer service done since new. Beautiful condition all around. If you know these cars, then you know one doesn't get to 170k miles and need nothing without a truly caring and committed owner. Runs, drives, and performs exceedingly well. Never any bodywork. Needs two tires, though a set of four mounted snows are available. Transmission overhauled at 150k miles, belt service due in 20k miles. Title in hand. All service records available. Everything works as it should, no concerns!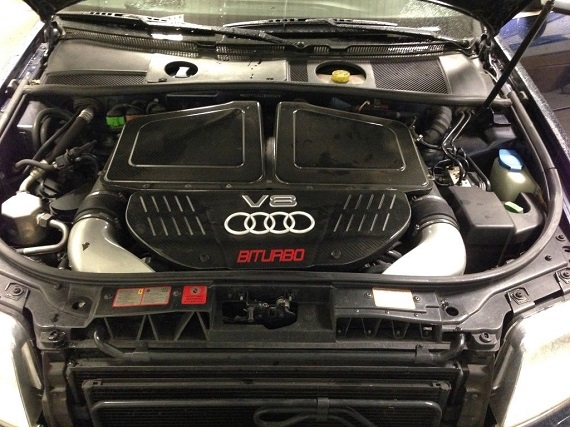 Mugello Blue is a great color – it's also the color of the first RS6 I drove. The experience isn't as shocking as a chipped S6; rather, the RS6 just seems to have endless reserves of power as it catapults you at quite illegal speeds down the road. Revisions to the quattro drivetrain didn't come until the later RS4, meaning these RS6s are still a bit understeer-prone – especially on the throttle. At Mont Tremblant I got to drive one in anger; around turn 6 (a fast flat-out sweeper), the power was enough to start to overwhelm the car's ability to transfer power quickly, resulting in a strange but controllable oscillation at 90+ mph. Nevertheless, the car's huge binders and fat tires meant that even though it would never be considered a circuit car in general it's capable of fast lap times. This one, however, has some serious miles on the clock – and the care and commitment of the owner can be somewhat questioned by the statement that it needs two tires since you need to replace all four at the same time on these all-wheel drive cars. There are also the subtle but notable additions of "Audi" and "quattro" stickers to the rear and additional aftermarket chin spoiler. With a timing belt service looming in the not-too-distant future, it's hard to get excited about this model – especially since others are available for around the same $14,000 asking price, amazingly.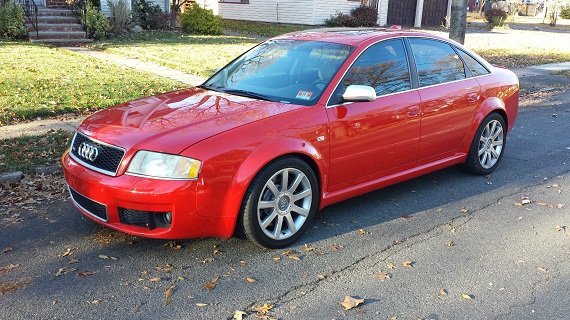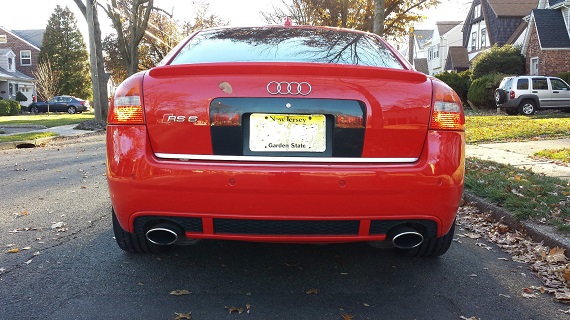 Year: 2003
Model: RS6
Engine: 4.2 liter twin-turbocharged V8
Transmission: 5-speed automatic
Mileage: 132,000 mi
Price: $12,500 Buy It Now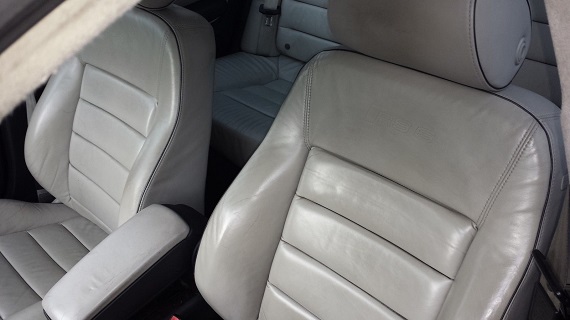 2003 AUDI RS6 – V8 Bi-turbo *** VERY RARE CAR*** 460 HP – All Stock- 132,000 miles
Interior and exterior in perfect condition! 460 horsepower bi -turbo V8 engine, navigation system, PL, PD, PW, power sunroof, CD player, leather interior, heated seats…fully loaded!
Very Powerful Car – Feel the power of a Ferrari/ Lamborghini for a fraction of the price – go from 0 to 60 in 4.2 seconds!!!

Call 973 849 7199 with any questions.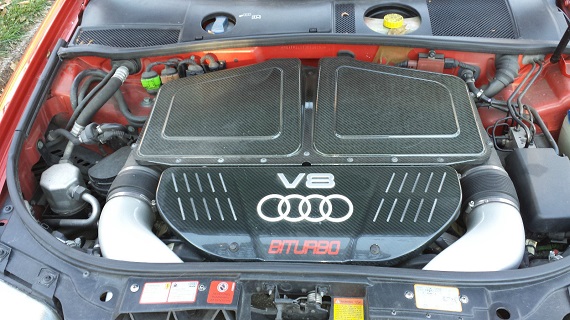 I've always been drawn to the Misano Red Pearl examples of the RS6, but truth told I don't think I'd want to own one. It looks just a bit too red for my taste, though it is a pretty color. Condition on this car doesn't seem to be quite as good as the previous example and no mention of service records is provided, meaning that though this car has 40,000 less miles it's not necessarily the better buy. The front fender has encountered something hard, too – not mentioned, and expensive to replace since they're aluminum. Plus, again I'd be concerned about the seller's attention to detail given the poor quality photos – right down to not taking the time to remove the leaves sitting in the engine bay and stuck to the rear of the car. It may seem trivial, but those who have owned this generation of Audi/Volkswagen products know those leaves can hold a hidden danger; they clog the drain channels, overflowing water into delicate computer circuits hidden in the floor of the car. $12,500 is an incredibly compelling price to see a RS6 at, but that bargain price could easily hide thousands of dollars in deferred maintenance that will result in this car being more expensive than the previous example.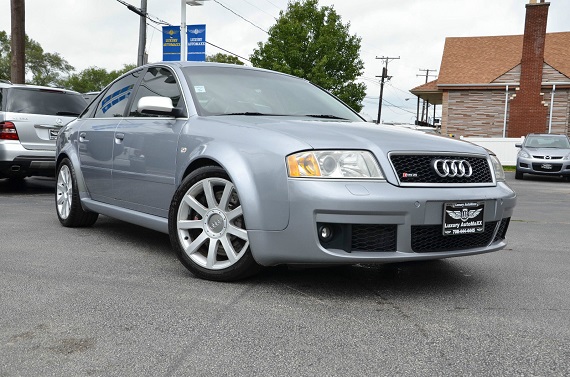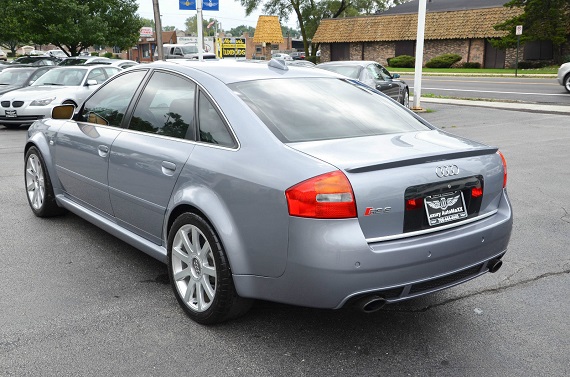 Year: 2003
Model: RS6
Engine: 4.2 liter twin-turbocharged V8
Transmission: 5-speed automatic
Mileage: 125,391 mi
Price: $14,999 Buy It Now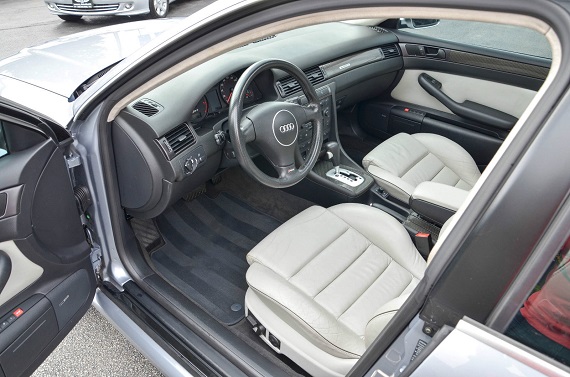 THIS IS A 2003 AUDI RS6 IS IN GREAT CONDITION. THERE WERE 1,000 EXPORTED TO AMERICA AND THEY ARE VERY RARE ORIGINAL MSRP WAS 88,000. THIS AUDI RS6 HAS ALL NEW FLUIDS, NEW BELT, AND DOES NOT NEED ANYTHING. READY FOR SALE AND WE HAVE GREAT FINANCING OPTIONS AVAIALBLE.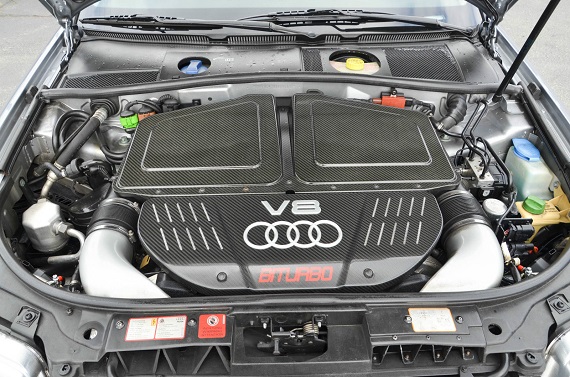 So in my mind, here's the winner of this group. First off, it's the color combination I prefer on the RS6 – Avus Silver Pearl with light grey leather. It's not as fetching as the S8 with Oxblood and in general I'd say that the C5 is not as pretty as the D2, but this one looks great. Mileage is also lowest of the three – an important factor when considering the longevity of the transmission. This car also has had the timing belt service completed – saving the owner a few thousand dollars over the first example. Condition appears to be very good here, too, and amazingly this car is offered at only $1,000 more than the first example. I would, however, be a bit weary buying such a complicated car from a second-hand dealer so a very careful and thorough PPI would certainly be in order on any RS6 you were contemplating. But at nearly $5,000 less than the average price on an E39 M5, these RS6s are the new budget bargain in the go-fast second-hand executive world.
-Carter