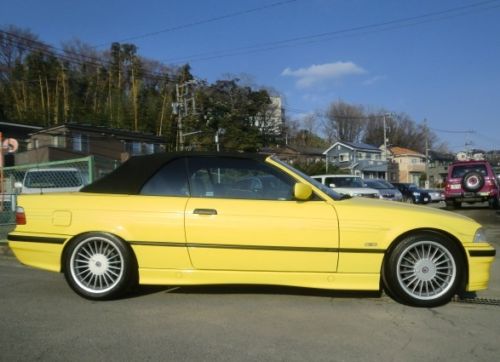 When BMW upped its game in the E36 chassis with the introduction of the M3, specialty tuner Alpina answered with the B3 3.0 and later 3.2 in step with BMW. The successor of the slightly less powerful B6 model, the B3 kept many of the same improvements to the E36 chassis – unique stabilizers, springs and shocks, and larger brakes. Inside the B3 received the normal Alpina-style shift knob, steering wheel and seats, and in their typical style Alpina provided unique front and rear spoilers along with their own badging. Of course, the package was rounded out by some of the best looking wheels ever fitted to a BMW. While the B3 was down on power to the European M3 3.2, it wasn't really much slower – again in typical Alpina fashion, the car was tuned to make the most of the power that was available rather than just provide a shockingly high output number. A reported 1,000 of these ultra-exclusive B3s were produced, with about 2/3rds of those being the earlier 3.0 model. With only 342 of the 3.2 produced, the pool is already very exclusive on these. Add a manual transmission when most are automatic, special order Dakar Yellow paint and a cabriolet model, and this is among the most exclusive Alpinas ever made.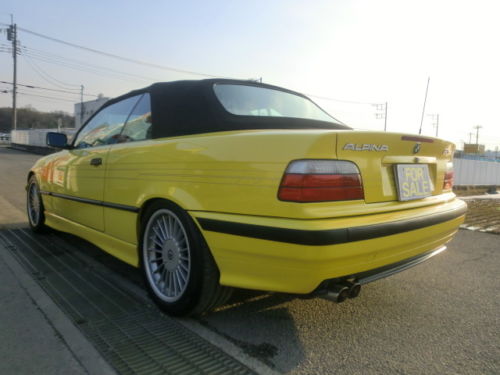 Year: 1999
Model: B3
Engine: 3.2 liter inline-6
Transmission: 6-speed manual
Mileage: 97,000 km (60,625 mi)
Price: Reserve Auction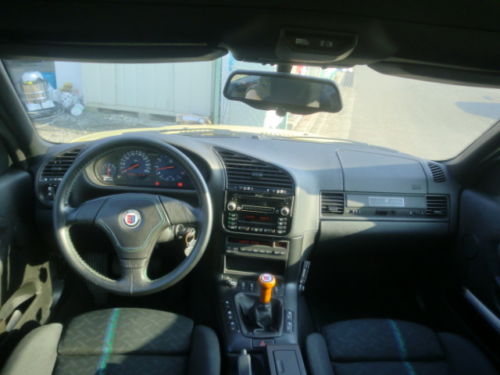 The car for sale is a very rare original Alpina E36, known as a B3/3.2, having 261 bhp and 240 ft lbs of torque. This model was never imported to the US. The car has only been driven 97000km (60625 miles), it comes with a 6-speed manual transmission, has had only 2 owners (both female news anchors), and is painted the special-order color of Dakar Yellow (special-order for Alpina, as they usually painted this model in Alpina blue). It is the 67th of only 342 of this model built, and it is the only B3/3.2 in the world that is a Dakar Yellow cabriolet, since the car was ordered this way new from Alpina by its first owner. The VIN is WAPB332R08YE40067 (since this car is a Euro-version, this number wouldn't go in eBay's verified VIN space above). See this link for historical information about this particular Alpina model, for more details about it: http://www.alpina-archive.com/?page_id=57&nmt=B3-3.0-&-3.2.

Note that although we are in LA, and own this car, the car is outside of the US. The winning bidder will be responsible for payment of the shipping charges and customs duties–in addition to the cost of the car–to bring the car to the port nearest their location, and for title, tax and registration fees in his state. We will make arrangements for the shipping of the car to buyer's closest port, but in the U.S. this car will need to be titled and registered under the government's Show or Display category since it is too new to be brought in and registered as a classic car (see www.nhtsa.gov). Accordingly, the buyer will be responsible for researching and dealing with the NHTSA for importation of this car, and coordinating with us on its shipment. Please contact us by e-mail via eBay for a shipping quote or for other information.
Condition appears to be good although it must be said the pictures aren't great, and if you're ready to plunk down your cash, of course this car is a solid 10 years from being legally imported and it's not currently in the U.S.. However, for a true enthusiast this is a mere hiccup and because of the semi-obscurity of the Alpina models, bidding may remain low. Also, because of the extremely limited production nature of them, you may indeed be able to petition this car as a show car for exemption from the NHTSA rules – though I'd place some calls and get some lawyers involved were I really serious before bidding. Is it worth it? Probably not to most; the performance won't really be that much different than a stock U.S. spec 3.2 M3 cabriolet. But exclusivity is king to some, and they don't come much more rare than this B3 3.2 – it wouldn't be a stretch to declare this car in this configuration the rarest E36 ever made.
-Carter