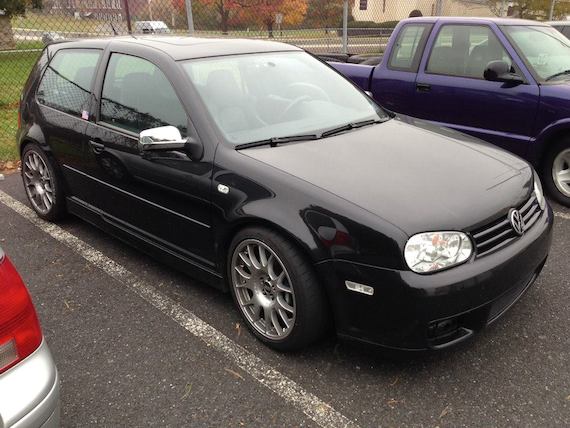 Anytime I think about featuring a Volkswagen Golf or Jetta Mk4 on GCFSB, I still get chills from the 2000 GTI and its rash of problems. But after my 2.0 left the line, a few interesting models came to fruition, the most notable being the R32. This particular R32 for sale from our friends at Nothing Leaves Stock was commissioned by an enthusiast who wanted a usable sleeper. The work was done in-house and in Black Magic Pearl with the outstanding BBS CH wheels, I'd say the look was pulled off successfully.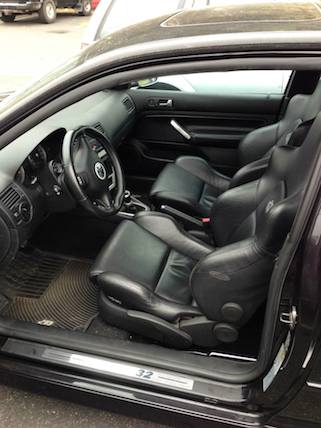 Year: 2004
Model: R32
Engine: 3.2 liter turbocharged VR6
Transmission: 6-speed manual
Mileage: 50,000 mi
Price: $24,000
We built this R32 a bit back for a guy that wanted it to be a sleeper, look stock and be drivable on the street but be able to have fun with when he wished! Car was completely stock when we started and we did ALL the work on it here in house.

Custom turbo setup with a presicion 6265 turbo, persicion 39mm wastegate. 3" SS exhaust to a factory modified stock muffler
C2 custom 550 software
C2 SRI
C2 head spacer and head studs, new chains/guides etc
plated oil pan,
oil cooler setup with custom bottom vent setup
meth setup
AWIC setup with tank in the trunk and bosch pump. tank is slip to hold meth as well one one side. has a 12x24x1.5 cooler rad upfront from the AWIC setup
south bend stg3 clutch and lightend flywheel
koni adjustable chrome body coilovers, sway bars and bushings
camber plates and adjustable rear control arms
interior is a 9.5/10 all oem but the colum dual gauge pod with boost and wideband gauges and a hi/lo boost switch for the dual stage boost controller
stoptech BBK 2 pc rotor front brakes and SS line alaround with slotted rotors on all corners
18×8 BBS CH's (real) with wheel studs and nuts. michlen pilot SS with 70% tread
front dual 2″ brake ducts on each side and ram air duct for intake
body is a 8/10 have 2 small marks on it. one on front d/s bumper edge that's just a paint scratch and the rear d/s and a ding in it. the rest is clean and garage kept
battery relocated to rear with fuse link and volt gauge
BFI mounts, 42dd catch can setup
and more, i'm sure i'm forgetting things!

Car has 50K on it, adult owned and VERY well cared for. Has over $50K into it. Asking $24,000 or best offer, no trades. Car is located at our shop in Coopersburg, PA 18036

Car is solid and ready to go, needs nothing to daily driver or race or BOTH! Passes PA inspection and emissions with no issues. Everything has been done in the last 15-18K miles.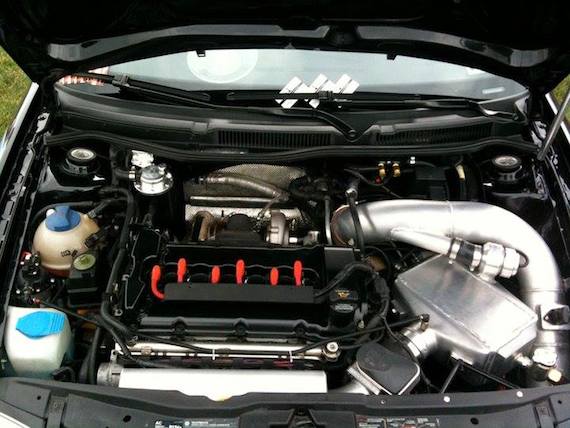 The price of this R32 might be a shocker to those shopping stock examples, but this isn't your ordinary R32. It's a car that certainly isn't for everyone. A lot of time and money has been invested and for the right VW fan, it will tick all of the right boxes. Having owned a 2000 2.0, I'd really be curious to see how something like this performs. I'm also a big fan of the look, as it isn't your typical Reflex Silver or Deep Blue Pearl R32.
-Paul