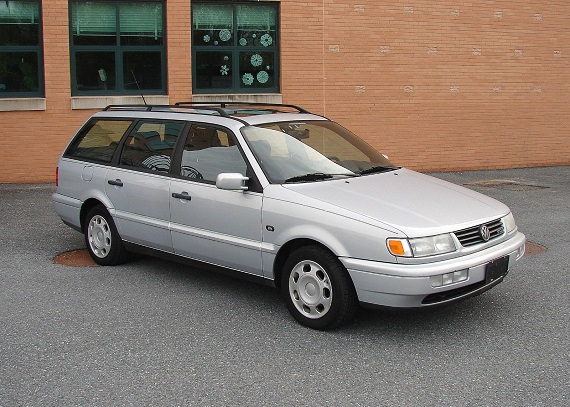 There are plenty of popular Volkswagens that demand premiums, sometimes inexplicably. These special models have a draw and demand money that makes people laugh. Sure, in the car world, it's become accepted that vehicles like the 21 window Samba are now $100,000 plus fully restored; however, tell that to my father-in-law, who grew up driving them, and you'll get nothing but boisterous laughs. Other Volkswagens exhibit charm or were class leaders; the GTi, the Vanagon Westy, the Corrado – stylish in their own ways, with charm to match. Then there's the Passat. Despite the serious popularity of the B5 and B5.5 chassis, I still feel like I need to explain to people that they're really quite nice cars. Do you know why? Mostly it's because of the reputation of the B3 and B4 Passats. Poor build quality coupled with an unerring tendency of early 90s Volkswagens to rust heavily meant they're an odd choice for the Volkswagen fan. And when I consider the B4 Passat, all I can think is that it's arguably the most vanilla Volkswagen ever produced. I praised Volkswagen when they launched the B3; smooth, aerodynamic with a distinctive wedge shape, it looked very different than any other sedan on sale at the time. Most of that distinction came down to the grill-less front end, but regardless it was cool. It was so cool, in fact, that no one got it. Of course, it didn't help that it was pretty expensive and not particularly reliable in the best trend of early 90s VWs. So it probably came as no surprise when the revised B4 Passat in 1995 when more mainstream. New wheels, mostly new body panels and some minor interior changes signaled its introduction, but that's not what people sought. No, the big news was under the hood; Volkswagen moved the 1Z 1.9 TDi into the Passat – and behind the headlines of the Vans, Corrados and GTis, it's probably the most sought 1990s Volkswagen – especially in 5-speed Variant form.
Year: 1996
Model: Passat TDi Variant
Engine: 1.9 liter turbocharged inline-4
Transmission: 5-speed manual
Mileage: 76,491 mi
Price: No Reserve Auction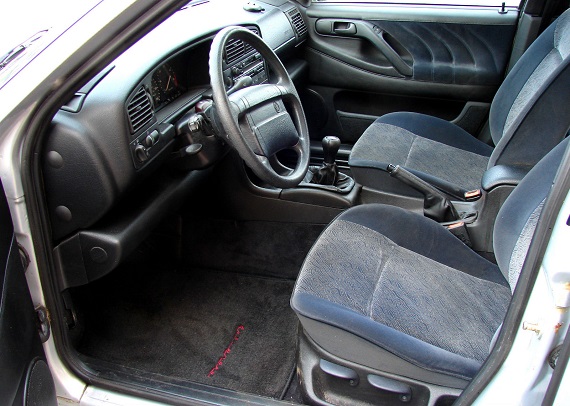 YOU ARE BIDDING ON THE HOLY GRAIL OF VW TDI'S – HIGHLY SOUGHT AFTER AND RARE 1996 PASSAT WAGON WITH ONLY 76,000 ORIGINAL MILES IN EXCELLENT CONDITION.

TDI, LOW MILES, MANUALS/RECORDS, VERY CLEAN

A REAL NO RESERVE AUCTION !
!

IN 1996 VW GOT IT ALL RIGHT – THE BEST MOST RELAIBLE VERSION OF THE TDI IN A WAGON BODY SOURCED FROM THEIR AUDI LINE. THE CAR IS AMAZING AND IT WAS EXPENSIVE SO THEY DID NOT SELL MANY – LESS THAN 1000 ! VERY WELL EQUIPPED WITH ALL THE POWER OPTIONS AND A 26 GALLON FUEL TANK. WITH FUEL ECONOMY 45 TO 50 MPG (OR MORE) FOR A 1200 + MILE RANGE BETWEEN FILL UPS ! IF YOU CAN FIND ONE THESE DAYS IT USUALLY HAS WELL OVER 200K MILES AND SEEN BETTER DAYS. THIS ONE IS THE REAL DEAL – ONLY 76K MILES AND AND VERY CLEAN ! THE MOTOR IS VERY QUIET (EVEN FOR A TDI) AND RUNS PERFECTLY. VERY SMOOTH WITH VERY GOOD POWER – NO SMOKE, NO NOISES, NO LEAKS AND AMAZINGLY CLEAN – LIKE LOOKING AT A NEW CAR ENGINE BAY ! CLUTCH AND TRANSMISSION ARE PERFECT – SMOOTH TIGHT SHIFTING AND NO LASH OR LOOSENESS. THIS PASSAT WAS ALWAYS GARAGE KEPT -BODY IS NEAR PERFECT – EXCELLENT PAINT STILL SHINES LIKE NEW WITH NO FADING AND NO RUST ! PAINT AND PLASTIC ARE ALL EXCELLENT. ONE OR 2 TINY SCRATCHES ON BUMPERS AND 1 INCH SCRATCH ON RIGHT REAR BY SIDE WINDOW. TIRES ARE VERY GOOD – EVEN WEAR AND 80+% TREAD. INTERIOR IS CLEAN AS YOU WOULD EXPECT FROM A 76K MILE CAR. NO VISIBLE WEAR AND NO TEARS AND NON SMOKING, NO DOGS, NO KIDS – VERY CLEAN. CLIMATE CONTROL WITH AC WORKS FINE. THIS CAR CAME FROM A UPSCALE AREA NEAR ANNAPOLIS MD. PROFESSIONALLY MAINTAINED AND SERVICED. INCLUDES 2 KEYS AND ALL MANUALS WITH SERVICE BOOKLET ETC.

THIS HOLY GRAIL 1996 PASSAT TDI IS BEING LISTED IN A NO RESERVE AUCTION. HIGH BIDDER WINS IT. LETS KEEP EBAY A GREAT PLACE TO BUY AND SELL !!!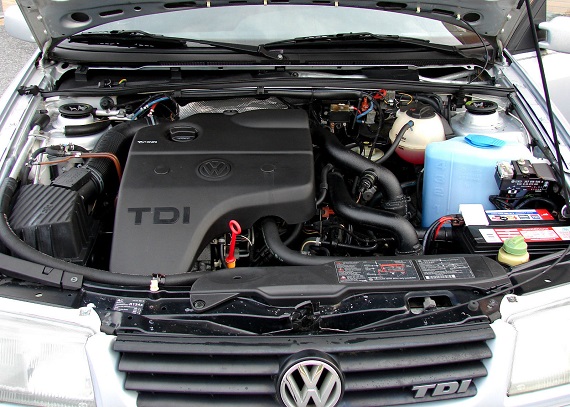 I feel pretty satisfied when my Passat can go 365 miles on a tank. One time I really stretched it and broke 400 miles. The B4, though? In TDi form, go easy on the diesel pedal and you can clear 1,200 miles. That's a traditional oil change every 3 fill-ups! Yes, it's slow. Yes, it's not really particularly good looking. Yes, at least some of the electronics won't be working at some point – or the wipers may cross with the signals, and other drivers will constantly think you're turning in light rains. Sure, the seller's copy is full of hyperbole and incorrect information. Yes, the paint seems to be mismatched – though given Volkswagen's top quality paint from the time, that could be original. Yes, the interior is upright, full of cheap plastic and may turn into a fish-bowl in a heavy rain. But a clean, low mileage B4 Passat TDi Variant 5-speed? Nope, that's one seriously desirable Volkswagen – so it's no surprise that with over 4 days remaining, active bidding has nearly hit $6,000. As amazing at it may seem, we've seen a few of these B4 TDis clear $10,000, making them the most expensive Passats outside of brand new models; often eclipsing the seeming fan favorite "Unicorn" W8 6-speed Variants. Scratch your head all you'd like; the market – while it sometimes speaks in tongues – has spoken.
-Carter