My neighbor Marc has an E46 Touring that has been consistently growing on me in the 1.5 years I've lived in my current place. I've always loved wagons, but I never really paused and contemplated the E46 wagon until his. It may be the fact that he has a black, low-mileage Porsche 993 Turbo under a cover in the garage. With that kind of firepower waiting for the right weekend, a BMW wagon becomes a very logical choice as a daily driver. In light of recent BMW designs, the E46 is a refreshingly simple shape that, while unassuming in base trim, can quickly become very aggressive. Today's comes with the venerable M52 2.5l and all-wheel drive, a useful addition even if rear-wheel drive wagons make me tingle. I'd also prefer a manual, but those are pretty rare in longroofs. Having covered less than 60k miles in its 9-year, one-owner life, this 325 has a hell of a lot more groceries left to haul.
Year: 2004
Model: 325xi
Engine: M52 2.5 liter inline six
Transmission: 5-speed automatic
Mileage: 57,600
Price: $16,950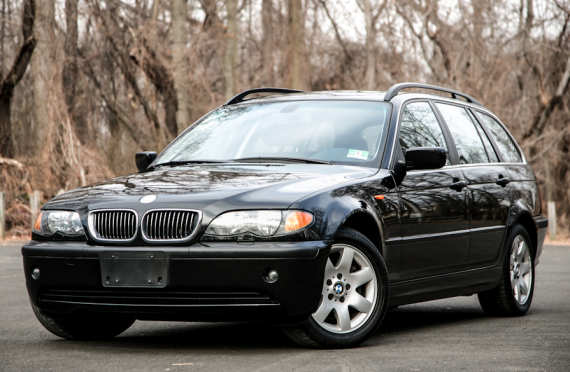 You are looking at a nice looking sporty and luxury wagon. The black exterior + black leather interior color combination gives the car a certain kind of unique classy sporty and aggressive appeal. From the way the car drives and looks and the year of the vehicle – most of the miles on the car are highway miles. There are no reported manufacturer's defects on this vehicle. A never-smoked-in before beauty that looks great and smells clean.

The engine is very strong and provides the power you have come to expect from a BMW and runs extra smooth. The transmission has the BMW mark on it as well and the transmission is in great condition! The suspension that's on the car feels very nimble and comfortable at the same time. The A/C works well and blows cold air! We had our mechanic check the car. All in all, the car really runs great!

As you can judge for yourself from the pictures – the interior is clean and looks great! All electrical components on the vehicle seem to be in working order. The check light of the diagnostic computer reads ok. The engine compartment looks clean, and free of any leaks. This BMW is equipped with a climate control system. The power locks, windows and roof all work and are in excellent condition. All the power controls and buttons work. The car also comes with VERY nice all season tires have plenty of tread life left. The tires have been rotated, balanced.

This is an exceptionally looking vehicle – Loaded with tons of extras!
Super versatile with subdued but great looks, this would be a great compromise for someone who likes the BMW driving experience but needs to haul more than a golf bag and enjoys a little inclement weather. I could definitely DD a 325xi, but not at $17k – that's E92 wagon territory! Someone click the "make an offer" button at half that.
-NR